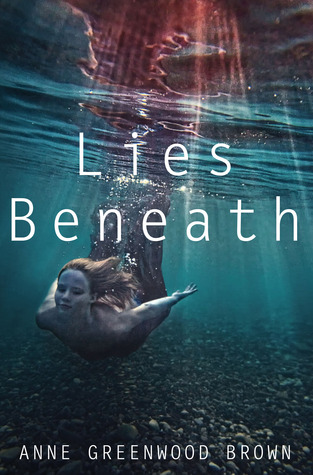 Release Date
: June 12, 2012
Author
: Anne Greenwood Brown
Publisher
: Delacorte books for Young Readers
Length
: 303 pages
Source
: eGalley via NetGalley
Fans of Amanda Hocking's novel, Wake, will dive into this paranormal romance featuring mermaids--the killer kind--and won't come up for air!


Calder White lives in the cold, clear waters of Lake Superior, the only brother in a family of murderous mermaids. To survive, Calder and his sisters prey on humans and absorb their positive energy. Usually, they select their victims at random, but this time around, the underwater clan chooses its target for a reason: revenge. They want to kill Jason Hancock, the man they blame for their mother's death.





It's going to take a concerted effort to lure the aquaphobic Hancock onto the water. Calder's job is to gain Hancock's trust by getting close to his family. Relying on his irresistible good looks and charm, Calder sets out to seduce Hancock's daughter Lily. Easy enough, but Calder screws everything up by falling in love--just as Lily starts to suspect there's more to the monster-in-the-lake legends than she ever imagined, and just as the mermaids threaten to take matters into their own hands, forcing Calder to choose between them and the girl he loves.





One thing's for sure: whatever Calder decides, the outcome won't be pretty.
Review:
Characters: Calder is the stereotypical monster with a conscience. I was sadly disappointed that his character was slightly more predictable than I liked. It was easy to know the choices he'd make and the things that he'd do. As a merman he needs the aura and energy of humans to survive, however to be sated he has to kill his victims. This eventually leads him to try and see how long he can go without feeding. His sisters on the other hand feel no remorse or pain from killing and taking lives. They lie to each other as well as their brother, but always keep their promises. The Hancocks are an interesting bunch of characters, Lily's younger sister is so innocent that she will believe anyone, whereas Lily is very skeptical and cold.
Romance: This romance was too weird and crazy for my taste. In the beginning, Calder is very creepy and constantly stalks Lily to find information on her to use to his advantage. However, Lily isn't as oblivious as she may seem because she catches on and confronts him about stalking her many times, yet she still pays attention to him and even though they get thrown together by circumstance she doesn't try to avoid him. Also, this romance seemed too much like Twilight for my taste. I'm not saying that the author stole her ideas or was even indirectly inspire by the author of Twilight. However, I am saying that this romance seemed so similar to that story that I almost lost interest.
Narration: One of my favorite parts about this book is that it has a male narrator. I rarely read a book where not only is the protagonist male, but the book is from the protagonist's first person perspective. I am happy to report that the author was true in her male narration and made me feel like I could have been inside my own mind, that is if my mind was in the body of a murderous creature.
Cover: Even though I rarely talk about the covers in my reviews I thought that this cover in particular was interesting. Looking at it immediately confirms that this book is about mermaids however, it's female cover model could mislead potential readers into thinking that the book is told from the perspective of a female mermaid instead of a male merman.
Predictability: For the most part this book was pretty predictable, I caught onto many of the hints way before they were explicitly explained, however there were a few times, a rare few, where I was unable to piece the clues together and those times were great to read because something big was revealed or something unexpected. The few times that I was caught off guard about a specific detail was always something that was a huge discovery and changed how the next installments in the series could go.
Ending: The ending of this book was better than most of the first installment endings that I've read recently. There were more questions left unanswered that I am dying to know the answers to and I can hardly wait to sink my teeth into the next installment. There was an open ended ending that leaves room for practically anything to happen.
Rating:
While this book is nothing special, once you read it, no matter how much you like or dislike it, I'm sure you'll want to read the next installment when it comes out. I'd say pick up this book at your local library to see if it's your kind of book first.