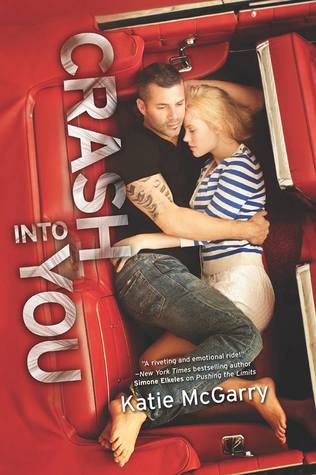 Release Date
: November 26, 2013
Author
: Katie McGarry
Publisher
: Harlequin Teen
Length
: 474 pages
From acclaimed author Katie McGarry comes an explosive new tale of a good girl with a reckless streak, a street-smart guy with nothing to lose, and a romance forged in the fast lane.





The girl with straight As, designer clothes and the perfect life—that's who people expect Rachel Young to be. So the private-school junior keeps secrets from her wealthy parents and overbearing brothers...and she's just added two more to the list. One involves racing strangers down dark country roads in her Mustang GT. The other? Seventeen-year-old Isaiah Walker-a guy she has no business even talking to. But when the foster kid with the tattoos and intense gray eyes comes to her rescue, she can't get him out of her mind.





Isaiah has secrets, too. About where he lives, and how he really feels about Rachel. The last thing he needs is to get tangled up with a rich girl who wants to slum it on the south side for kicks-no matter how angelic she might look.





But when their shared love of street racing puts both their lives in jeopardy, they have six weeks to come up with a way out. Six weeks to discover just how far they'll go to save each other.
Review:
Protagonists
: While I didn't like Isaiah really at all in
Dare You To
, mainly because of his refusal to give up his love for Beth and letting her move on, I was pleasantly surprised to find that after a few hurdles I really enjoyed Isaiah in this installment. His story with his mother is both heartbreaking and inspiring. As for Rachel, I loved her but sort of hated her family. For most of the book they treat her not as herself but as the replacement for her parent's oldest daughter who died tragically at a young age from Leukemia. Not only is this a horrible this to do, but it puts way to much pressure on a girl who doesn't want to pretend to be something she's not. Luckily, with Isaiah's help she can break down those walls of communication with her family.
Romance
: The chemistry between Isaiah and Rachel is amazing. It's not a fire or electric like some other romances I've read. Instead it's one of those warm and gooey romances that penetrates deep down in your soul. They bring out the best in each other and challenge each other to reach their full potential. I loved reading their moments together just as much if not more then reading about them overcoming their individual and combined challenges in their lives.
World-Building
: So, like I said I wasn't the biggest fan of Isaiah while reading the previous installment in this amazing companion novel series, but this book helped put what he was going through into perspective. Even though I still thought of him as a huge douchebag a few times while he was criticizing the choices that Beth made in the last book, as I watched his own love story unfold he really became a much more likable character. The best part about companion novels is seeing the characters from previous installments as secondary or minor characters int the current book. It was nice to check in with previous couples Echo and Noah and Beth and Ryan, even if the latter couple was barely featured.
Predictability
: I have to say that this may have been the least predictable of Katie McGarry's books. I mean there's this one part, which I won't spoil because that would be mean, that completely caught me off guard and made me think for just a few minutes that Ms. McGarry would have broken the natural formula of contemporaries and wrote a book that while probably still amazing would have also been utterly soul crushing.
Ending
: Like I said, the ending was crazy, but I was happy that it turns out alright in the end. I have to say though that there was some serious teenage angst and parental shaming "Daddy, I love him" moments that go on at the end. Trust me if I was the type to insert gifs in my reviews this one would have way too many. But yeah, the ending was fantastic and really tied this book together and made it great.
Rating:
While this may not be my favorite of the series so far, Dare You To is still my fave, it was still a testament to how amazing Katie McGarry's writing is that she can continue putting out amazing love stories set in the same world and have them all seem completely unique and in no way repetitive.