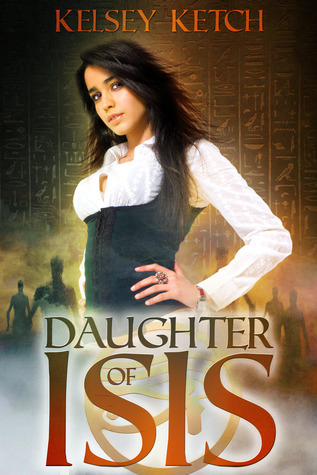 Release Date
: October 26, 2013
Author
: Kelsey Ketch
Publisher
: Independently Published
Length
: 272 pages
"Her mouth parted slightly, waiting for Seth to breathe life into her own body, just like in the story. She wanted him to awaken her senses."

Their worlds collide in California's high desert.

The last thing Natara "Natti" Stone wants to do is to start anew at Setemple High School. She wished she had never left London. Yet the brutal murder of her maternal grandmother has made her life very complicated. The only clue related to her murder is an ancient, encrypted necklace Natti discovered after her grandmother's death. And if trying to adjust to American life is not enough, Natti is being stalked by a mysterious, charming high school senior, Seth O'Keefe, who is annoyingly persistent in his attempts at seduction.

Seth O'Keefe is secretly a member of the Sons of Set, an order that worships the Egyptian god of chaos. Seth's blessing from Set, his "charm," never failed, except with one person: Natti Stone. Her ability to elude him infatuates and infuriates him, and he becomes obsessed with the chase. But the closer he gets to her, the more his emotions take a dangerous turn, and he risks breaking one of the most valued covenants of his order. The punishment for which is a fate worse than death.

The adventure this unlikely couple becomes engulfed in could cost them their lives and their souls.
Review:
Protagonists
: Nattie Stone has had her entire world upended, in addition to her grandmother being murdered in a very ritualistic fashion that was passed off as a robbery/homicide, her father has moved them across the pond, and the worst part is that the entire town has an ancient Egyptian theme, which only reminds her of both her recently murdered grandmother and her not-so-recently murdered mother. I really liked Nattie's character, she handles things practically most of the time I don't think she ever really irritated me once in this book. While she does possess some magical ability, most of her problems in this book seem like normal things. I wouldn't exactly know because I didn't have a girl (in Nattie's case a guy) constantly chase after me in high school, especially not one who gets as much game as Seth does. Seth on the other hand is a completely different beast, literally. Seth is in training to become a Son of Set, of which his father is the high priest. The objective of the Sons of Set is to create chaos and mayhem. Seth does this by sleeping (well not exactly
sleeping
) with every mildly attractive girl in school, that is until Nattie arrives. Nattie's ability to resist Seth's charms intrigues him, and slowly it begins to change him. I sure do love an evil guy turns good guy story, however it's debatable that Seth was ever truly evil to begin with. He's wicked sure, but I don't think I'd go with evil, unlike his horrid father.
Romance
: The romance in this book was well done, while it does go a bit faster than I would have liked for them to believe that they're in love, for the most part it goes at a slow pace. Seth is merely intrigued with Nattie at first and doesn't even begin to think about love til near the end and Nattie practically detests Seth for most of the book, which makes for some great chemistry. While I have yet to see the long term effects of a relationship between the two, I do hope they don't lose their fire, I especially don't want Seth to get too lovey-dovey which seriously bothers me when cocky guys in books act as if they've been castrated after entering a relationship, it's insulting to men everywhere (Okay, maybe not EVERYWHERE but it's at least insulting to me.)
World-Building
: Egyptian Mythology! Need I say more? I do? Okay then, this twist on Egyptian myths was perfect, it blends together great and creates some interesting mysteries that I'm hoping a little research may help me decode. I love getting into a mood like that, where all I want to do after I read it is research the intriguing world this book has brought me either into or back to. While some may say there's a bit too much world-building and the information was released a little too late sometimes, I actually really liked it. It was a great change up and reformulation of the classic YA Fantasy/Mythology formula. As for the characters that brought this book to life, well for the most part they were great, why I say that is that one character specifically, Wanda, slips out of character a few times, which seemed more like to further the plot than a casual slip up.
Predictability
: I have to say I was really impressed with this book. While for the most part is seemed to more coast along than build suspense and raise questions, it in no way was predictable, except obviously the outcome was fairly obvious given the genre of novel and there were a few things that the description and title already suggested, don't worry though nothing was really spoilery. But there were some great moments when I wasn't, I guess blown away, but really surprised by how things turned out.
Ending
: The ending was one of those things that really surprised me. At first I thought that there wouldn't be much of a climax, other than a bit of suspense toward the end. However there was an amazing climax action scene that really moved fast and really drove home the cliffhanger ending.
Rating:
So I had a really hard time rating this book as the more emotional part of me was like "Yes! This needs 5 stars, it's brilliant." but then there's the logical part of me that's saying, "No, it's really good but it's more of a 4 star book." So in the end instead of choosing I just split it up, but It really is an AMAZING adventure.