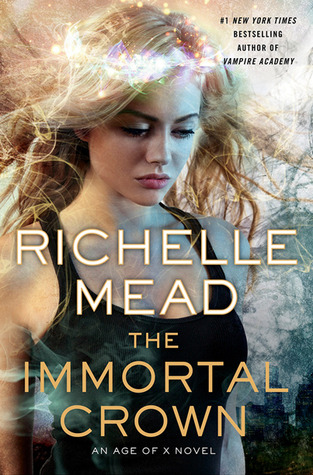 Release Date
: May 29, 2014
Author
: Richelle Mead
Publisher
: Dutton Adult
Length
: 432 pages
The #1 New York Times bestselling author of the Vampire Academy and Bloodline series returns with the second installment in her acclaimed Age of X series.

Gameboard of the Gods

introduced religious investigator Justin March and Mae Koskinen, the beautiful supersoldier assigned to protect him. Together they have been charged with investigating reports of the supernatural and the return of the gods, both inside the Republic of United North America and out. With this highly classified knowledge comes a shocking revelation: Not only are the gods vying for human control, but the elect—special humans marked by the divine—are turning against one another in bloody fashion.





Their mission takes a new twist when they are assigned to a diplomatic delegation headed by Lucian Darling, Justin's old friend and rival, going into Arcadia, the RUNA's dangerous neighboring country. Here, in a society where women are commodities and religion is intertwined with government, Justin discovers powerful forces at work, even as he struggles to come to terms with his own reluctantly acquired deity.





Meanwhile, Mae—grudgingly posing as Justin's concubine—has a secret mission of her own: finding the illegitimate niece her family smuggled away years ago. But with Justin and Mae resisting the resurgence of the gods in Arcadia, a reporter's connection with someone close to Justin back home threatens to expose their mission—and with it the divine forces the government is determined to keep secret.
Review:
Protagonists
:While I wouldn't go so far as to say this book has an ensemble of protagonists, it does have quite a few and while they all begin telling essentially the same story from three different points of view, as the book progresses each of these characters' stories take on a plot of their own, one that weaved together makes for an amazing story. First we have Justin, fresh off from being backed into a corner and having to start studying the path of Odin. Honestly I thought there would be a much faster development for his character, specifically because of how close he is to everything he's seems the most likely to embrace where this world is heading. Then there's Mae, the character I expected the least amount of development from and the one I believe went through the most development in this book after being faced with so many decisions and so much proof of what's going on in the world. Finally there's Tessa, I really did not expect to like, let alone love Tessa's chapters but she really has an amazing plot in this book that seems to set up her character for more intense and serious plotlines in future books.
Romance
: While I was more than prepared for the will they/won't they Mae/Justin romance that I knew without a shadow of a doubt would be in this book I didn't know that, for the time being at least, a choice will be made. I have to say that Mae and Justin's flirtation/bickering is the the high points of their interactions. They seem to fit together so well and have amazing chemistry that really works for this book. I will say though that for a Richelle Mead Adult novel this series has very tame and little sexy times. Then there's Tessa and Darius who don't for a romance yet but it's only a matter of time before they get together.
World-Building
: Gah! The best part about this book was the world-building. Our characters get to go to the worst country to ever be made up. I mean holy crap it's terrible. Think about the most repressive, sexist, highly religious country and then multiply that by 10 and you get Arcadia. Okay that might be a bit of an over exaggeration, but this country was terrible and the majority of this book took place there. I do have to say though, that while this country is terrible, there was so much kick-ass, holy-crap-did-not-see-that-coming stuff that really made this book amazing. Also, learning about how this country is essentially the anti-RUNA shows a very deep contrast between these countries and kind of shows the black and white of government and how maybe there needs to be some shades of gray.
Predictability
: So many twists! Well, sort of. Normally when I read a Richelle Mead book it's usually easy to guess some of the twists before they happen, this is never a bad things as Richelle keeps the entertainment flowing. This time however it was much harder to get a grip on exactly what was going to happen next. The biggest twist, and possibly the most confusing one happens in the epilogue and might I say that it's making me itch for the next installment.
Ending
: Speaking of the end, let's talk about the cliffhangers. As you might be aware I usually refer to Richelle Mead as "The Queen of Cliffhangers" because she usually leaves her books off with heat wrenching, anger inducing, or purely tragic cliffhangers, and this one had a bit of all three. I watched an interview with Richelle where she described the cliffhangers in this books as stealthy cliffhangers, where there may be something that the readers would guess would be the ultimate cliffhanger but instead it would be something else, and she isn't wrong. There is one incident that I thought would be the crazy heat wrenching cliffhanger, and well it kind of is, but there was still so much going on and how this book ends will blow you away.
Rating:
So with this being a Richelle Mead book, and given her track record, I had assumed this would be a 5 star book, but I was wrong, it deserves much more than that. If I could, I would give this book all the stars. It was phenomenal and I seriously cannot wait until the next installment!