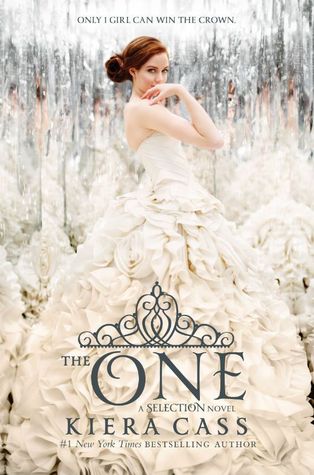 Release Date
: May 6, 2014
Author
: Kiera Cass
Publisher
: HarperTeen
Length
: 323 pages
The Selection changed the lives of thirty-five girls forever. And now, the time has come for one winner to be chosen.

America never dreamed she would find herself anywhere close to the crown—or to Prince Maxon's heart. But as the competition approaches its end and the threats outside the palace walls grow more vicious, America realizes just how much she stands to lose—and how hard she'll have to fight for the future she wants.

From the very first page of The Selection, this #1 New York Times bestselling series has captured readers' hearts and swept them away on a captivating journey... Now, in The One, Kiera Cass delivers a satisfying and unforgettable conclusion that will keep readers sighing over this electrifying fairy-tale long after the final page is turned.
Review:
Protagonist
: America really surprised me in this installment. After the last book, in which America was less than stellar not being able to make up her freaking mind and all, I was really impressed that she took initiative in what she wanted. Her development over the entire trilogy ( from start to finish not necessarily book by book) is impressive, but this is the book she really shines. I've never loved America more and have to say that she's come a long way and in the end she gets everything she deserves.
Romance
: So, I'm not going to talk to much about the romance, because as you may be aware by now the plot of this series relies heavily on it's love triangle, which isn't necessarily a bad thing. So to stay as spoiler free as possible, not only am I not going to talk about the romance as much but I'm also not factoring America's choice/who she ends up with into my final rating. That being said I will say a few things, one being how America approaches her decision to either leave the Selection and Maxon (and possibly end up with Aspen) or to fight for Maxon and do her best to win the Selection. After the last book where she couldn't make up her mind it was nice to see her with a goal and actually stick to it for once. Next we have to, briefly, talk about Aspen. I've said in the past that I absolutely detest Aspen for not only harshly break things off with America at the beginning of the first book, but also his callous actions in the second book like sneaking around with America when he knows she could get beat like Marlee or worse, and also preying upon America's insecurities about Maxon to give himself an upper hand. Now for the words you may never have thought you'd hear me say, by the end of this book I don't hate Aspen so much. Don't get me wrong I still think the things he did in
The Elite
were detestable, but he sort of makes up for it in this book.
World-Building
: One of the things I was worried most about with this book was that it wasn't going to show any of the real changes to the world that need to be made in any good dystopian story. I had feared that the romance, while an important aspect of the story, might overshadow the more intricate parts of the story. However, I was foolish to think that the author would merely gloss over the future of this world. Instead, while we don't get an epilogue that shows the long term effects of these changes, but we get enough to know that this world is in good hands. Oh, and Aspen's not the only one who I warmed up to in this installment, Celeste also has an interesting redemption arc.
Predictability
: Well, I have to say that this book impressed me in many ways, one of which was how this book constantly kept me on my toes. I mean, sure there were moments where I would shout at my book that "I totally called that" but for the most part I was really surprised at the great, and sometimes heartbreaking, twists this book had.
Ending
: So again, to stay as spoiler-free as possible I'm going to exclude my thoughts on the ending details that refer to who America ends up with. That being said, I have a confession to make. I was so paranoid about who she would end up with that I read a few of the last sentences of this book to see who she ended up with. Regardless, the ending had me in so much anxiety that I couldn't even begin to see the ending that I had read. I constantly kept thinking that I misread something, it was utterly chaotic. At the same time the ending was beautiful, it really hit all the right points and ended America's story well.
Rating:
If you've read my reviews of the other books in this trilogy, you'll know that I haven't given a book in this series 5 stars yet, but this is so different. It's a great conclusion and no matter what "team" you are when it comes to the love triangle I can still see you liking the end of this brilliant trilogy. Oh, and before I go I really do hope the author writes a spin-off. It's so easy for me to see what it could be, though I won't give away those ideas until things become settled down a bit that no one would shoot me for giving away the ending.