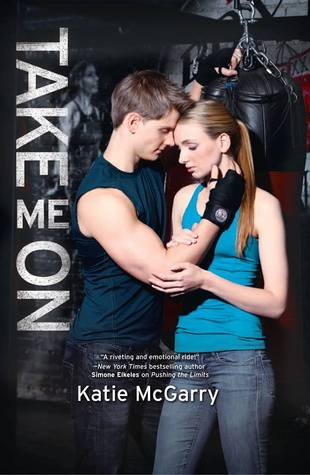 Release Date
: May 27, 2014
Author
: Katie McGarry
Publisher
: Harlequin Teen
Length
: 544 pages
Acclaimed author Katie McGarry returns with the knockout new story of two high school seniors who are about to learn what winning really means.

Champion kickboxer Haley swore she'd never set foot in the ring again after one tragic night. But then the guy she can't stop thinking about accepts a mixed martial arts fight in her honor. Suddenly, Haley has to train West Young. All attitude, West is everything Haley promised herself she'd stay away from. Yet he won't last five seconds in the ring without her help.

West is keeping a big secret from Haley. About who he really is. But helping her-fighting for her-is a shot at redemption. Especially since it's his fault his family is falling apart. He can't change the past, but maybe he can change Haley's future.

Hayley and West have agreed to keep their relationship strictly in the ring. But as an unexpected bond forms between them and attraction mocks their best intentions, they'll face their darkest fears and discover love is worth fighting for.
Review:
Protagonists
: Knowing West from
Crash Into You
, I wasn't expecting too much from him, 't a huge fan of him in that book, mainly due to his baseless judgement of his sister's boyfriend, Isaiah. In this book however, I have to say I got a better look at who he is, and while I still wanted to throttle him whenever he badmouthed Isaiah because he has a buzz cut, tattoos, and earrings, that was kept to a fairly low minimum. By the end of the book I really loved West and was rooting for him through all his troubles. Then there's Haley. My heart broke for Haley so many times in this book, she has a shitty living situation, living with her entire family under her asshole of an uncle's roof. Honestly "asshole" is too tame of a word for who he is, and sadly Haley has to put up with his crap to keep a roof over her family's head. Then there's her life before the book and the toxic relationship she had with a boy named Matt. I won't get into details, but lets say that even if Matt was castrated, that still wouldn't be punishment enough for some of the shit he does to Haley.
Romance
: The chemistry between West and Haley is so electric. It's my favorite kind of romance can be seen in this book. It's one where there's a change between the characters involved, but somehow they grow into their true selves instead of sacrificing who they are in order to either stay with or "get" the other. Their banter is great and while I do wish it had kept a more even tone throughout the book it's there for most of is and it really makes these characters pop and their love believable.
World-Building
: So I was surprised to find out that this book actually takes place during the events of
Crash Into You
more or less. It begins not long after Rachel's accident and ends around the time that the previous installment does. Honestly I thought after the events of the last book there wasn't too much that cold go on with West's family, but boy was I wrong. There's some deep rooted drama there and it worked to really put this book over the top in amazing. Another great thing about this book is that Abby's back. Honestly, I think I've said it before, Abby needs her own book, we don't get nearly enough backstory on Abby in this book, not like I was really expecting too much but still. There does seem to be a bit of foreshadowing that an Abby book may be on the way. There's something that Abby says that seems to indicate that she'll get her own book.
Predictability
: With this being my fourth full length Katie McGarry novel, you'd think that I'd catch onto her brand of foreshadowing, but no I still haven't. I mean of course I can guess some of the long term stuff, but for the intricate yet extremely powerful twists in this book, I was utterly blown away. The Young family's secret is really the most shocking, using a great amount of distraction and slight of hand, Katie McGarry magically weaves another compelling and schocking read.
Ending
: So the end, the actual last sentence end, of this book is a tiny bit confusing. It can be interpreted multiple ways and while I'm fairly sure I understand what happens it's just the tiniest bit too vague for me. I'm hoping it'll be fixed in the final version but even if it isn't I'm sure most people will still interpret it in the best way possible. As for the ending in general, it actually really shocked me, after reading
Crash Into You
you'd think there would have been some foreshadowing to some of the events at the end of this book but surprisingly, given the ending I don't think I would have been able to call what happens in it from a mile away, and it's fantastic.
Rating:
I mean really, no surprise here that I give this book 5 stars, I mean it's a Katie McGarry book for crying out loud, what is surprising is that it may just edge out
Dare You To
for my favorite book of the series so far.