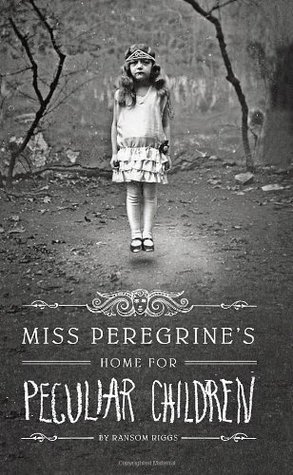 Release Date
: June 7, 2011
Author
: Ransom Riggs
Publisher
: Quirk
Length
: 352 pages
A mysterious island. An abandoned orphanage. A strange collection of very curious photographs.

It all waits to be discovered in Miss Peregrine's Home for Peculiar Children, an unforgettable novel that mixes fiction and photography in a thrilling reading experience. As our story opens, a horrific family tragedy sets sixteen-year-old Jacob journeying to a remote island off the coast of Wales, where he discovers the crumbling ruins of Miss Peregrine's Home for Peculiar Children. As Jacob explores its abandoned bedrooms and hallways, it becomes clear that the children were more than just peculiar. They may have been dangerous. They may have been quarantined on a deserted island for good reason. And somehow—impossible though it seems—they may still be alive.

A spine-tingling fantasy illustrated with haunting vintage photography, Miss Peregrine's Home for Peculiar Children will delight adults, teens, and anyone who relishes an adventure in the shadows.
Review:
Protagonist
: So I don't know why, but I thought Jacob would be older than he was in this book, like mid twenties or something. Instead he's only fifteen, has a mother that comes from a wealthy family, and a father who keeps trying to prove he doesn't need his wife's money. Ever since Jacob was little his grandfather told him stories about an enchanted children's home run by a peregrine falcon and full of children with extraordinary and peculiar abilities. Jacob was a great narrator and protagonist. He had a good balance of faults and strengths and really came off as a three dimensional character.
Romance
: So there is a small amount of romance in this book. It doesn't detract from the plot or move too fast, but I am slightly on the fence about it. I don't want to spoil anything, but I will say that this romance is a bit, forgive my terrible pun, peculiar. It's more about the context of who's involved rather than the circumstances surrounding the romance of how it's handled. On the whole it was handled pretty well, it didn't take over the plot, in fact there was no romance whatsoever even hinted at for a good portion of this book, though when it did it picked up rather quickly though only went so far which I was extremely happy about.
World-Building
: So, my expectations for this story were pretty high, in fact I had thought I knew how this story would go. Boy was I wrong though, in fact things in this book didn't really go the way I thought they would. First off like I said above like I said above, I thought Jacob would have been older, making his trip across the Atlantic Ocean to the island that housed his grandfather's old children's home seem more plausible. Also, while reading the book I thought he'd maybe discover a recently abandoned mansion that was once the home, but in fact the house he finds was abandoned for many years and is known throughout the island as a haunted house. The peculiar children on the other hand are how I imagined they'd be. Each one has a certain talent, some can lift very heavy things like cars though they look scrawny and weak, one can conjure fire, and one can even temporarily restore life. It's all rather amazing really, though I think it's comparison to X-men or superheroes is a bit of a stretch considering the circumstances they live in.
Predictability
: Like I said above there was a lot about the basic story that I really didn't expect. I think this may have also led to the many times when finer parts of the plot shocked me. Though I'm probably not giving the plot and author enough credit as it wasn't like I never got a handle on the basic plot, in fact it didn't take that long to smooth over most of my expectations. So really there are many parts of this book that happen in ways I did not see coming. There isn't too much foreshadowing, though there is a bit, and it didn't really need all that much. I think if it had more it would have come off a bit too predictable.
Ending
: So I was expecting the end of this book to wrap up rather nicely. I know there's a sequel, but since there's such a gap between the books I had assumed that after the success this book got that the publishing company and author decided to turn this one book into a series. However, this book has a bit of a cliffhanger ending, it's not enough to make a person beg for the next installment, but it's definitely something that would have festered for the 2-3 year wait in between books. There is a small amount of resolution however our hero is not quite done with his adventure and the ending of this book makes that abundantly clear.
Rating:
This was another book that I was scared would not live up to the hype, but it totally does. The combination of found photographs really enhances the story, and some in fact really bring the creep factor of the book to life.