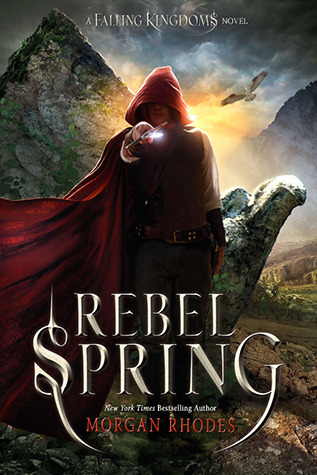 Release Date
: December 3, 2013
Author
: Morgan Rhodes
Publisher
: Razorbill
Length
: 416 pages
Love, power, and magic collide with war in the second book of the Falling Kingdoms series

Auranos has fallen and the three kingdoms—Auranos, Limeros, and Paelsia—are now united as one country called Mytica. But still, magic beckons, and with it the chance to rule not just Mytica, but the world...

When the evil King Gaius announces that a road is to be built into the Forbidden Mountains, formally linking all of Mytica together, he sets off a chain of events that will forever change the face of this land, forcing Cleo the dethroned princess, Magnus the reluctant heir, Lucia the haunted sorceress, and Jonas the desperate rebel to take steps they never could have imagined.
Review:
Characters
: Since there are so many characters in this fantastic ensemble series (and it's sort of hard to determine who's intentions are pure or not) I've changed my normally protagonist oriented section into one that highlights a few of my favorite characters of this book (both good and bad.) First off we have Magnus, aka the Prince of Blood. Magnus was my favorite character in the first installment of this series, his pseudo-incestuous feelings for his sister left him tortured and really got to me. In this book however I feel liked I had too high of hopes for Magnus, at least in the beginning, because I found myself really disliking him. After being reminded that he was the one who killed Cleo's first love Theon, and watching Magnus not really trying to or thinking about going against his father's desires, He kind of fell to the wayside. But! Later in the story he begins to develop once again into not only the tortured character I felt so bad for, but also a strong character fighting to be free from his inner demons, once again making Magnus my favorite character of this series. We also have Cleo, the princess whose throne was violently taken from her. Cleo, from the very beginning plots to take back her throne from the evil, and possibly insane King Gaius, she's a strong character throughout that shows a lot of depth and layers to her character, she's cunning, resourceful, and can make you think she's innocent before she rips your throat out, figuratively speaking.
Romance
: I just, I don't know what to think of the romance after this book. Originally I had it in my head who I wanted together, Jonas/Cleo and Magnus/Lucia, but now well I'm not quite sure who I'm shipping anymore. While the romance doesn't in any way take center stage in this book, there is quite a bit that happens that for a lack of a better term shakes things up. First off, there's a bit of a love, umm, let's just say shape, for Cleo and a love triangle for Jonas. Magnus is once again so very unlucky in love with his sister still slightly traumatized by his kiss in the previous books, and falling for some one she isn't even sure is real. Magnus does have a bit of romance, though it's more of the arranged variety than the kind that just happens naturally. I would tell you who I'm (tentatively) shipping now, but you know spoilers and such.
World-Building
: Never have we learned so much about Mytica's history than we do in this installment, at least so far. We learn more about the twin goddesses Valoria and Cleona and their relationship with the Kindred and the first sorceress Eva. The story is rather fascinating and really brings things into perspective for the series going forward. We also learn more about the prophecy relating to Lucia and we learn what has to happen to find the path to the Kindred and what will happen if she can't control the magic bubbling inside of her. And finally we get to see a bit beyond Mytica as a neighboring Emperor's son comes to visit King Gaius and brings with him his own mysteries and strikes up an unlikely friendship/romance with one of the characters.
Predictability
: I have to say that entering the half way point of this four book series, I was expecting a bit more progression to occur. i was hoping for a few more alliances to form an for there to be a more black and white good and bad side to cheer for and against. Obviously Gaius is as black as they come, and Cleo is becoming our white heroine, but as for the other characters they remain in a gray area which I was hoping would polarize and it never really does. This of course led to many unpredictable moments and most of them were very nice surprises including the death of a much hated character. Of course the book has a bit of predictability to it, but not too much however as I found myself either more confused or shocked than I did unsurprised.
Ending
: The ending like I said above didn't really leave the story with two teams as I was expecting it would. By the description of the first book it seemed that there would be a "good guy" team comprised of Lucia, Cleo, Jonas, and Magnus, but as the series progresses I'm not sure how likely that prediction is. In fact the ending left me wondering more how these characters would be split up rather than how they would come together. The ending has a cliffhangers of sorts, but nothing too heartbreaking or shocking that left me pining for the next book, though I will admit that I do want it ASAP.
Rating:
Once again this series hits a high note. This story is so complex and involves so many layered characters that I'm left more confused (in a good way) how everything will turn out. If you're looking for something unpredictable, full of magic and mystery, and brimming with adventure I would highly recommend this series. But seriously, the next one... now!