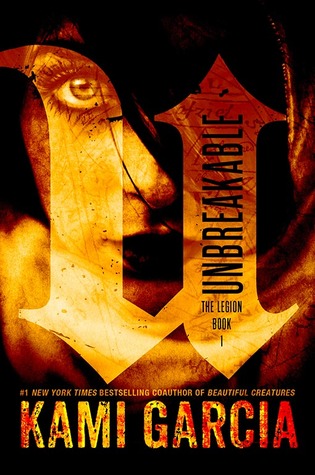 Release Date
: October 1, 2013
Author
: Kami Garcia
Publisher
: Little, Brown Books for Young Readers
Length
: 305 pages
Supernatural meets The Da Vinci Code in this action-packed paranormal thriller, the first book in a new series from New York Times bestselling author Kami Garcia.

I never believed in ghosts. Until one tried to kill me.

When Kennedy Waters finds her mother dead, her world begins to unravel. She doesn't know that paranormal forces in a much darker world are the ones pulling the strings. Not until identical twins Jared and Lukas Lockhart break into Kennedy's room and destroy a dangerous spirit sent to kill her. The brothers reveal that her mother was part of an ancient secret society responsible for protecting the world from a vengeful demon — a society whose five members were all murdered on the same night.

Now Kennedy has to take her mother's place in the Legion if she wants to uncover the truth and stay alive. Along with new Legion members Priest and Alara, the teens race to find the only weapon that might be able to destroy the demon — battling the deadly spirits he controls every step of the way.

Suspense, romance, and the paranormal meet in this chilling urban fantasy, the first book in a new series from Kami Garcia, bestselling coauthor of the Beautiful Creatures novels.
Review:
Protagonist
: Kennedy has got to be the dumbest protagonist I've read about yet. So first off she's your typical self-deprecating "I'm not special/I'm a freak!" heroine who during the book finds out that she is indeed special, but Kennedy takes it one step further and now when faced with virtually undeniable proof of who she is, she instead decides to continue not believing that she is part of the Legion while simultaneously training to fight malevolent spirits. I just couldn't believe that she was so dumb not to believe cold hard facts. Really most of the time she came off as a bit of a cookie cutter or two-dimensional character which really bugged me throughout the course of this book.
Romance
: I really don't even want to get started on the train wreck of a romance. So as you may or may not know, while I don't really care if a book has a love triangle or not, I do get upset if when it does it's a love triangle involving siblings. It has nothing really to do with the specific type of love triangle, but it's just something that's done SO much in a trope that occurs in so many YA series that I just got bored of sibling love triangles very quickly. That being said, this love triangle was even worse, not only did it involve a pair of brothers, but they are identical twins, I mean seriously Kennedy needs to see a therapist. If that wasn't bad enough though, this romance has no real foundation to stand on. It was sort of like insta-love, that didn't happen quite as fast, ironically enough. I felt like I was missing something, like there was some whole section of the book somewhere where Kennedy and Jared and Kennedy and Lukas each have bonding moments that grow into something vaguely romantic. Instead Kennedy and the twins meet, she sees them again and they escort her to their lair and once they've arrived at the current Legion headquarters she's blabbering about having feelings for Jared and being drawn to Lukas and I'm just confused trying to figure out when that happened.
World-Building
: The story really saved this book for me. In many ways this book is like the show Supernatural. Not enough that I would say it's a rip-off but enough that I felt comfortable with the world's lore and really got a sense for what these characters had to deal with. While it does take a bit to get into the story and at first it seemed like the plot of this book was actually going to be the plot of the series, once everything is sorted out the story is actually very gripping and wonderful. The ghosts were creepy and at times even gave me chills, and the ways to defeat a malevolent spirit were pretty awesome and we got to see quite a few spirits be eradicated.
Predictability
: While a large portion of this book was very predictable, in which I would sometimes scream at the book what the characters should do only for it to take quite a while for any of the characters to even get the idea. There were a few times when I was genuinely surprised by what was happening which made for some awesome moments, but for the most part if you have a good knowledge of YA novel formulas and take into account the name of the second book there are a lot of things in this book that are easy to guess.
Ending
: The ending was one of those surprising moments I was telling you about, though it did have a few frustrating elements thrown in there. There's a bit of a cliffhanger, actually I think if I was more invested in this installment I would have thought of it as a fairly large cliffhanger, but I felt that while it did leave me wondering what would happen next, I'm not clamoring to get the next installment in the series, and as harsh as it sounds, I'm not so disappointed that I missed out on an ARC of the second book at BEA.
Rating:
While this book has it's fair share of large problems, such as an unintelligent heroine and a more boring than anything love triangle, the story really kept me going when I thought I might quit. It's a great story that I'm sure fans of the TV series Supernatural will really get a kick out of. While I'm not clamoring to get to the next installment, I am very curious about what will happen next.