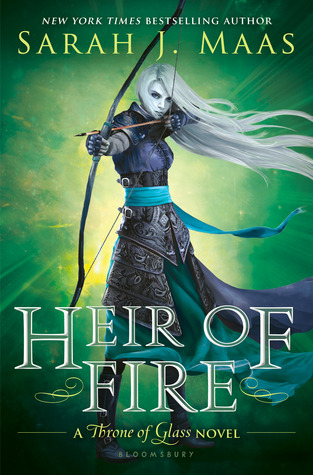 Release Date
: September 2, 2014
Author
: Sarah J. Maas
Publisher
: Bloomsbury USA Children's
Length
: 565 pages
Lost and broken, Celaena Sardothien's only thought is to avenge the savage death of her dearest friend: as the King of Adarlan's Assassin, she is bound to serve this tyrant, but he will pay for what he did. Any hope Celaena has of destroying the king lies in answers to be found in Wendlyn. Sacrificing his future, Chaol, the Captain of the King's Guard, has sent Celaena there to protect her, but her darkest demons lay in that same place. If she can overcome them, she will be Adarlan's biggest threat – and his own toughest enemy.

While Celaena learns of her true destiny, and the eyes of Erilea are on Wendlyn, a brutal and beastly force is preparing to take to the skies. Will Celaena find the strength not only to win her own battles, but to fight a war that could pit her loyalties to her own people against those she has grown to love?
Review:
Characters
: So let's start with our main protagonist. After Celaena lands in Wendlyn she's tasked with killing the royal family but after observing them and their benevolence decides against even at her own peril. She is soon taken by a mighty fae warrior to not only learn how to control and use her magic properly, but also to learn the secrets she's going to need to take down the ruthless tyrant who calls her his Champion. I loved Celaena's growth in this book it's palpable and the trials and tribulations she goes through to get to where she is by the end is astonishing. As for her two guys back home, well they have journeys of their own to go through. Chaol is surprisingly still at Rifthold and throughout the book finds himself in the midst of rebel plots while Dorian, still unable to control his magic tries to find ways to subdue it or he risks being overtaken by it, but in the end may just find a romance to help him fully get over Celaena. We are also introduced to a new character named Manon who is an Ironteeth witch, and while she appears to be ruthless, heartless, and evil I couldn't help but find myself rooting for her success all throughout this book.
Romance
: Unlike the previous installment in this series, this book has little to no romance at all in it, save Dorian's budding romance with a healer he encounters early on in this book. I really liked the lack of any real romance, especially since the previous book had so much of it, or well had romance that tended to burn too bright too fast. I will say though, regarding the last book, that it isn't that I wouldn't want Chaol and Celaena to end up together, but rather that while they did have a bit of romantic tension in the first book, I found that their romance just jumped forward so fast that it seemed like the love triangle, which I actually really liked seeing in the first book, was over, and that Celaena had made her choice so soon in the series.
World-Building
: This book, in addition to it's character development, focuses a lot on world-building, not only do we get to see the great continent of Wendlyn and learn a bit about it's royal family, but we also get to see the even more powerful Fae nation and it's queen, Maeve. We learn more about the fae and those who can wield magic as well as learn to place of half-breeds or demi-Fae amongst the fae culture. The mythology of this world is so vast and beautiful that it really brings this world to life in ways I haven't really seen before. Before I end this part I will say that this book introduces one classic fantasy element and my personal favorite into the mix... dragons er I mean wyverns.
Predictability
: While the book as a whole has a sort of flowing storytelling that never really surprised me (though also
never
bored me), there were moments that I was absolutely shocked and awed at. Especially towards the end there were some great twists that begin to build up to some rather amazing things. There are still a great many mysteries this world has yet to answer and I can't wait to, hopefully, be surprised at what is still yet to be answered.
Ending
: Like I have said already the ending was especially shocking there are so many things that happen, so many cliffhangers that are tearing at my very soul wanting, no, needing to be resolved. Can I just say though that author Sarah J. Mass is pure evil for leaving the story where it is at the end. While the cliffhangers are a bit cushioned here and there and there is no abrupt declaration or revelation that makes me speechless, she did leave certain characters fates unknown and is probably reveling in the torture that many more will face when they finish this book after it releases.
Rating:
This is probably my favorite of the series so far. It's very plot driven and spends most of it's time on character development and world-building than romance, which I wouldn't minded more of but it was nice that it was toned down quite a bit.
P.S.
I'm currently giving away an ARC (Advanced Reader Copy) of The Iron Trial (Magisterium #1) SIGNED by BOTH Holly Black and Cassandra Clare plus it's INTERNATIONAL! The giveaway ends soon so
ENTER HERE:
http://www.zachsyareviews.com/2014/08/giveaway-win-signed-arc-of-iron-trial.html