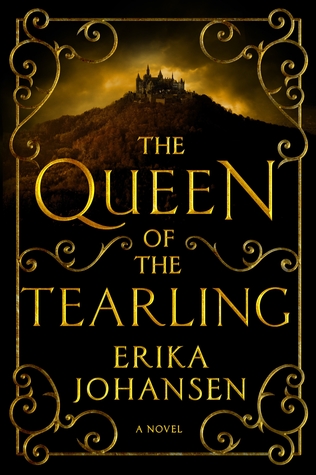 Release Date
: July 8, 2014
Author
: Erika Johansen
Publisher
: Harper
Length
: 448 pages
On her nineteenth birthday, Princess Kelsea Raleigh Glynn, raised in exile, sets out on a perilous journey back to the castle of her birth to ascend her rightful throne. Plain and serious, a girl who loves books and learning, Kelsea bears little resemblance to her mother, the vain and frivolous Queen Elyssa. But though she may be inexperienced and sheltered, Kelsea is not defenseless: Around her neck hangs the Tearling sapphire, a jewel of immense magical power; and accompanying her is the Queen's Guard, a cadre of brave knights led by the enigmatic and dedicated Lazarus. Kelsea will need them all to survive a cabal of enemies who will use every weapon—from crimson-caped assassins to the darkest blood magic—to prevent her from wearing the crown.

Despite her royal blood, Kelsea feels like nothing so much as an insecure girl, a child called upon to lead a people and a kingdom about which she knows almost nothing. But what she discovers in the capital will change everything, confronting her with horrors she never imagined. An act of singular daring will throw Kelsea's kingdom into tumult, unleashing the vengeance of the tyrannical ruler of neighboring Mortmesne: the Red Queen, a sorceress possessed of the darkest magic. Now Kelsea will begin to discover whom among the servants, aristocracy, and her own guard she can trust.

But the quest to save her kingdom and meet her destiny has only just begun—a wondrous journey of self-discovery and a trial by fire that will make her a legend…if she can survive.

The Queen of the Tearling introduces readers to a world as fully imagined and terrifying as that of The Hunger Games, with characters as vivid and intriguing as those of The Game of Thrones, and a wholly original heroine. Combining thrilling action and twisting plot turns, it is a magnificent debut from the talented Erika Johansen.
Review:
Protagonist
: Kelsea Raleigh, the true Queen of the Tearling, sets off from her foster parent's house on her nineteenth birthday to reclaim her throne. Accompanied only by her mother's old queen of the guard she seeks to depose her uncle as regent and rule as best she can. Unfortunately she is ill-informed as to the true state of her country. She doesn't know that her mother was a vain and scared thing who easily crumbled to the neighboring country of Mortmesne, as well as bankrupting the treasury. However, she is a strong and intelligent person and through the adventures in this book truly finds herself and what it means to be queen and rule a country. It won't be easy, but she may just have what it takes to see her people through the darkest of times.
Romance
: So, there is little to no romance in this book at all. In fact I was going to leave this part out if it wasn't for some hints here and there to a possibility of a romance in the future. I know that the author has said that she wants to write a story with both a heroine who isn't beautiful as well as one that doesn't have a large focus on romance. However, I do believe that this book could have done with a bit more romance, mainly because it seemed to drag along at parts and adding more could have fixed that and still not drawn focus away from the actual plot.
World-Building
: Speaking of which I was completely caught of guard by when this book takes place. First off, while it does take place in a country that does not exist on our maps, it does still take place in our world. In fact it takes place in the twenty-fourth century, but does not feature any futuristic or sci-fi like technology. While this does have many markers of a dystopian, it is primarily fantasy. The world the author writes about is a rather ambitious one. it's full of richly described details and spectacular expanse. This book is rather dense and I actually decided to listen to it rather than slowly read it as I knew I would. Regardless the density was appropriate as it really helped build the vision this world that I'm not quite sure I would have gotten otherwise.
Predictability
: The biggest mystery of this book was who Kelsea's father is. While, like the best mysteries, it wasn't revealed in this book I do have my speculations as to who it is. Many of the candidates get marked off rather easily, usually by their own curiosity when they narrate a chapter. I found it interesting that more people seemed to be so curious as to who Kelsea's father is rather than focusing or worrying about Kelsea herself. However, I also thought it amusing that I too was drawn by the curiosity of who her father is from the very first chapter. Over all this book has a great air of mystery about it, not many things can be easily guessed and by the end many mysteries are still left in the air.
Ending
: I was rather surprised with how lax this ending was. I mean It was a great way to end the book, but I was hoping for something more shocking or surprising to happen. There was no real twist or cliffhanger that this first installment ends on, rather a typical plateaued ending that reaffirms the protagonists place by the end of the book and cheaply teases what's to come. Like I said, I did like the ending, but I found it a bit too cookie-cutter for a first installment.
Rating:
Overall, this was a great fantasy novel. It was full of amazingly described action sequences and brilliant political intrigue. However, the book seemed to move too fast near the beginning, only to drag it's feet later in the book, and finally to end in a fairly cliched way. Like I said though I still really loved this book and my qualms are rather small compared to the fantastic journey this book provides.