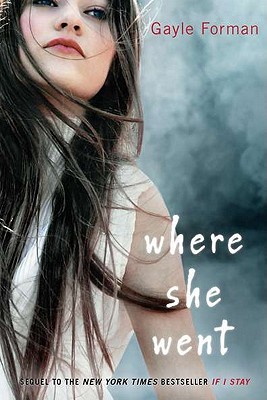 Release Date
: April 5, 2011
Author
: Gayle Forman
Publisher
: Dutton Juvenile
Length
: 264 pages
It's been three years since the devastating accident . . . three years since Mia walked out of Adam's life forever.




Now living on opposite coasts, Mia is Juilliard's rising star and Adam is LA tabloid fodder, thanks to his new rock star status and celebrity girlfriend. When Adam gets stuck in New York by himself, chance brings the couple together again, for one last night. As they explore the city that has become Mia's home, Adam and Mia revisit the past and open their hearts to the future - and each other.

Told from Adam's point of view in the spare, lyrical prose that defined If I Stay, Where She Went explores the devastation of grief, the promise of new hope, and the flame of rekindled romance.
Review:
Protagonist
: Adam Wilde has had a really tough time since the near death of his then girlfriend Mia, his heart has been nearly obliterated and just when things seem to be going good for the first time in nearly a year he's thrust into the spotlight as his band makes a name for themselves. Fast forward to three years after the accident and he's a shell of what he once was. He goes through the motions and lives day by day, but he's not happy. Then, he sees Mia once again, and now he finally has the chance to confront her for all the pain and suffering that she put him through when she left him. Adam's journey in this book is definitely the main focus, while there is a bit of romance, which I will get to next, it's not as prevalent as you might think. This story is, at its heart Adam's and Adam's alone. He has a lot of things he needs to deal with and the fact that this book encompasses practically one day is incredible. It feels realistic though, that Adam is on the precipice of this great big thing and this one night with Mia gives him the push he needs.
Romance
: Like I said, the romance isn't in any way, shape, or form, the focus of this book, which is very interesting for a YA contemporary, or at least the one's I've read. However, it is still there, though I won't say if the romance is between Adam and Mia or Adam and someone else. I will say though that I never got a romantic vibe or a
real
romantic vibe anyway, until almost the end. There is a lot that Adam and Mia have to sort out with where there relationship had ended and all, and we do get to see some romantic events pre-break up and even pre-accident, but I wouldn't call them clearing the air romantic. However, I will say that in terms of romance I actually did like where things ended up, I think that while a smidgen idealistic, it really worked for the novel.
World-Building
: So, going into this book I didn't really know what to expect, I wasn't going to read the synopsis and begged my friends not to tell me to much when asking about it. At first, since I knew the author had ended her newer duology as a retelling of the first, I thought that this might just be
If I Stay
from Adam's point of view, but just with much better closure. It isn't though, as I said it's a completely new story that doesn't have very much to do with the actual accident. With the time jump, the new narration, and the fact that this book isn't tragically emotional, I felt a very slight disconnect before getting fully invested in the story. It wasn't there for long, but this is a huge change from the first book, it does have it's emotional moments but they're more raw emotion than emotion come by from tragedy. It was an interesting change, but provided not only closure on that insane cliffhanger from the first book, but told a new and amazing story with it as well.
Predictability
: So like I said, going into this book I didn't know too much, and just like I was genuinely unsure whether or not Mia would have stayed in the last book, I was genuinely unsure of how things would turn out in this one. I could probably easily guess that the story would end happily, but how that happy ending would come about was a humongous mystery to me, it made me think and reevaluate what I expected out of this novel, which was a very satisfying feeling.
Ending
: Like I said above, I was very satisfied with how this story ended. While I'm not a fan of duologies usually as most seem to feel more like an unfulfilled trilogy, this duology was more like a set of companion novels that focus a bit more on character development than an intense plot that would normally need additional book to be fleshed out. Was I sad at the end when this series ended, sure, but everything was resolved and I wasn't left with any annoying questions.
Rating:
After I finished this novel i was trying to decide which installment was better and my conclusion, though it may seem like a bit of a cop out, is neither. The two book, though they take place in the same world and revolve around the same characters, are so wildly different that it wouldn't be fair to compare them.
If I Stay
, so so tragic and emotional, while this one felt more like a "normal" contemporary in that while it does deal with some hard topics, it doesn't pull at your heartstrings in the same way. Overall this duology is fantastic and if you read the first novel, possibly in anticipation for the movie which is also great, this installment is a MUST READ!