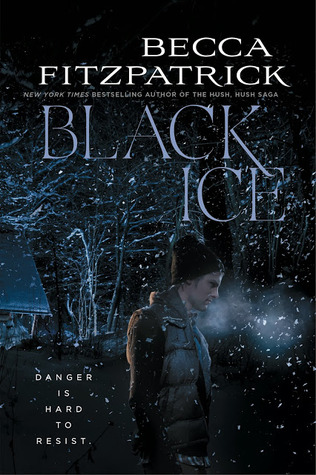 Release Date
: October 7, 2014
Author
: Becca Fitzpatrick
Publisher
: Simon & Schuster Books For Young Readers
Length
: 392 pages
Sometimes danger is hard to see... until it's too late.

Britt Pfeiffer has trained to backpack the Teton Range, but she isn't prepared when her ex-boyfriend, who still haunts her every thought, wants to join her. Before Britt can explore her feelings for Calvin, an unexpected blizzard forces her to seek shelter in a remote cabin, accepting the hospitality of its two very handsome occupants—but these men are fugitives, and they take her hostage.

In exchange for her life, Britt agrees to guide the men off the mountain. As they set off, Britt knows she must stay alive long enough for Calvin to find her. The task is made even more complicated when Britt finds chilling evidence of a series of murders that have taken place there... and in uncovering this, she may become the killer's next target.

But nothing is as it seems in the mountains, and everyone is keeping secrets, including Mason, one of her kidnappers. His kindness is confusing Britt. Is he an enemy? Or an ally?

BLACK ICE is New York Times bestselling author Becca Fitzpatrick's riveting romantic thriller set against the treacherous backdrop of the mountains of Wyoming. Falling in love should never be this dangerous…
Review:
Protagonist
: When our story begins Britt is planning on spending her Spring Break with her best friend, Korbie, and Korbie's boyfriend Bear in Korbie's parents vacation home in the Teton Mountains. What she wasn't expecting was that Calvin, Britt's ex-boyfriend and Korbie's brother would be chaperoning their trip. Britt begins the book with some flaws that become more apparent over time, one being that she usually relies on the men in her life, her father, brother, and at the time boyfriend Calvin to rescue her from tough situations. However, being held hostage and commandeered to guide two criminals running from the law off the mountains springs Britt's character development into hyperdrive. I really liked Briit's narration and even though she does some arguably stupid things, I had to realize that while this is a book for me, to her it's real life and that can change definitely change a person's perspective on things.
Romance
: Going into this I was expecting a love triangle and at the beginning of the book that's exactly what I got. Normally I don't like when a love triangle is uneven, and again at the beginning it was very even, but as the story progressed the balance shifts and I surprisingly found myself enjoying every minute of it. As the story progressed the love triangle was slowly diminishing as it became clear that one of Britt's love interests isn't as nice as he first seemed. I can honestly say that it wasn't all that easy to pin who Britt would end up with from the get-go and the ride just got more intense from there.
World-Building
: While the scenery in this book is beautifully described and I always had a sense of where Britt was in the scene, the world-building in this book comes more from the complex and compelling characters themselves rather than the the actual world this book takes place in. I was shocked to find such layered characters in this book, though it does take quite a bit to really get to the core of each of them. While there were some that were your basic stereotype, the ones that really mattered and the ones we saw most often really helped to pull me into the story with hooked claws. There's an intense psychological aspect to this story that lead to some pretty interesting revelations. The way this author weaves this story is masterful to say the least.
Predictability
: Okay, so going into this book I knew what to expect on the broadest of spectrums. It's a YA novel after all and while you can never be 100% positive what's going to happen there are certain things that are practically a given. That being said, I will admit that how our characters get to that endgame was extremely shocking. Sure there was foreshadowing pointing to where certain parts of the story were going, but most of the time those twists left me with a triumphant feeling that I was able to predict the twist rather than a bored eye rolling drull.
Ending
: So this story's final climax takes up practically the whole last third of the book and it's very intense. Once you get to it, it's like a snowball rolling down a smooth yet steep hill and it's a wild and majestic ride to the finish. Just how everything comes together in the end is as beautiful as it is terrifying. I wasn't sure who was going to live and who was going to die and I savored every minute of that uncertainty. This book does however have and epilogue and my only real complaint happens in it. Even though Britt goes through so much character development she does something in the epilogue that mimics the beginning of the book and it kind of makes me want to facepalm. It all works out okay but still it was a bit uncomfortable.
Rating:
So why is this book worth reading? Well if you're not afraid of a chilly psychological thriller I'm sure you'll love this one. With dynamic characters and high stakes, what could go wrong? The only reason this book didn't get a full 5 stars is that tiny bit of backslide on Britt's part and an unanswered question (which for the sake of being as spoiler-free as possible I won't fully address) that seemed to be tossed aside.
FTC Disclaimer:
#simoninsiders: I'm required to disclose a relationship between my blog and Simon & Schuster. This could include Simon & Schuster providing me with content, books, access or other forms of payment.
Join Simon & Schuster Insiders