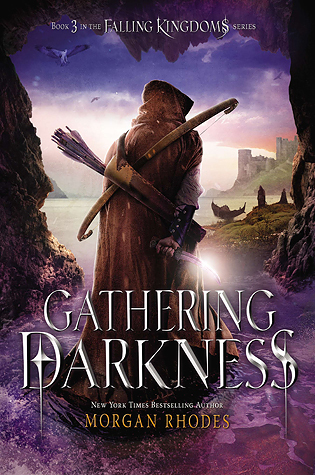 Release Date
: December 9, 2014
Author
: Morgan Rhodes
Publisher
: Razorbill
Length
: 416 pages
In GATHERING DARKNESS, book three of the New York Times bestselling Falling Kingdoms series, the stakes have never been higher as three teams push forward on a race to find the Kindred, the four elemental crystals possessing ancient all-powerful magic, first:

Prince Magnus has just witnessed torture, death, and miracles during the bloody confrontation that decimated the rebel forces. Now he must choose between family and justice as his father, the cruel King Gaius, sets out to conquer all of Mytica. All Gaius needs now are the Kindred - the four elemental crystals that give godlike powers to their owner. But the King of Blood is not the only one hunting for this ancient, storied magic...

• THE KRAESHIANS join the hunt. Ashur and Amara, the royal siblings from the wealthy kingdom across the Silver Sea, charm and manipulate their way to the Kindred, proving to be more ruthless than perhaps even the King of Blood himself.

• THE REBELS forge ahead. Princess Cleo and vengeful Jonas lead them, slaying with sweetness, skill, and a secret that can control Lucia's overpowering magic - all so they can use the Kindred to win back their fallen kingdoms.

• THE WATCHERS follow Melenia out of the Sanctuary. They ally in the flesh with King Gaius, who vows to use Lucia's powers to unveil the Kindred.

The only certainty in the dark times is that whoever finds the magic first will control the fate of Mytica... but fate can be fickle when magic is involved.
Review:
Characters
: The hardest thing about this series is figuring out who's a "good guy" and who is a "bad guy." When I had first started this series, I had thought that the core four characters Cleo, Jonas, Magnus, and Lucia would fairly quickly find themselves on the same side and working towards the same goal, and while that may still happen in the next three books, even by the end of this book it's hard to tell when or even if that could ever happen. This however, isn't something that I dislike or despise, in fact it's one of my more favorite parts of the series, the fact that even though we get chapters from these characters' points of view, it's hard to fully understand their goals and ambitions leading me to constantly rethink which character I'm rooting for the most.
Romance
: The romance in this series, and particularly in this book is off the charts crazy, in the best possible way. Seriously though, it's hard to keep track of who has feelings for who and who is allowed to be with who, not to mention when characters' bond lead to more than just friendship or in some cases a begrudging respect that I can barely keep up. Oh boy though, but when I do it's otherworldly, I've never seen such a complicated display of romantic relationships. I think, in terms of shippers that everyone will walk away with something from this book, unless of course you ship/shipped characters who died in the previous two books.
World-Building
: Going into this book I had thought that there would just be four installments in this series, so I believed that while there would probably be some expansion to the world we've seen that there wouldn't be too much introduced as the series would need to wind down in the next book. Well then I found out that this series is actually going to consist of six books and not four, which was no surprise as this book revealed so much about this world that calling it game-changing would not be much of a stretch, if at all. By the end of this book, I can't wait to find out what happens next, all I can hope is that there will be at the very least a modicum of explanation in the spin-off which, while taking place in ancient Mytica, may shed a bit of light on what's going on in "present day"
Predictability
: Another great thing about this series, it's so hard to predict anything. I will admit that I accidentally spoiled myself on what I thought was a lot of information at the time, only to find out that it barely even scratched the surface. There is so much that happens in this book, and there are so many shocking reveals, murders, and twists that I barely know where to begin, but I will say that this is probably my favorite book of this series purely because of how much shocking information is crammed into this book.
Ending
: Speaking of shocking information, the final chapter of this book truly embodies how game-changing this book is. While the final few chapters were pure amazing and the "final" climax of the book was brilliantly written and devised, it was the final chapter itself that I loved the best. Toward the end of the book there was one question, well many actually, but one in particular that I knew we were going to get an answer to and that I couldn't wait to find out and it did not disappoint. To say that this book ends on a cliffhanger is both true and misleading. It doesn't end on a crazy twist or shocking reveal, the final chapter itself did much of that even in the beginning of the end. The end however is more of a statement that at the very least drove me crazy with need to find out what will happen next in this world.
Rating:
While I thought this was the penultimate book in this series, I'm both happy and a bit disappointed that I was wrong. Happy for obvious reasons, more books in this world and the ability to expand the world as much as the author did in this book, but also disappointed because I thought I was so close to resolution only to be driven further away from it. I can't wait to see what happens next in this world and to see if the next installment can top this one, I hope so!