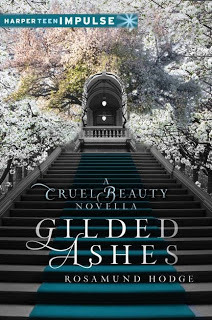 Release Date
: April 1, 2014
Author
: Rosamund Hodge
Publisher
: HarperTeen Impulse
Length
: 111 pages
A romantic and fantastical reimagining of the classic Cinderella tale, Gilded Ashes is a novella by Rosamund Hodge set in the same world as the author's debut novel, Cruel Beauty.

Orphan Maia doesn't see the point of love when it only brings pain: Her dying mother made a bargain with the evil, all-powerful ruler of their world that anyone who hurt her beloved daughter would be punished; her new stepmother went mad with grief when Maia's father died; and her stepsisters are desperate for their mother's approval, yet she always spurns them. And though her family has turned her into a despised servant, Maia must always pretend to be happy, or else they'll all be struck dead by the curse.

Anax, heir to the Duke of Sardis, doesn't believe in love either—not since he discovered that his childhood sweetheart was only using him for his noble title. What's the point of pretending to fall in love with a girl just so she'll pretend to fall in love with him back? But when his father invites all the suitable girls in the kingdom to a masked ball, Anax must finally give in and select a wife.

As fate would have it, the preparations for the masquerade bring him Maia, who was asked by her eldest stepsister to deliver letters to Anax. Despite a prickly first encounter, he is charmed and intrigued by this mysterious girl who doesn't believe in love. Anax can't help wishing to see her again—and when he does, he can't help falling in love with her. Against her will, Maia starts to fall in love with him too. But how can she be with him when every moment his life is in danger from her mother's deadly bargain?
Review:
Protagonist
: Maia lives in the constant fear that the ghost of her mother will punish those that do her harm. Because of this she puts on a constant act of love and happiness toward the stepmother and stepsisters who are cruel to her. Her life is filled with lies, lies to protect others, and lies she tells herself. Maia is a very practical and level-headed heroine who's only wish is to get her stepfamily away from her mother's spirit. While I had hoped for a dual narrated story from both Maia and Anax's perspectives, I was not disappointed to only have one voice narrate the story.
Romance
: Since this is only a novella and a Cinderella retelling on top of that I didn't expect that the romance would feel very realistic. I have very strong feelings about the romance in Cinderella, it always seems to me like the epitome of insta-love. So, imagine my surprise when this retelling introduces the "Cinderella" and "Prince Charming" well before the ball and slowly builds a trust and friendship and dare I say even love between them. This is still a novella, so slowly is very relative but I really loved how this author spun a tale that I'm usually not a fan of and made the part I dislike the most a lot more palatable.
World-Building
: So with this being a companion novella that has next to nothing to do with
Cruel Beauty
other than that it takes place in the same universe and a fairly quick cameo from the Gentle Lord, there's not much to say. Though for it being such a short story, there's a lot that was fleshed out between the characters and their pasts. This novella focuses solely on the Cinderella tale, instead of mixing it with other fairy tales in the way that
Cruel Beauty
though with this being a novella, that was probably a good thing.
Predictability
: So, all in all this novella was really predictable, though there were moments, especially towards the end that really shocked me and threw me for a loop. There's one thing in particular that I figured out very early on, and though it takes Maia nearly the entire story to figure it out, though while I figured it out, I was not angry when it seemed Maia finally got a clue and figured things out for herself.
Ending
: Like I said, the ending is full of crazy twists and things going all to hell, in the best of all possible ways. However, when I finished the story I felt like something was missing, that there wasn't enough closure, which there really wasn't. While the storm of that ending had calmed, there were still a lot of consequences that we don't get to see fully resolved. I would have loved just one more chapter, an epilogue to really wrp things up.
Rating:
So while this novella is fantastic, once again mixing Greek mythology and classic Fairy Tales, it was just a bit too short, needing a bit more to fully resolve the ending, and in the end I just wanted to read
Cruel Beauty
again.