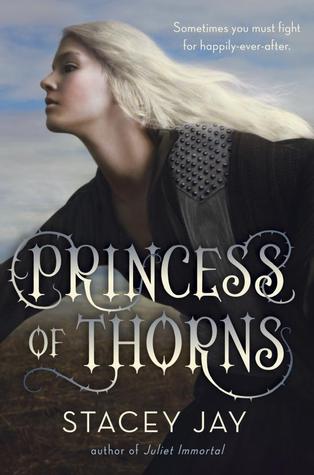 Release Date
: December 9, 2014
Author
: Stacey Jay
Publisher
: Delacorte Press
Length
: 400 pages
Game of Thrones meets the Grimm's fairy tales in this twisted, fast-paced romantic fantasy-adventure about Sleeping Beauty's daughter, a warrior princess who must fight to reclaim her throne.

Though she looks like a mere mortal, Princess Aurora is a fairy blessed with enhanced strength, bravery, and mercy yet cursed to destroy the free will of any male who kisses her. Disguised as a boy, she enlists the help of the handsome but also cursed Prince Niklaas to fight legions of evil and free her brother from the ogre queen who stole Aurora's throne ten years ago.

Will Aurora triumph over evil and reach her brother before it's too late? Can Aurora and Niklaas break the curses that will otherwise forever keep them from finding their one true love?
Review:
Protagonists
: Aurora is the daughter of Sleeping Beauty, and while she doesn't have a sleeping spell looming over her head, she is nonetheless cursed. Her mother, in an attempt to give her daughter the best chance possible to reclaim her throne, transfers her faerie gifts, given to her at birth, to her daughter, but she adjusts them leaving Aurora with a terrifying ability. Then there's Niklaas, the eleventh son of an immortal king, too scared to give up his throne that he commands a witch to curse them so they never reach their eighteenth birthday. Both these characters are cursed and have a very jaded view of the world and love because of it. It was really interesting that while these two had so much in common, they both helped the other one develop and grow into more mature and capable characters.
Romance
: So yes, this book has quite a bit of romance in it, but it 1) doesn't drive the plot and 2) burns incredibly slowly, especially since Niklaas believes Aurora is her brother Jor throughout over half of the book. The romance in this book is one built upon friendship, which is something that's not really done all that much in YA novels. Sure you'll have a best friend character have a thing for the main character or vise versa, but you never really see two strangers go from arguing to grudging respect to friendship to eventual romance all within the confines of one book. I should also add that this love is really earned too, which is not typically something I'd ever believe could happen over the course of one book.
World-Building
: Going into this book I knew I'd be more in for a high fantasy than a fairy tale retelling. While I was right, I was surprised how many times this book really felt like one rooted in fairy tales. First off I have to commend the author for using and mixing two lesser known narratives (Perrault's and Basile's) for this tale of Sleeping Beauty. In addition to Sleeping Beauty there were also elements of Little Red Riding Hood, Rapunzel, Rumpelstiltskin, Hans Christian Andersen's The Wild Swans. I loved how well the two genres mixed so easily and really both felt present in the tale.
Predictability
: Going into this book I didn't quite know what to expect, not only does this book draw on lesser known versions of Sleeping Beauty, but the synopsis isn't quite that descriptive of what's in store. That sense of unknowing is sort of a theme throughout the book and it's hard to know quite what to expect next. Other than some pretty broad and vague things, there wasn't much I was able to predict which could, at times be incredibly frustrating and a bit boring to be honest.
Ending
: So the ending was something I was a bit worried about. I had heard that the author wanted to write a sequel and had even tried to do some crowdfunding for it, which made me wonder if this book would have ended unfinished or on a cliffhanger. Well, it doesn't in fact the last chapter does a lot to really make sure that everything pertaining to our main characters is neatly wrapped up. However there were some things that weren't completely answered or dealt with, a few things pertaining to Niklaas, some offhanded comments made by side characters that were never fully explained, which made me wonder if the "sequel" to this book would have been less of a continuation and more of a companion novel.
Rating:
While I really enjoyed this book, it was fun, adventurous, and had a strong and determined female lead, there were just a couple minor things I had problems with, first off, this book kept me too in the dark with what would happen and a bit more foreshadowing here and there would have done wonders, also the story seemed to drag a bit every once and a while which was obviously a sore point in an otherwise great story.