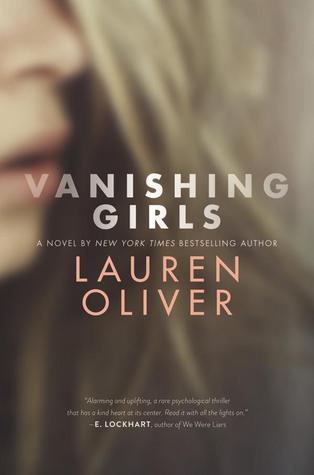 Release Date
: March 10, 2015
Author
: Lauren Oliver
Publisher
: HarperCollins
Length
: 368 pages
New York Times bestselling author Lauren Oliver delivers a gripping story about two sisters inexorably altered by a terrible accident.

Dara and Nick used to be inseparable, but that was before the accident that left Dara's beautiful face scarred and the two sisters totally estranged. When Dara vanishes on her birthday, Nick thinks Dara is just playing around. But another girl, nine-year-old Madeline Snow, has vanished, too, and Nick becomes increasingly convinced that the two disappearances are linked. Now Nick has to find her sister, before it's too late.

In this edgy and compelling novel, Lauren Oliver creates a world of intrigue, loss, and suspicion as two sisters search to find themselves, and each other.

"Alarming and uplifting, a rare psychological thriller that has a kind heart at its center. Read it with all the lights on." --E. Lockhart, author of We Were Liars
Review:
Protagonists
: This book focuses on sisters Dara and Nick. After a car accident that leaves Dara scarred and the sisters estranged, Nick comes home to live with her mother and finds that Dara wants nothing to do with her. The majority of the book focuses on Nick as she tries not only to fix her relationship with Dara but to remember exactly what happened the night of the accident, since she doesn't know quote what led to it happening. The story is told not only in the dual POV of Dara and Nick, but also alternates between Before and After to provide a larger picture into what's going on. The relationship between Dara and Nick is very much at the forefront of this book and the way it's handled was very unexpected and while it was well done, it still left me with a few questions.
Romance
: Since the relationship between Dara and Nick is at the forefront of this book, there wasn't that much room left for romance, for either sister, but in the end there still was a bot of it here and there. I can't exactly say that much about the romance since, while it's not an integral part of the story, it does in some way tie in with a very large twist in the story. I will say though that by the end of the book the romance probably isn't quite where you'd expect it to be, I know I sure didn't think that it would be at the level is was.
World-Building
: Much of this book had to do with the relationships between the large cast of characters and how it all played out in the timeline set up by the author. Dara and Nick are so very different, yet they are the best of friends up until the accident. Watching their relationship unfold over the course of the book was interesting especially in ways that pertained to over arcing plot as well. The chapters, which are labled by date rather than number are at times interspersed with various other forms of information, a diary entry here, a news article pertaining to the characters, or emails between characters. There are also pieces of artwork, whether it's illustrations or photographs, I don't know as there were only place holders in my ARC, however I'd be interested to see not only what's supposed to go there, but to see how it fits with the story.
Predictability
: Like I mentioned above there is a gigantic twist towards the end of this book. To try and put into perspective just how large it is I'll say that after reading the page in which it was finally revealed I had to reread the page about five to six times for it to sink in as I was so shocked and confused with what was going on, but once it finally sunk in I was both shocked and still kind of confused, There were elements of foreshadowing for sure, but it's a bit hard to swallow and some things just don't quite fit right.
Ending
: The ending of the book is interesting as part of me still felt like there should have been a more tied off closing. There were a few things just left hanging that I had hoped would have been explained and fleshed out a bit more before the book ended. Though it does end in a way that is very obvious that this isn't the first in a series, or that there is another story from this world out there.
Rating:
For the most part this book is spectacular, I just had a bit of trouble fully grasping the twist, or I should say that the twist brought up more questions than it answered and the ending just felt a bit unfinished. Other than those things I completely love this book. It's a great psychological thriller perfect for fans of
We Were Liars
by E. Lockhart.