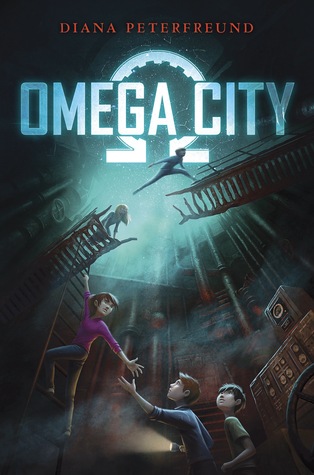 Release Date
: April 28, 2015
Author
: Diana Peterfeund
Publisher
: Balzer + Bray
Length
: 336 pages
The first middle grade novel in an exciting new series from acclaimed author Diana Peterfreund, perfect for fans of The Goonies and The City of Ember.

Gillian Seagret doesn't listen to people who say her father's a crackpot. His conspiracy theories about the lost technology of Cold War–era rocket scientist Dr. Aloysius Underberg may have cost him his job and forced them to move to the middle of nowhere, but Gillian knows he's right and plans to prove it.

When she discovers a missing page from Dr. Underberg's diary in her father's mess of an office, she thinks she's found a big piece of the puzzle—a space-themed riddle promising to lead to Dr. Underberg's greatest invention. Enlisting the help of her skeptical younger brother, Eric, her best friend, Savannah, and Howard, their NASA-obsessed schoolmate, Gillian sets off on a journey into the ruins of Omega City, a vast doomsday bunker deep inside the earth,.

But they aren't alone inside its dark and flooded halls. For while Gillian wants to save her dad's reputation by bringing Dr. Underberg's secrets to light, there are others who will stop at nothing to make sure they stay buried . . . forever.
Review:
Protagonist
: Gillian knows her father's claims about Aloysius Underberg are true, she's seen the evidence with her own two eyes, however after it was lost when there house was flooded, no one believes her father's claims are true. So after discovering something her father had missed she goes in search of proof and she brings some friends along for the dark and scary ride. I was really impressed with Gillian's character development, and really to be honest the development of all the core group that tags along with her. While Gillian's development isn't a largely nearly tangible sort of development, when you start to see the seeds of it, it really comes together. With the other kids, the development is pretty easily seen, especially with Gillian's brother, Eric, and her best friend, Savannah.
World-Building
: I was really surprised and impressed with the world-building for this book. When I realized it was going to be more of a conspiracy tale than a treasure hunt, which it still is in spades, I was a bit skeptical, but I really found myself enjoying every bit of it. Particularly because this isn't a theory that has no real world connections. The fact that this conspiracy theory and all of the information surrounding it, and how realistic parts of it could be, was all the brain child of one author, was kind of mind blowing. I actually looked up Aloysius Underberg to see if he was real, even though his last name seems pretty made up, he's not by the way, but I thought it was pretty cool that at least for a little bit I thought he could have been. My only real complaint is that sometimes there would be small plot holes, though they may be fixed by the finished copy so I'm not going to let it affect my rating.
Predictability
: At the beginning this book was fairly predictable, especially who the role of the villain (at least for this installment) belongs to. I was actually worried for a bit that the identity would be drawn out and we wouldn't figure it out until a quarter or half way through. However, it was revealed or at the very least a lot more heavily hinted at within a few chapters. For the rest of the book though, there wasn't much I could really guess. Little, sometimes big, things here and there sure, but I was really surprised with how much I wasn't able to fully see coming, and of course the ending was a rather large blind spot as well.
Ending
: So yeah the end, I was actually really interested to see how this book would end. On the one hand I knew this was the first book in a series, and given the series name I wasn't quite sure how much of that was a reflection of the series or if the series was just named after the first book. I will say that the ending was a bit unorthodox, it didn't go down quite like I was expecting and I will say that minus a few lingering questions this book could have easily been a stand-alone, and a pretty great one at that.
Rating:
So I've debated what rating I should give this book, and while I'm not completely comfortable with 5 stars, I'm more comfortable with it than any other rating. This book is pretty fantastic and minus a few plot holes that might have already been fixed for the finished version and a slightly slower pace than I had thought, this is a fantastic MG read!