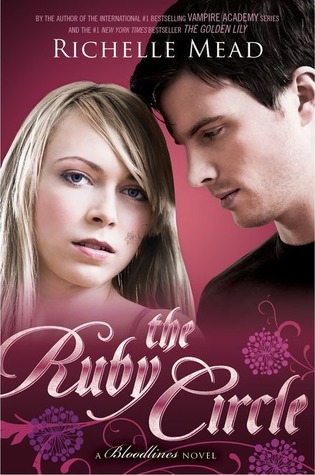 Release Date
: February 10, 2015
Author
: Richelle Mead
Publisher
: Razorbill
Length
: 348 pages
The epic conclusion to Richelle Mead's New York Times bestselling Bloodlines series is finally here...

Sydney Sage is an Alchemist, one of a group of humans who dabble in magic and serve to bridge the worlds of humans and vampires. They protect vampire secrets—and human lives.

After their secret romance is exposed, Sydney and Adrian find themselves facing the wrath of both the Alchemists and the Moroi in this electrifying conclusion to Richelle Mead's New York Times bestselling Bloodlines series. When the life of someone they both love is put on the line, Sydney risks everything to hunt down a deadly former nemesis. Meanwhile, Adrian becomes enmeshed in a puzzle that could hold the key to a shocking secret about spirit magic, a secret that could shake the entire Moroi world.
Review:
Protagonist
: I know I've said this before, but I'm going to say it for one final time, Sydney Sage has come a long way since the beginning of this incredible series. Instead of being fearful of Moroi and Dhampirs and any form of "unnatural" magic, she now works with them and has even fallen in love with a Moroi and is a badass witch in her own right. While she and Adrian still have quite a bit of development to go in this book, their greatest and most life changing bits of development are behind them as this book begins.
Romance
: If you would have told me how Sydney and Adrian end up by the end of this book way back when
Bloodlines
first came out, I wouldn't have believed you for a second. It's not that I couldn't have seen it happening eventually, though not under these specific circumstances, but still, it's kind of interesting to see how they ended up from barely knowing each other to where they are in the book's epilogue. However, before the end of this book, their relationship still has a lot to go through, specifically Adrian's flippant attitude towards his spirit use, but with all that these two have been through, well I won't spoil anything.
World-Building
: Wow, after twelve books set in the same world, Richelle Mead is still delivering some fantastic world-building. There are two incredible and crazy things that instantly come to mind when I think about the things we learn about the Moroi world. One is a crazy and shocking family bombshell, though not technically important to the entire Moroi world, but it definitely affects all the main characters from both series. Then there is something that I had thought about just before
Last Sacrifice
came
out that, while this case involves different people, sort of comes true in this book, in fact it's a secret that could turn this entire world on it's head.
Predictability
: So I talked a bit about the predictability above, however minus those two incredible shockers, like the rest of this series, the foreshadowing made predicting the course of this book pretty easy. Also like the rest of the series, I didn't mind it, in fact I loved being able to see where these things were going and even if I saw them coming, some of the twists still kept their intended effects.
Ending
: Like I said above this book ends in an epilogue, and anyone who reads my reviews knows that I love epilogues. There isn't much I can say about this epilogue without spoiling anything, however I will say that while there are a great many things that are still unanswered about this world, our heroes involvement seems to be over for quite a while. As for the things that happen in the last few chapters, well I'll say that Sydney is a badass in more than just her magic skills and for a while I was unsure if there would be a final confrontation type battle, and there's actually two, one was strongly physical while another one was a lot more mental.
Rating:
While this wasn't my favorite of the series, that honor is for
The Indigo Spell
, this ranks exceptionally high up there. This is a great end to the Bloodlines series, and while we won't get any more books from the VA world for a while, I do know that there seems to be plenty of things left to explore.