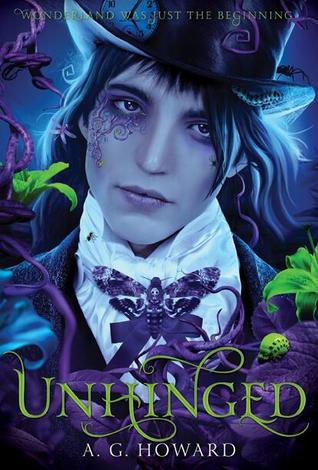 Release Date
: January 7, 2014
Author
: A.G. Howard
Publisher
: Amulet Books
Length
: 387 pages
Alyssa Gardner has been down the rabbit hole and faced the bandersnatch. She saved the life of Jeb, the guy she loves, and escaped the machinations of the disturbingly seductive Morpheus and the vindictive Queen Red. Now all she has to do is graduate high school and make it through prom so she can attend the prestigious art school in London she's always dreamed of.

That would be easier without her mother, freshly released from an asylum, acting overly protective and suspicious. And it would be much simpler if the mysterious Morpheus didn't show up for school one day to tempt her with another dangerous quest in the dark, challenging Wonderland—where she (partly) belongs.

As prom and graduation creep closer, Alyssa juggles Morpheus's unsettling presence in her real world with trying to tell Jeb the truth about a past he's forgotten. Glimpses of Wonderland start to bleed through her art and into her world in very disturbing ways, and Morpheus warns that Queen Red won't be far behind.

If Alyssa stays in the human realm, she could endanger Jeb, her parents, and everyone she loves. But if she steps through the rabbit hole again, she'll face a deadly battle that could cost more than just her head.
Review:
Protagonist
: In this book most of Alyssa's character development is focused around trying to balance both her netherling and human sides. I found it really interesting that this wasn't all about embracing her netherling side, but was instead whether or not she could find a way to experience both parts of herself and have a normal human life while still finding a way to care for Wonderland. Alyssa comes a long way in this book and I really loved how she grew and matured within just a few hundred pages.
Romance
: Morpheus is still a huge pain in the ass, while I will admit that he does a few good/heroic things in this book, he's still the same manipulative, obsessive, and controlling Morpheus he was in the first book. While he has arguably a better reason to do what he does in this book, I couldn't help thinking that there was a better, and much less annoying way to go about it. I'm not saying that Jeb is the paragon of a perfect love interest or anything, but at least in my opinion, he's a much better love interest than Morpheus.
World-Building
: It was funny how long I was waiting for Alyssa and Co. to enter Wonderland. For some reason, probably because it was brought up at the beginning of the book, but they never went. Even though this book takes place almost exclusively in the human world doesn't mean there weren't some Wonderlandian moments, in fact there were a lot. More than that though is how much we learn about Wonderland's past and Alyssa's own origins. There's a lot to learn and still a lot left to be discovered by the end of this book.
Predictability
: So on the whole this book was very surprising. I think it was because I was expecting one thing, but when I was presented with something different I got off my game. Seriously though there were moments, especially towards the end, that I didn't see coming until just before they happened, even the cliffhanger I should have at least had a feeling would happen. However, it was a fun and maddening ride til the very end.
Ending
: So this ending was seriously insane, in the best possible way. It was partly because of how unexpected it was and just for the sheer awsomeness it entailed. So the final climactic moments are both shocking and heart-wrenching. Then in the final chapter of the book, I was both surprised and impressed with Alyssa's ingenuity going into the cliffhanger.
Rating:
So I debated on the rating for a while and while I'm still not 100% sure 4 stars is high enough it's the best I've got. I tried not to take how annoying Morpheus was into consideration
too
much, so really most of the reason it's this low is that something just felt a bit off, maybe because for nearly half, if not more, of the book it felt a bit like filler. Anyway this is still an amazing follow up to
Splintered
and I'm trying to withhold myself from reading
Ensnared
right this second.