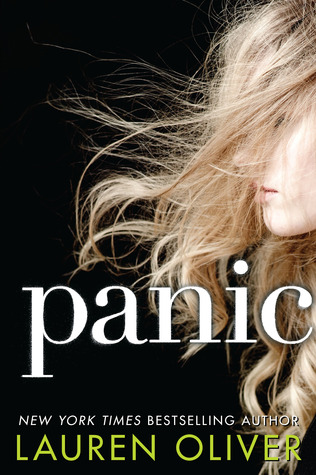 Release Date
: March 4, 2014
Author
: Lauren Oliver
Publisher
: HarperCollins
Length
: 408 pages
Panic began as so many things do in Carp, a dead-end town of 12,000 people in the middle of nowhere: because it was summer, and there was nothing else to do.

Heather never thought she would compete in Panic, a legendary game played by graduating seniors, where the stakes are high and the payoff is even higher. She'd never thought of herself as fearless, the kind of person who would fight to stand out. But when she finds something, and someone, to fight for, she will discover that she is braver than she ever thought.

Dodge has never been afraid of Panic. His secret will fuel him, and get him all the way through the game, he's sure of it. But what he doesn't know is that he's not the only one with a secret. Everyone has something to play for.

For Heather and Dodge, the game will bring new alliances, unexpected revelations, and the possibility of first love for each of them—and the knowledge that sometimes the very things we fear are those we need the most.
Review:
Protagonists
: This book is told from the third person perspectives of both Heather and Dodge. Now Dodge, is a rather two dimensional character. His personality can pretty much be summed up in the facts that he's entering Panic to achieve some sort of revenge, and he has a thing for Heather's best friend Natalie. He would seem really creepy most of the time and I never really rooted for his character at all. Heather on the other hand felt so much more real. She starts Panic, almost on a whim as she thinks her world is crumbling around her, but later in the book really discovers her own purpose for jumping that first day. Heather felt very real, she's flawed and a bit broken but learns to pick her self up along the way.
Romance
: There isn't too much romance in this book, which is a great thing seeing as when there was romance I tended not to like it all that much. First we have Dodge and Nat, a relationship that just felt very off. We never really got a great reading on Nat's feelings for Dodge, but his feelings for her seemed to border on obsessive. There was just a sleazy feeling whenever he mentioned his feelings for her and it felt as though his happiness relied on her which completely turned me off to the relationship. Then we have Heather and Bishop, this romance was a bit more of that best friend, slow burning, relationship, at least on Heather's part. This I actually really enjoyed until towards the end we got to see a good reading of how Bishop feels about Heather, and while it didn't feel creepy like Dodge's feelings were, it felt very sad how much his world, his entire being, is eclipsed y how he feels about her.
World-Building
: The premise of this book is very promising, kind of like
The Hunger Games
and
Divergent
with a contemporary background. I really enjoyed delving into the world of Panic and it's impact on this small town. Oliver's writing style is beautiful and brings the story about this small town to life. There were moments that felt as though they weren't told from the third person perspective of one of the two protagonists, but rather an omniscient storyteller, these moments are fantastic and really in a lot of ways develop the town itself as sort of a character within this book.
Predictability
: More or less this book was unpredictable. Of course as with most books there were things that I could easily intuit, but for the most part some of the larger twists were a big surprise and unfortunately not always for the better. There's a lot of drama in this book and so I would say don't go in expecting something like a fluffier contemporary, but instead think of something darker and more mysterious.
Ending
: As this book was coming to a close I was waiting for that final climactic scene, with what I already knew about Panic, I was expecting something huge, and while it wasn't as devastating as I was hoping, (does that make me a bad person?) the description of the scene just before the epilogue chapter was pretty epic. The epilogue was pretty good, there were a few things that I would have liked to know, things that seemed to have been resolved in the epilogue but were never officially addressed.
Rating:
Honestly, if I had to rate this book on the characters and romance alone, this would be a two, maybe one and a half star book, but the world and story, mixed with Oliver's incredible writing really did a lot to hold my attention. I'll be interested to see what changes are made in the upcoming movie adaptation for this book.