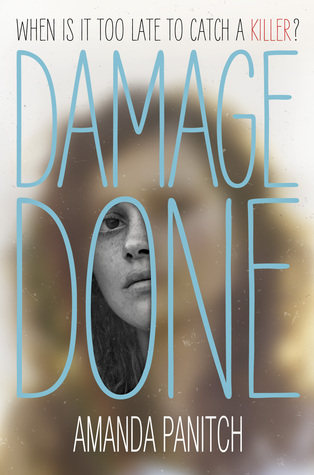 Release Date
: July 21, 2015
Author
: Amanda Panitch
Publisher
: Random House Books for Young Readers
Length
: 304 pages
"Exceedingly clever and surprisingly unsettling, Damage Done is an unforgettable read." --Melissa Marr, New York Times bestselling author of Made for You

"In her incredible debut novel, Amanda Panitch leaves you on the edge of your seat. Prepare to be stunned. Prepare to be torn apart." --Roxane Gay, New York Times bestselling author of Bad Feminist

"A brilliant thriller. Gillian Flynn for the YA set." --Amy Christine Parker, author of Gated

22 minutes separate Julia Vann's before and after.

Before: Julia had a twin brother, a boyfriend, and a best friend.

After: She has a new identity, a new hometown, and memories of those twenty-two minutes that refuse to come into focus. At least, that's what she tells the police.

Now that she's Lucy Black, she's able to begin again. She's even getting used to the empty bedroom where her brother should be. And her fresh start has attracted the attention of one of the hottest guys in school, a boy who will do anything to protect her. But when someone much more dangerous also takes notice, Lucy's forced to confront the dark secrets she thought were safely left behind.

One thing is clear: The damage done can never be erased. It's only just beginning. . . .
Review:
Protagonist
: Julia Vann, now known as Lucy Black, was the only survivor in a horrific school shooting, the shooter was her twin brother Ryan. After being shunned by the town and prematurely judged by everyone she's ever known, she and her family decide to move far away to get away from all the mania and nasty stares. Now Lucy has started over in a brand new life, but soon her past comes back to haunt her. So I really liked the character of Julia/Lucy, for the most part it was very easy to kind of get into her mind and understand why she made the decisions that she did.
Romance
: So the romance in this book is pretty straightforward, there were no real love triangles or really not that much drama at all. It is a sweet innocent romance, and while it may seem to progress a bit too fast for some, for me I like it. The thing is, I give standalone romances a pass to have their characters fall in love in just one book, and this book just went above and beyond to not only have these characters fall in love, but to explain why they know they are in love. That, ladies and gentlemen, just made my day. But in all seriousness, this romance is done spectacularly well, everything made sense and nothing really felt unrealistic about it.
World-Building
: Gah! So there are so many things I could discuss here. Since this is a contemporary novel there isn't too much to talk about in terms of world building because the world is based on our own, but I do have something I really want to talk about and that's the psychological aspect to this book. So every few chapters or so we would get to see Ryan, Julia/Lucy's brother's, psychologist, Dr. Spence's, notes from his therapy sessions with Ryan. First off Dr. Spence, if he really is a doctor, is a bit of a tool, he only really sees Ryan as a project to help further his career, and while that means he tries to go above and beyond for Ryan, it's hard to find any compassion for him in his notes. His notes are also wildly unprofessional, reading more like a diary than a description of the session. As to getting a glimpse into who Ryan is, well, that was a bit puzzling, in a good way. There's an insight that these notes provide that aren't all that illuminating until the end of the book.
Predictability
: So wow, before I get into the BIG thing a bit let's talk about the story overall. This book is incredibly mysterious and there are moments that don't quite make sense, some seemingly superfluous exposition in the beginning, and loads of questions about not only the incident, but the events going on in the story. This made nearly everything extremely hard to predict, sure as usual there were small things that I either knew were going to happen eventually on I caught onto the fact that something was going to happen, but the specifics never quite came to the surface until they happened in the book. Then of course there was the biggest twist of all, something that made everything come together in the end.
Ending
: So I would describe the ending of this book to be about just over the last three chapters of the book. This is where everything starts to make sense, all the little inconsistencies, everything that didn't quite make sense is answered and let me just say, I never truly caught on to it, I had some possibilities, but nothing very close to the truth. Let me just say that this book put me into a catatonic-esque state, where I was just wondering what the heck I just read. I'm still not a hundred percent sure how I feel about the end, I know I like it, and I know it's fairly unique for a YA book, but other than that I'm still trying to figure things out.
Rating:
So for most of the book, after a few more or less bumpy chapters, I knew this was going to be a five star book. I knew that only something terrible could change that, then the ending happened, and everything changed, the book got darker, yet more vibrant, it became so much more. And while I'm still reeling over that ending, I'm thinking that so far this ranks as one of, if not the best, books I've read so far this year.