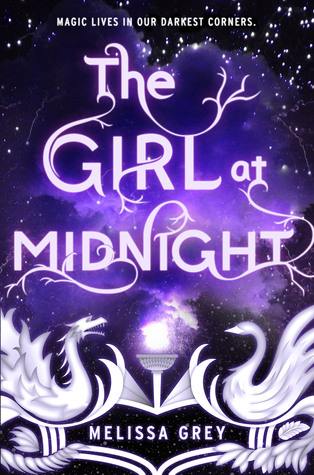 Release Date
: April 28, 2015
Author
: Melissa Grey
Publisher
: Delacorte Press
Length
: 357 pages
Beneath the streets of New York City live the Avicen, an ancient race of people with feathers for hair and magic running through their veins. Age-old enchantments keep them hidden from humans. All but one. Echo is a runaway pickpocket who survives by selling stolen treasures on the black market, and the Avicen are the only family she's ever known.

Echo is clever and daring, and at times she can be brash, but above all else she's fiercely loyal. So when a centuries-old war crests on the borders of her home, she decides it's time to act.

Legend has it that there is a way to end the conflict once and for all: find the Firebird, a mythical entity believed to possess power the likes of which the world has never seen. It will be no easy task, though if life as a thief has taught Echo anything, it's how to hunt down what she wants . . . and how to take it.

But some jobs aren't as straightforward as they seem. And this one might just set the world on fire.
Review:
Characters
: While this book includes a few third person POV perspectives, the main two that it focuses on are Echo, a human girl who has been more or less raised by the bird-like Avicen race, and Caius, the Prince of the dragon-like Drakharin race. The Avicen and Drakharin races are at war and the only known way to end it, for good or for bad, is with the help of the Firebird. Echo and Caius set out to find this legendary hope, and along the way their paths intertwine. I really enjoyed both characters. While Echo was a bit self-deprecating, being a part of the Avicen culute without being one of the Avicen, she grows stronger over the course of the series and learns to embrace who she truly is. Caius, at first seeming like the cold and calculating Dragon Prince, is quickly shown to have a softer and kinder side.
Romance
: So there is a bit of a love triangle, if you could call it that, in this book. At the start of the book Echo is in a relationship with an Avicen boy, but since she's separated from him once she begins her journey and she meets Caius, things get a bit complicated. Right off the bat, I wasn't a huge fan of Rowan, Echo's boyfriend at the beginning of this book, mainly because I'm inherently skeptical of all pre-established romances, and there's no real development with him. Echo and Caius's romance is very slow burning, but it's always there beneath the surface. I liked that and it never felt over the top or crazy.
World-Building
: It is very easy to see where Grey gets her inspiration from, and while this book definitely feels inspired by other works it never gets too far into that dangerous copyright zone. This book is very reminiscent of both the Mortal Instruments by Cassandra Clare as well as the Daughter of Smoke and Bone series by Laini Taylor. At one point this book does get dangerously close in plot to DoSaB, but sort of slowly backs away and becomes more it's own thing. Because it never went
too
paralleled with DoSaB, I decided not to let it cloud my judgement (i.e. affect the rating) but as a friendly warning for those who have read Taylor's series, this may be a love or hate book for you. Overall, the writing is very well crafted, the pacing reminds me very much of a Raven Cycle book by Maggie Steifvater, it's slow to start, but around the halfway point things get kicked into high gear and while it's never too faced paced it certainly is compelling.
Predictability
: So on the whole this book is pretty unpredictable. Sure, as usual there were a lot of small things, falling within certain YA tropes or cliches that make these certain elements easy to predict. Actually there was one moment, when the parallels between this book and
Daughter of Smoke and Bone
first hit me that my inner cynic that I thought I knew how the larger twists in the end were going to turn out to be like, but instead they turned out to be so much better than I imagined.
Ending
: Wow, that ending. So first off there's an amazing final climax, definitely something I didn't see coming, I loved the action at the end, things got very fast paced as the book began to wrap up, There were some amazing revelations and shockers. The very ending of this book plateaus like many other first books in series, and of course there's the obligatory final declaration that helps though not too much I might add to stave off the nagging wait until the next book.
Rating:
So it took me a little while to come to my final decision on the rating of this book. Mainly because after this book got a little too close for comfort too
Daughter of Smoke and Bone
I had to think if it was really too close or not. Eventually I came to grips with it. This book is amazing, full of an amazing world, fantastic adventure, compelling characters, and some great action!