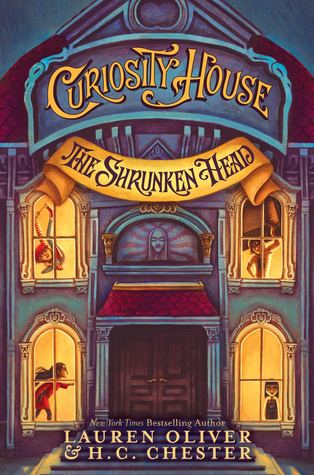 Release Date
: September 29, 2015
Authors
: Lauren Oliver & H.C. Chester
Publisher
: HarperCollins Children's Books
Length
: 368 pages
What you will find in this book:

–A rather attractive bearded lady
–Several scandalous murders
–A deliciously disgusting Amazonian shrunken head
–Four extraordinary children with equally extraordinary abilities
–A quite loquacious talking bird

Blessed with extraordinary abilities, orphans Philippa, Sam, and Thomas have grown up happily in
Dumfrey's Dime Museum of Freaks, Oddities, and Wonders. But when a fourth child, Max, a knife-
thrower, joins the group, it sets off an unforgettable chain of events. When the museum's Amazonian shrunken head is stolen, the four are determined to get it back. But
their search leads them to a series of murders and an explosive secret about their pasts.

This sensational new series combines the unparalleled storytelling gifts of Lauren Oliver with the rich
knowledge of the notorious relics collector H.C. Chester.

What you will NOT find in this book:

–An accountant named Seymour
–A never-ending line at the post office
–Brussel sprouts (shudder)
–A lecture on finishing all your homework on time
–A sweet, gooey story for nice little girls and boys.
Review:
Protagonists
: Pippa, Thomas, Sam, and Max all live in Mr. Dumfrey's Dim Museum of Oddities. While they don't have a charmed life their relatively happy and they are beloved by Mr. Dumfrey and the other performers. I was really surprised to learn that these kids, or at the very least Pippa, Thomas, and Sam aren't all that good of friends despite growing up together. They're civil to each other more or less, but it's really when Max arrives and they get sucked into the mystery of the missing shrunken head that they start to bond and grown closer. I think my favorite character is either Max or Pippa. Max because she's very much that sort of lovable street urchin tomboy character, and Pippa because she seems to have the most sense and for some reason I'm drawn to her.
Romance
: There is the tiniest bit of romance woven into this story. I'm not sure to what extent the romance goes as there are some moments that seem like maybe there's something slightly romantic going on and other moments where its abundantly clear that there's a romantic connection between two characters. Since this is a MG book there's not all that much to go on, and I'm not quite sure what tender moments between characters were meant to be platonic and what ones were meant to have a hint of romance to them, but I'll be very interested to see where this goes.
World-Building
: This story takes place in 19-50s? New York City and tells the tale of one of the last surviving dime museums in the state if not the country. I liked the ties to freak shows and oddities, and there was a lot to this book that felt like AHS: Freak Show for a younger audience, basically less gore and adult material. There wasn't all that much to the world, except maybe the origin of these children which I have to say I could have used a bit more information on. I know this is only the first book of a trilogy and that I'm bound to learn more in subsequent books, but I have to say that the particular mystery surrounding their history was casually brought up in the beginning only to be brought up and quickly explained without too much explanation at the end. Despite this I'll be eager to see what happens next and what other information we can gleam about this world.
Predictability
: The the mystery for the most part was a multi-layered one. About 75% of the way through this book I still had no idea just who did it and even if I had my suspicions I didn't know of a convincing enough reason to murder all those people
and
steal the shrunken head. Oliver wove her foreshadowing expertly or at least in my experience. Whenever the real foreshadowing came up I kind of cast it aside guessing that it would be used to foreshadow an upcoming installment and had no real connection to this mystery then BAM!
Ending
: So I have to say I felt the ending was a little bit underwhelming. It's not that it wasn't good, just that it sort of went by so fast, and then the action was over and we got a quick explanation as to where these children came from then it's epilogue time. The epilogue was fairly straight forward it takes place a couple weeks later and just sort of calms things down so the ending can plateau in the way most first books in series do so that the wait for the next book doesn't seem so long.
Rating:
So I have to say I was not disappointed with this book at all, I loved the four kids and how different they are and am looking forward to them developing over the next two books, I loved the mystery and it's twist of an ending, and most of all I loved the writing, I didn't really talk about this before but this book has Lauren Oliver's magnificent writing all over it and it made this book a joy to read.