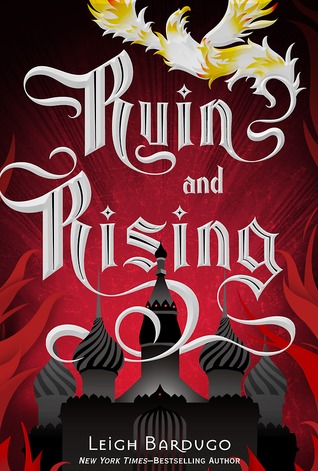 Release Date
: June 17, 2014
Author
: Leigh Bardugo
Publisher
: Henry Holt and Co.
Length
: 422 pages
Source
: Purchased Book
The capital has fallen.

The Darkling rules Ravka from his shadow throne.

Now the nation's fate rests with a broken Sun Summoner, a disgraced tracker, and the shattered remnants of a once-great magical army.

Deep in an ancient network of tunnels and caverns, a weakened Alina must submit to the dubious protection of the Apparat and the zealots who worship her as a Saint. Yet her plans lie elsewhere, with the hunt for the elusive firebird and the hope that an outlaw prince still survives.

Alina will have to forge new alliances and put aside old rivalries as she and Mal race to find the last of Morozova's amplifiers. But as she begins to unravel the Darkling's secrets, she reveals a past that will forever alter her understanding of the bond they share and the power she wields. The firebird is the one thing that stands between Ravka and destruction—and claiming it could cost Alina the very future she's fighting for.
Review:
Protagonist
: Alina almost killed the Darkling, taking herself along with him, but she was saved and now she's weak and broken and holed up in the company of the Apparat who treats her like a child who knows nothing. She plays along waiting for the day when she can escape with her friends and complete her quest to take down the Darkling and regain full control over her powers. After all that's happened it's hard to imagine that Alina still has such a great amount of character development to go and strength to achieve, but she does and it was handled spectacularly. There are many tough decisions Alina has to make and if not for her support system and the trials and tribulations she's undergone in these three books, I'm not sure she could have ever made them.
Romance
: So did I miss something in the last book? Because it seems like both Alina and Mal are resolute that she's going to end up with Nikolai, should he be alive, when this war with the Darkling is all over, and I don't remember having such a final conversation about it. However that being said there's still a bit of a love triangle in this book, though it's no where near as annoying or aggravating as the previous installment. In fact by the end I would have been happy with whoever Alina chose, which rarely happens with me and YA love triangles, but it did and I was very happy with how this romance concluded.
World-Building
:So, usually in trilogies, the bulk of backstory surprises are saved for the second installment, however, for some reason I felt like this book had way more backstory than the last book did. In this book we discover more about Ilya Morozova and his connection to certain characters in this series. We learn a bit about the Darkling's past and why he is so obsessed with the amplifiers. There's a lot still to discover about this world and series, and thanks to the newly released
Six of Crows
I'm excited to find out more.
Predictability
: For most of this book I pretty much knew what was going to happen, in a very vague sense, I didn't know details or anything, just normally cliched inevitabilities of a series. however, as the story progressed certain things started getting more and more complex from how I predicted them, and soon enough I was utterly shocked with how this story and the final battle ends.
Ending
: So as I said, I did not see this ending coming. It's the type of ending that I've seen before but only like once or twice and so I never expected things to end the way they did and it was spectacular. I mean the final climactic battle was beautiful and how things went down were stressful, heart-wrenching, and I wouldn't have had it any other way. The epilogue was amazing, I may have even shed a tear or two and in classic Grisha series fashion it's told in third person and was just long enough to fill readers in on what the characters have been up to since the final battle. My onlt complaint and this ins extremely minor, is that the cool down between the final climax and the epilogue was a just a little bit too long for me.
Rating:
So I've seen mixed things about the end of this series, however I felt that it was done perfectly. Everything sort of fell where it needed to, and by the end I knew without a doubt that this would be getting 5 stars.