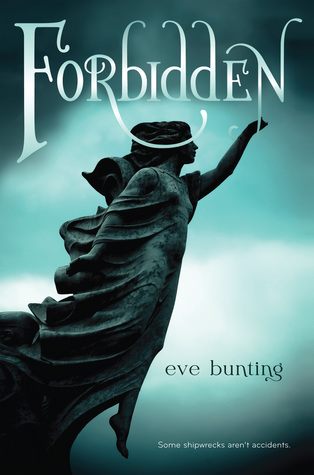 Release Date
: December 1, 2015
Author
: Eve Bunting
Publisher
: Clarion Books
Length
: 224 pages
Source
: ARC from Publisher
In early-nineteenth century Scotland, sixteen-year-old Josie, an orphan, is sent to live with an aunt and uncle on the rocky, stormy northwest coast. Everything and everyone in her new surroundings, including her relatives, is sinister, threatening, and mysterious.

She's told that Eli, the young man she's attracted to, is forbidden to her, but not why. Spirited, curious, and determined, Josie sets out to learn the village's secrets and discovers evil, fueled by heartless greed, as well as a ghostly presence eager for revenge.

An author's note gives the historical inspiration for this story.
Review:
Protagonist
: At the beginning of this book Josie, who has just lost both of her parents to Influenza, is on her way to live with her aunt and uncle, who she has never met. Josie was raised to be a proper lady and does the best she can to try and be kind and helpful to her aunt and uncle even though they're both harsh and cold with her. Over the course of this book Josie grows to become a more headstrong character who does whatever she can to uncover the truth about the mysterious goings on of the town. I really liked the character of Josie, she's strong yet flawed and even though her choices aren't the most wise she perseveres through the hard times and doesn't give up on her goals.
Romance
: So if I had to have one criticism about this book it would be the romance. Since this book is so short and a great deal of it is dedicated to the main plot rather than the romance, for the romance to move as fast as it did, didn't make sense. I did like the chemistry between Josie and Eli, I just wish we'd seen more of them together in a romantic way, or even bonding because it would make their feelings close to the end of the book make more sense. That being said though I thought that how the romance fit into the story was very well done and added to, rather than distracted from, the plot.
World-Building
: This story takes place in 1807 Scotland and that is very apparent in how this book is written and the first-person commentary from Josie. I really enjoyed seeing the small community of Brindle and Brindle Point come to life and the central mystery surrounding the town was really well done. There aren't really any paranormal elements until later in the book, but there's quite a bit of foreshadowing toward that fact, which I'll get to later. Given how short this book is I was surprised at how alive this world becomes, Bunting's writing is both extravagant and concise to offer up a wondrous picture of this world and the characters in it.
Predictability
: So I have to say there is quite a bit about this book that I could see coming from quite a ways away, however what I could see was more small details of the story and larger twists within I couldn't have guessed in my wildest dreams. I have to say the central mystery of the town caught me by surprise, the thing is there isn't all too much foreshadowing as to what it is, even in the synopsis, but it's still no more dark than what I had predicted. There is one twist, something that was so blatantly obvious towards the end of the book that I nearly put it together but the part of my brain that likes to think in YA formulas couldn't quite put it together.
Ending
: It isn't until the final climax of this book that things really begin to happen, it isn't that the beginning wasn't fast paced, but more that the real meat of the story hadn't been seen yet. As the book comes to a close I was a bit shocked at what happened, though not all that surprised, and the final climax was definitely one to remember. The final chapter is a bit of an epilogue, tying up any loose ends and bringing this stand alone to a close. I'm pretty happy with how the book ended and while it wasn't quite the idealistic ending I thought it would be, was still a great ending to this story.
Rating:
Like I said, my only complaint about this book was that the romance felt a bit rushed, it wasn't quite insta-love but it was close enough. The thing is that Josie and Eli had such great chemistry that if the author had expanded upon it, it wouldn't have felt so rushed. Overall though this is a fantastic book with a dark mystery and a touch of the paranormal.
About the Author:
Also known as Evelyn Bolton and A.E. Bunting.

Anne Evelyn Bunting, better known as Eve Bunting, is an author with more than 250 books. Her books are diverse in age groups, from picture books to chapter books, and topic, ranging from Thanksgiving to riots in Los Angeles. Eve Bunting has won several awards for her works.

Bunting went to school in Ireland and grew up with storytelling. In Ireland, "There used to be Shanachies… the shanachie was a storyteller who went from house to house telling his tales of ghosts and fairies, of old Irish heroes and battles still to be won. Maybe I'm a bit of a Shanchie myself, telling stories to anyone who will listen." This storytelling began as an inspiration for Bunting and continues with her work.

In 1958, Bunting moved to the United States with her husband and three children. A few years later, Bunting enrolled in a community college writing course. She felt the desire to write about her heritage. Bunting has taught writing classes at UCLA. She now lives in Pasadena, California.
Giveaway:
a Rafflecopter giveaway