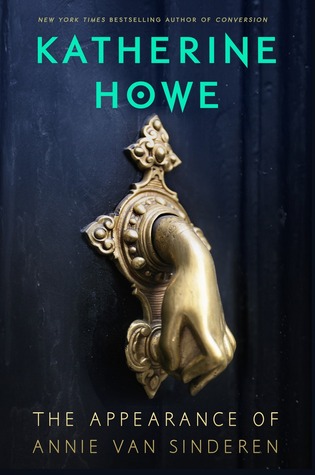 Release Date
: September 15, 2015
Author
: Katherine Howe
Publisher
: G.P. Putnam's Sons Books for Young Readers
Length
: 400 pages
Source
: Review Copy from Publisher
A haunting, contemporary love story from the New York Times bestselling author of Conversion

It's summertime in New York City, and aspiring filmmaker Wes Auckerman has just arrived to start his summer term at NYU. While shooting a séance at a psychic's in the East Village, he meets a mysterious, intoxicatingly beautiful girl named Annie.

As they start spending time together, Wes finds himself falling for her, drawn to her rose petal lips and her entrancing glow. But there's something about her that he can't put his finger on that makes him wonder about this intriguing hipster girl from the Village. Why does she use such strange slang? Why does she always seem so reserved and distant? And, most importantly, why does he only seem to run into her on one block near the Bowery? Annie's hiding something, a dark secret from her past that may be the answer to all of Wes's questions...
Review:
Protagonists
: So this book focuses on two protagonists, Annie and Wes, starting with Wes. Wes is a film student taking summer course at NYU. He wants to go to school there full time, but unfortunately doesn't know if he's cut out for it, he also isn't quite sure how his family will feel about him being so far away. I liked the character of Wes, he's kind of a generic male protagonist who over the course of the book grows and develops into a much more unique and interesting point-of-view. Annie Van Sinderen is a bit of a rebel. She know she's supposed to be a proper lady, but constantly sneaks out to be with a boy her parents wouldn't approve of given his social standing. After waking up with a strange feeling of de ja vu and thing constantly and quite literally changing around her she doesn't know what's going on and the only person who could help her out is Wes. I liked Annie a lot more than Wes, she was a much more interesting character from the start and she just got better as the book went on.
**There is a minor spoiler mentioned fairly frequently from here on out, proceed with caution!**
Romance
: So there is a love triangle in this book, and with it being a standalone I was a bit apprehensive, but it was alright in the end. The thing is though I couldn't take the love triangle seriously. Annie is a ghost, there's no way they could end up together. If Annie and Wes were just friends in this book and Wes focused most of his attentions on Maddie instead the romance would have made a lot more sense. I felt that although the love triangle, under more normal circumstances, would have been one of the better ones I've read, in this situation it just kind of fell flat and the situation just kind of resolved itself without much payoff.
World-Building
: So the gimmick of this book is that it's a ghost story that doesn't use the word "ghost." At first I thought this was a great idea, possibly leaving some room for ambiguity and readers to interpret the book in different ways, however, the gimmick fell very, very flat. The word "ghost" never appears in this story, instead the author uses synonyms to make up for it, sometimes using spirit but most often using the term "Rip Van Winkle" that Annie came up with to avoid using said g-word, trust me it makes more sense in context. The thing is, if the author actually used the word "ghost" the story would still be the same and I don't think I would have liked it any less, in fact I may have actually liked it more since the author wouldn't have been tip-toeing around the word that everyone is thinking and driving me a tad crazy.
Predictability
: For the most part this book is pretty easy to figure out. The foreshadowing is pretty heavy handed and things just click together very easily. I have to say though that as the story came to a close there were a few things that I didn't expect, and things that I thought would get resolved that were left up in the air, but I'll get to that later. Anyway, I was never annoyed with the blatant foreshadowing and the twists were still fun and easy to enjoy even when things seemed a tad too convenient.
Ending
: So the ending leaves much open to interpretation and there were quite a few things left hanging, just not enough for a sequel. It's pretty easy to figure out why things were the way they were more or less, even though I'm still very confused about a few things. Even though I wish there was a more conclusive and wrapped up ending to this story, I did enjoy how everything came together in the end.
Rating:
So I did really like this book. The ghost story is more
Casper
than
13 Ghosts
, but it's still an enjoyable read nonetheless. There were a few things that weren't for me but they didn't hinder the multi-layered and magnificent story that unfolded all that much.