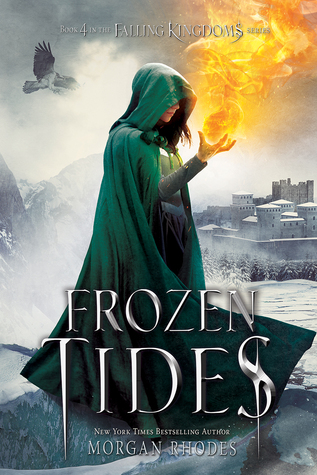 Release Date
: December 15, 2016
Author
: Morgan Rhodes
Publisher
: Razorbill
Length
: 400 pages
Source
: Purchased Book
Rebels, royals, and monsters wage war over the Mytican throne in the shocking fourth book of the Falling Kingdoms series, from New York Times bestselling author Morgan Rhodes.

CLEO: Reeling after a bloody showdown in Limeros ending with Amara's abduction of the water crystal, and a vacancy in the Mytican throne, Princess Cleo must cast aside her feelings and look toward her kingdom with the eyes of a Queen.

MAGNUS: With the kingdom in chaos, Princess Lucia still missing and quite possibly in danger, and a shocking realization about Cleo, the steely prince is once again torn between love and duty, leaving him wondering whether he's strong enough to rule his people.

LUCIA: The young sorceress has had her vengeance after the cruel death of her first and only love. Heartbroken and unable to trust anyone, she allies with the awoken Fire god, who also seeks revenge.

JONAS: After escaping death by the skin of his teeth, the defeated rebel—along with a mysterious stranger–leader reunites with Princess Cleo, only to find himself a mere pawn in a dangerous hunt for the elusive Kindred.

KING GAIUS: Abandoned by Melenia and betrayed by his own children, Gaius flees Mytica and sails to Kraeshia, where he attempts to ally with the famously brutal emperor across the Silver Sea.
Review:
Characters
: I love all of the characters in this book, more or less, the more villainous characters I love to hate, but you get the drift. I think it's generally accepted by now that at the very least our protagonists are Magnus, Cleo, and Jonas, Lucia however is the wild card in this book, and that's not just an expression, after the death of Alexius, Lucia isn't dealing with her grief very well and has become cold, manipulative, and seeks the destruction of the world with the being who used to be inside the Fire Kindred crystal. Magnus, Cleo, and Jonas form a tentative alliance, full of mistrust and secret agendas that are likely to crumble if they don't stop trying to undermine each other and actually work together like they say. These characters are so rich and deeply developed. It's very easy to get a good sense of who these characters are and their growth in this book is fantastically told.
Romance
: I was actually surprised at how subtle a lot of the romance in this book was. I mean it's there and a lot of it is amazing. Though, not every romance is one that will end in happily ever after. There are just as many romantically dark moments as there are moments of pure bliss and joy with a certain pairing. I do have to say though, that when I first began reading this series, I had far different expectations as to where the romance would go, and there are two books left, maybe the romances will pair out like I originally thought, but at this point I surely hope not. Sorry I couldn't say much more but I felt as if I did I would have given away too much.
World-Building
: I know it shouldn't surprise me anymore how an author can keep building a world a certain amount of books in, but I have to say it surprises me every time. Aside from getting a good look at at the sprawling empire of Kraeshia, I didn't expect much more building of the physical world in this book, but we also get to see a Mytican landmark late in the book, that I don't think we've seen before, one that holds significant meaning to the lore of this series. Aside from that we learn more about the characters in this book, where they come from and what shaped them into becoming who they are today. With two books left, four if you count the spin-off trilogy, which did get a couple world-building mentions in this book, there's still a great many things I'm sure we'll learn about this vast and wonderful world.
Predictability
: Morgan Rhodes is evil, there I said it. I mean she writes good books, don't get me wrong, but people who say this series is a teen Game of Thrones don't even know the half of it! It's hard to know who's safe and who's the next to go, and in an effort not to stay on this particular topic too long that's all I'll say about the deaths in this book. As for the general unpredictability of this book, well, like the other books in this series it's very hard to see exactly what's coming but sometimes, and really only scarcely sometimes, I could pick up on some foreshadowing and get a vague clue as to what was going to happen at some point, and sometimes I didn't see the foreshadowing until it's too late.
Ending
: I totally called the end of this book, or well, I called the cliffhanger. Though I have to say the foreshadowing was pretty heavy handed and if it didn't happen in this book it'd most likely happen in the next. The final climax of this book was pure gold. Since it's not that hard to get a read on these characters I knew how things were most likely going to play out and I loved and relished every minute of it. I need the next book in this series so bad right now, I'm kind of happy I didn't get an early copy of this book now because you have no idea, or maybe you do, how crazy this ending has made me!
Rating:
So I think it's pretty safe to say this, it being nearly the end of the year and everything, but this is most definitely my favorite book I read in 2015 as well as my favorite of this series so far, though I feel like I've said that with every book, so I'm sure when Book 5 comes out I'll end up saying that's my favorite book!