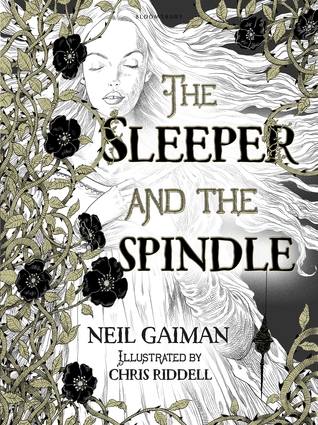 Release Date
: September 22, 2015
Author
: Neil Gaiman
Illustrator
: Chris Riddell
Publisher
: HarperCollins
Length
: 69 pages
Source
: Library E-book
A thrillingly reimagined fairy tale from the truly magical combination of author Neil Gaiman and illustrator Chris Riddell – weaving together a sort-of Snow White and an almost Sleeping Beauty with a thread of dark magic, which will hold readers spellbound from start to finish.

On the eve of her wedding, a young queen sets out to rescue a princess from an enchantment. She casts aside her fine wedding clothes, takes her chain mail and her sword and follows her brave dwarf retainers into the tunnels under the mountain towards the sleeping kingdom. This queen will decide her own future – and the princess who needs rescuing is not quite what she seems. Twisting together the familiar and the new, this perfectly delicious, captivating and darkly funny tale shows its creators at the peak of their talents.

Lavishly produced, packed with glorious Chris Riddell illustrations enhanced with metallic ink, this is a spectacular and magical gift.
Review:
Protagonist
: This story is told, from the most part, from the point of view of a young queen who sets off the day before her wedding to help people who are being cursed by a sleeping spell that has begun to expand from another castle. So, I liked the queen enough, she's a strong character who takes control of her destiny, but there's no real character development. That would be all fine and dandy for a story this short, except she goes from feeling trapped to doing something so fast it just felt a little off.
World-Building
: So I love fairy-tale retellings and this one that mashes up two tales about sleeping princesses is awesome, however I do have one very glaring problem with it. The author dances around the fact that it's about Snow White and Sleeping Beauty. I could respect the fact that he didn't want to say their names, but it's blatantly obvious who they are so not acknowledging that fact didn't so much help the story as it did hinder my reading experience. That being said I did really enjoy the world-building, the twists on the classic tales and world the author has created around these stories is fantastic and makes me want to know more.
Predictability
: So there's a pretty big twist here. in fact it wasn't at all something that I could have predicted, though maybe if I read the synopsis I may have had an inkling, but because I didn't I was rather shocked to find out what was really going on. There was something else, a twist that I thought was going to happen that didn't actually this was something that I felt like there was sufficient foreshadowing for, but instead the author seemed to go in a crazy, but awesome, other direction.
Ending
: So there isn't enough to this story. Yes, the basic plot wraps up, but I felt that there needed to be more. There were a lot of unanswered questions at the end of this story, and if it was a series I wouldn't be at all upset with the almost cliffhanger like ending, but because I haven't found any evidence that there will be another story, or with any luck a full sized book, I just feel like this world and these characters could have been fleshed out so much more than they were.
Rating:
Honestly, while I was entertained by the story and the twists to these classic tales were awesome, I just can't get over the fact that there was so much just left up in the air by the end of the book, and my biggest pet peeve is when an author purposely tries to to say or reference something and then does everything but say the words they decided not to say, it's just annoying.