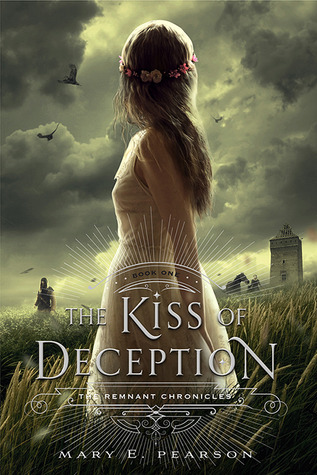 Release Date
: July 8, 2014
Author
: Mary E. Pearson
Publisher
: Henry Holt
Length
: 492 pages
Source
: eGalley via NetGalley
A princess must find her place in a reborn world.

She flees on her wedding day.

She steals ancient documents from the Chancellor's secret collection.

She is pursued by bounty hunters sent by her own father.

She is Princess Lia, seventeen, First Daughter of the House of Morrighan.

The Kingdom of Morrighan is steeped in tradition and the stories of a bygone world, but some traditions Lia can't abide. Like having to marry someone she's never met to secure a political alliance.

Fed up and ready for a new life, Lia flees to a distant village on the morning of her wedding. She settles in among the common folk, intrigued when two mysterious and handsome strangers arrive—and unaware that one is the jilted prince and the other an assassin sent to kill her. Deceptions swirl and Lia finds herself on the brink of unlocking perilous secrets—secrets that may unravel her world—even as she feels herself falling in love.
Review:
Protagonist
: Lia is a princess who is terrified of entering into an arranged marriage. She doesn't want a loveless marriage and she doesn't want to possibly marry someone old enough to be her father, or worse, grandfather. So she makes a plan and escapes on her wedding day and finds a new life in a small town as a barmaid. That is until two men enter her bar, one is the jilted prince she left at the alter and the other is an assassin sent to kill her. I really liked the character of Lia, she's smart, resourceful, and while she may not be a kick ass heroine like other fantasy YA protagonists, she is a very strong character. While her motivations for the most part of this book involve wanting to find someone to love her for who she is and not her title, as the story goes on she becomes much more than that and she becomes a much more three-dimensional character.
Romance
: So this book does have a love triangle and I'll get to the gimmick involved in another part, but I just want to talk about the romance at face value here. Right off the bat it's obvious which boy Lia favors, but the question still remains who he is; prince or assassin, and I really liked the character she was more drawn to a lot, and for a while, even though it's easy to see who Lia favors I still took the love triangle seriously. However after the truth comes out, about at least one of the guys, I quickly felt myself losing all respect I had for one of her love interests (sorry I'm so vague, just trying to avoid possible spoilers) but after we learn who he is and given the situation everything he does just seems creepy after that.
World-Building
: So when I started this book and really thought about this book, for about the first half or so I realized I didn't know much about this world. There are some excerpts from in book texts sporadically placed between chapters, but for the most part I didn't get that real expansive world-building feeling. That is until the giant shift in the story where we really get a feel for what's going on in this world and how our main character fits into it all. There's a subplot to the first portion of this book that only begins to make sense after the big shift and while I would have liked to see a little more about it prior to the shift, when we do learn about it, it does really give a whole new perspective of this world to not only the reader but to Lia as well.
Predictability
: So the big gimmick of this book is the fact that we, as the reader, have no idea which one of the boys that walked into Lia's life is the prince and which is the assassin. Now I went crazy over not knowing who was who. At first it seems obvious, but then my mind went on overdrive wondering if it was a trick, or if I was supposed to think it was a trick. I have to say the author did a spectacular job keeping the identities wrapped up, especially since we get chapters from the perspectives of both guys. When the truth came out, I had so many emotions going through my head, it was a weird mixture between genuine surprise and this feeling of knowing all along. While this was the biggest twist of the book there are other great twists, none I really saw coming, but none that were presented like this twist.
Ending
: It's interesting thinking about where I thought this book would end upon starting it and where it actually ended. There is so much to the story that I was expecting and I wasn't disappointed in the end. Though I do have to say there wasn't really a final climax in the traditional sense and the author did sort of skip to building up to a great cliffhanger. I think the cliffhanger really surprised me most of all, not necessarily what happens in it, but more that the author chose to end this first book on such a dramatic moment.
Rating:
So I did really enjoy this book, the story is captivation once it gets going and those hidden identities drove me to the brink of insanity, but I really wanted to take the love triangle more seriously and at this point, I really loathe one of the supposed love interests and can't take him seriously as a contender for Lia's heart.