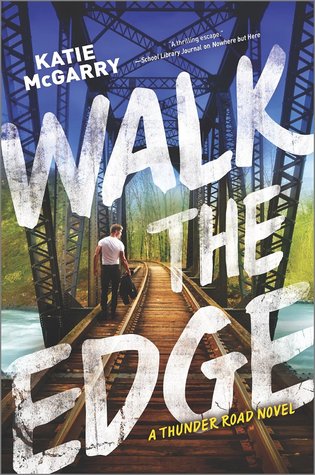 Release Date
: March 29, 2016
Author
: Katie McGarry
Publisher
: Harlequin Teen
Length
: 384 pages
Source
: eGalley via NetGalley
One moment of recklessness will change their worlds

Smart. Responsible. That's seventeen-year-old Breanna's role in her large family, and heaven forbid she put a toe out of line. Until one night of shockingly un-Breanna-like behavior puts her into a vicious cyber-bully's line of fire—and brings fellow senior Thomas "Razor" Turner into her life.

Razor lives for the Reign of Terror motorcycle club, and good girls like Breanna just don't belong. But when he learns she's being blackmailed over a compromising picture of the two of them—a picture that turns one unexpected and beautiful moment into ugliness—he knows it's time to step outside the rules.

And so they make a pact: he'll help her track down her blackmailer, and in return she'll help him seek answers to the mystery that's haunted him—one that not even his club brothers have been willing to discuss. But the more time they spend together, the more their feelings grow. And suddenly they're both walking the edge of discovering who they really are, what they want, and where they're going from here.
Review:
Protagonists
:This book focuses on Razor from the Reign of Terror Motorcycle Club and his love interest Breanna. Razor is a live wire, he's impulsive, it's hard for him to trust people, and he can go off at a moment's notice. This has caused him to be labeled as crazy and the most dangerous member of the Terror. Breanna has a brain that works a bit differently, she can remember random bits of information, things that seem trivial to someone else, this has led to her being labeled as freak among even her siblings. She's shy and reserved and likes to stay hidden and inconspicuous. After these two characters meet, even before they begin their romance they begin to change, slowly at first, but as the story goes on they begin to really bring out the best in each other. Some things that they previously thought were their flaws become their strengths and while they are in some ways still flawed they grow into fantastic characters who it's hard not to root for.
Romance
: I've said it before and I'll say it again, Katie McGarry knows how to write romance well. The funny thing is that this story takes place over just a few months, and during some of that time these characters are just flirting or basking in the romantic tension before actually doing something about it. Everything that happened in this romance felt natural, when the "I love you"s eventually came out it didn't feel too soon or too crazy, it felt earned and deserved. The way these two characters fit is fantastic. Another thing I love about this author is that she can take two characters who don't seem like they belong together, two characters from different worlds and find a way for them to fall in love.
World-Building
: So, if I had one criticism for this book it's that I wasn't as compelled by the story as I was for the first book in this series. The first book had this crazy mystery and I felt a pull to continue reading to see where everything went. In this book though while the central mystery was interesting, I just wasn't as invested in it as I wanted to be. I liked the idea of seeing a resident of Snowflake, unaffiliated with the Terror, fall for one of their members and learning more about how the people of Snowflake see the motorcycle club, but that's it really. The cyber-bullying and blackmail story line was at times intense and aggravating (in a good way), but in the end it was just way too easy to see a way through.
Predictability
: I'll admit while there were a few great twists in this book, some that really revved up the suspense and added great layers to this story and world, for the most part it was easy to see how things would go. Not everything was obvious, but it was easy to tell what was going through characters' heads and to see the choices or similar choices they'd make. The central mystery of how Razor's mom died, left me in the dark for quite a while, but unlike the previous installment there weren't all these little clues that led up to the big reveal it was sort of once one big clue was revealed everything just sort of made sense.
Ending
: Like all of Katie McGarry's other books this book can be read as a standalone and because of that it provides a lot of closure for this duo and their adventure. Let's start with the final climax though, holy crap was it intense, I was genuinely surprised at where things ended up going. The cool down period of this book was longer than I expected but again was done nicely and tied things up rather neatly. While a part of me is sad to see Breanna and Razor's story go, a much larger part of me can't wait for Violet's story!
Rating:
So this was really hard for me because in a lot of ways I loved this book and it's another fantastic Katie McGarry read, but since I was able to very easily put it down for as long as I did, I wouldn't feel comfortable giving it 5 stars, though in the end it really pays off!