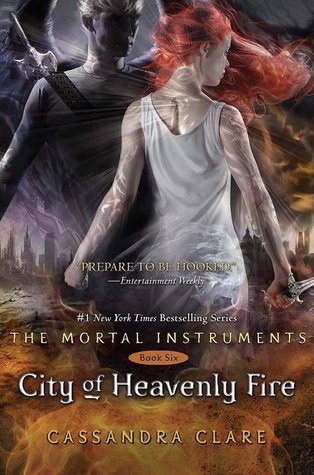 Release Date
: May 27, 2014
Author
: Cassandra Clare
Publisher
: Margaret K. McElderry
Length
: 725 pages
Source
: Purchased Book
In this dazzling and long-awaited conclusion to the acclaimed Mortal Instruments series, Clary and her friends fight the greatest evil they have ever faced: Clary's own brother.

Sebastian Morgenstern is on the move, systematically turning Shadowhunter against Shadowhunter. Bearing the Infernal Cup, he transforms Shadowhunters into creatures out of nightmare, tearing apart families and lovers as the ranks of his Endarkened army swell.

The embattled Shadowhunters withdraw to Idris - but not even the famed demon towers of Alicante can keep Sebastian at bay. And with the Nephilim trapped in Idris, who will guard the world against demons?

When one of the greatest betrayals the Nephilim have ever known is revealed, Clary, Jace, Isabelle, Simon, and Alec must flee - even if their journey takes them deep into the demon realms, where no Shadowhunter has set foot before, and from which no human being has ever returned...

Love will be sacrificed and lives lost in the terrible battle for the fate of the word in the thrilling final installment of the classic urban fantasy series The Mortal Instruments!
Review:
Characters
: So I've said it many times before and I'll say it again. I love these characters. I recently reread
City of Lost Souls
and while I was reading that I felt like I was sort of over the Mortal Instruments characters, not that they aren't fascinating, but because that book didn't exactly do them justice, especially not coming back after nearly three years, however this book, this book was everything. Not only do we see the core five characters grow and develop in surprising and wonderful ways, but we also see and meet characters from other series in the Shadowhunters world, including the newly released, though at the time upcoming, Dark Artifices series.
Romance
: Once again I loved how evenly the romance is spread out. In the first three books of this series the romance was very concentrated on Jace and Clary, and trust me there are many romantic Jace and Clary scenes in this book, but the romance is also spread around quite a lot. My personal favorite was Izzy and Simon, I don't know what it was about this romance, there was a great many things, but I just love the way they unexpectedly fit together. There is also some Magnus and Alec romance, though not quite as much as one might hope, but it's there. Honestly, all of the romances in this series are written well and extremely compelling.
World-Building
: There is a LOT of world-building in this book. Honestly with this being the last in a six book series I wasn't expecting all that much world-building, but this is much more than the last book of a series. It also serves as a lead in to The Dark Artifices and almost and extended epilogue to The Infernal Devices. You would think with so much going on and so many characters in play that the world would get too complicated and the story would get lost by the wayside, but no everything tied together so well, fit just right, that I never truly felt like I was taken out of the story.
Predictability
: So truth time? I sort of got spoiled on this book, a lot. However even though I knew about a lot of the things that were going to happen, there was still a thing or two that caught me off guard. In fact the foreshadowing to this book, much of which I picked up on due to spoilage, is still very well crafted. I mean, granted I don't know for certain how I would have reacted and what I would have caught on to, but I'm sure there would have been quite a lot that would have shocked the hell out of me. In fact even when I knew what was going to happen, even when I knew the outcome, some things still deeply affected me, which I can only attribute to how well this book was written.
Ending
: This book ended sooner than I had expected. I mean I knew how it ended, I just didn't know quite when it did. The final climax, or at least the final battle, comes a couple chapters away from the end. I really liked the way it was handled, everything sort of fit very well, and everything just made a lot of sense. The cooldown period, which comes in the form of the last official chapters deals a lot with the clean up and regime changes as this series comes to a close and another one begins. Then there's the epilogue. Honestly, I don't know what I want to say about this. It's a good epilogue for one thing and there's quite a lot to it. I'm not going to say that it ties up all loose ends, because it doesn't, but I think it leaves everything in a good place. There's still much left to explore in this world.
Rating:
So I've seen a lot of people say that this is their favorite book in this series, but with how subpar the last two were, it was hard for me to believe, however after reading this book there's no contest. Between the amazing character and romantic developments to the introduction and lead in to the new series and callbacks to The Infernal Devices, this book was Glorious.