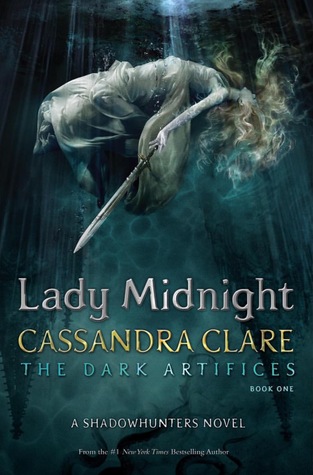 Release Date
: March 8, 2016
Author
: Cassandra Clare
Publisher
: Margaret K. McElderry
Length
: 720 pages
Source
: Purchased Book
The Shadowhunters of Los Angeles star in the first novel in Cassandra Clare's newest series, The Dark Artifices, a sequel to the internationally bestselling Mortal Instruments series. Lady Midnight is a Shadowhunters novel.

It's been five years since the events of City of Heavenly Fire that brought the Shadowhunters to the brink of oblivion. Emma Carstairs is no longer a child in mourning, but a young woman bent on discovering what killed her parents and avenging her losses.

Together with her parabatai Julian Blackthorn, Emma must learn to trust her head and her heart as she investigates a demonic plot that stretches across Los Angeles, from the Sunset Strip to the enchanted sea that pounds the beaches of Santa Monica. If only her heart didn't lead her in treacherous directions…

Making things even more complicated, Julian's brother Mark—who was captured by the faeries five years ago—has been returned as a bargaining chip. The faeries are desperate to find out who is murdering their kind—and they need the Shadowhunters' help to do it. But time works differently in faerie, so Mark has barely aged and doesn't recognize his family. Can he ever truly return to them? Will the faeries really allow it?

Glitz, glamours, and Shadowhunters abound in this heartrending opening to Cassandra Clare's Dark Artifices series.
Review:
Characters
: Like other Shadowhunters books this series has a wide cast of characters that tell this tale. Foremost we have Emma, the girl we first met in
City of Heavenly Fire
, who will at any cost find out who really murdered her parents during the Dark War. Emma is a very driven character who gives almost no heed to danger or the rules. Then there's Julian, who after the harsh ruling of the Clave exiling his sister and giving up on looking for his brother, has become the primary caregiver of his four younger siblings. He will do anything to protect his family, that protection also extending to his parabatai Emma, even if that means doing something unsavory. Then there's Cristina Rosales, a girl on her travel year from the Mexico City Institute, who quickly befriends Emma and the Blackthorns. Christina is a very wise and loyal person, she also has secrets, such as why she's even at the LA Institute. Finally there's Mark (there are more characters but we'd be here all day if I kept going,) after spending what felt like years in the Wild Hunt he's returned to his family changed. He doesn't quite look older physically, but he acts much more like one of the Fair Folk than a Shadowhunter, Each of these characters I've mentioned, and the ones I haven't, are so multi-layered, and as the story progresses we learn more and more about them. They develop and grow beautifully and I can't wait to see where they go.
Romance
: So normally I'm not a fan of forbidden love. It's something that's been done so much it should be taught in How to Write Romance 101. However this forbidden romance intrigued me. Until this book it's never been explained why parabatai cannot fall in love. The only explanation to it being the Shadowhunter mantra, "The Law is Hard but It's the Law." In this book Julian and Emma aren't automatically already in love or at least not that they fully realize. As this book goes on their feelings start to bubble to the surface and, not like I already wasn't, I was rooting for them. I love how their love is described, it's definitely not this pure and innocent thing, there are some rough edges to it, but it's still written so well. As for the other romances in this book, since you know Cassie Clare can't resist lots of romance, that's a bit of a tangled mess. I was surprised to discover that this story has a love triangle of sorts, and I'm not completely sure how I feel about it. I mean, I do enjoy the tensions and drama of the triangle (square?) I'm just not entirely sure I know where I want these characters to end up.
World-Building
: WOW! There's a lot of world-building in this book. So first off let me say that I love the change of scenery in this book. While I love the New York crew they were very much cut off from Mundane culture, except off handed references from Clary and Simon, however the entire LA crew has knowledge of Mundane culture and thrives in it. It feels much more present day than TMI did, not that it didn't it's just different, anyway then there getting to know the Blackthorn family and learning what's happened with them since the Dark War and where they stand after the Cold Peace. In fact it isn't just the LA residents of the Shadow World who've changed, the entirety of the Shadow World lies changed after the Cold Peace, Things that six year prior would have been perfectly legal, like a Shadowhuter protecting a Fae, is now illegal unless given permission by the Clave. Things are different and this world is different and there are those who aren't afraid to take advantage of these changes for their own nefarious purposes. And of course as this world gets bigger and expands into new series we see and check in on characters from the past who come to help out and check in on out current group of protagonists.
Predictability
: So the central mystery of this book is the seemingly random serial killings that have strange ties to Emma's parents deaths. There are other mysteries such as many of the central characters' pasts, but for the most part it's looking into the deaths so that the Blackthorns can get their brother back permanently. I have to say even with the rather spoilery things I knew before starting this book (the internet is an evil place) I still had my doubt about who did it. I've said it before and I'll say it again, Cassie Clare is a wiz at foreshadowing. She never makes anything too obvious, but leaves just enough so that when it's revealed, even if it seems to come out of the blue, there's enough that makes it all make sense.
Ending
: So the ending to this book is kind of weird. In a way there are like two endings. The first ending where what I think is the final climax goes down. Every thing is full on tension and action, with a few crazy twists thrown in, followed by a seemingly reasonable cool down period where things are explained, and this installment is seemingly put to rest. But then no, there's another climactic moment not too long after, where more action and fighting goes down, more characters show up, and more twists are lobbed around and revealed. Followed then by the real, final cool down period where this book comes to a close, but not before a short epilogue with a confusing but nonetheless chocking cliffhanger.
Rating:
Gah! This book was amazing, I loved the characters, loved the world-building and the secrets that were revealed, even the ones I was in no way expecting, and finally I loved the
Annabel Lee
inspiration this book has.