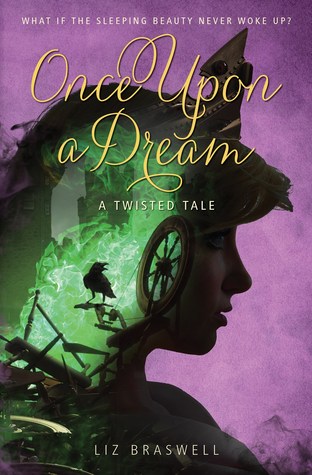 Release Date
: April 5, 2016
Author
: Liz Braswell
Publisher
: Disney Press
Length
: 448 pages
Source
: eGalley via NetGalley
What if the sleeping beauty never woke up? Once Upon a Dream marks the second book in a new YA line that reimagines classic Disney stories in surprising new ways.

It should be simple--a dragon defeated, a slumbering maiden, a prince poised to wake her. But when said prince falls asleep as soon as his lips meet the princess's, it is clear that this fairy tale is far from over.

With a desperate fairy's last curse infiltrating her mind, Princess Aurora will have to navigate a dangerous and magical landscape deep in the depths of her dreams. Soon she stumbles upon Phillip, a charming prince eager to join her quest. But with Maleficent's agents following her every move, Aurora struggles to discover who her true allies are, and moreover, who she truly is. Time is running out. Will the sleeping beauty be able to wake herself up?
Review:
Protagonist
: So Aurora is by all accounts a quintessential Disney Princess. There wasn't much substance to her in the movie and very little character building beyond "beautiful" and "a good singer." However in this twist on the classic tale we see Aurora make a similar discovery and grapples with trying to figure out who she is. I really enjoyed the character development of Aurora in this book, instead of seeing a girl who is in such utter despair because she can't ever see "that guy she met in the forest that one time", we see a confident, smart, fierce, and brave princess who will do whatever it takes to escape her dreamworld and take down Maleficent once and for all.
Romance
: So when Aurora sees Phillip for the first time in this dream world, due to the magic that Maleficent has cast, she doesn't recognize him, though he does recognize her. This time though, luckily there's no love at first sight, and through their journey towards the truth and their hope for freedom they get to really know each other. This time around the love seemed genuine, though granted love at first sight doesn't really feel real unless you're a small child. It took a little time but eventually I even started to root for them.
World-Building
: So the world building in this book is weird. I'm going to try and explain it as best I can without spoilers, but essentially the author managed to change both one thing and everything. In this book as soon as Phillip kisses Aurora he too falls asleep and enters Aurora's dream world. In this dreamworld events transpired differently it's in this messed up mirror world that we first see Aurora, with a new set of memories, trapped inside her parents' castle. I'm very split on how I feel about the world-building, on the one hand it does make for a fun and fantastic fantasy adventure, on the other hand it's so off base of the Disney movie that while there are callbacks to the film here and there, the source material gets lost among the world-building and doesn't hold the same magic as
A Whole New World
did.
Predictability
: So for the most part I expected this book to be pretty predictable. It was easy to see where certain storylines were going to go and where foreshadowing would lead our characters. That being said there are a few twists in this story. They aren't all that many, but there are some moments where either something came completely out of the blue or that the author had led me to believe a lie.
Ending
: Okay so the ending I felt was done pretty well, Like the first installment in this twisted series, the final climax of the book, in a lot of ways, mirrored the movie, albeit with some rather obvious changes. However, it's the calm after the storm that I liked best. This moment is where everything comes to fruition the battle has concluded and for good or bad, it's time to sweep up the mess and move on, so to speak. Since this is a series of standalone twisted tales there is a very conclusive ending to this tale, and in fact one that up until the last sentence or two I didn't quite think we'd get enough closure on.
Rating:
So, I think if the introduction into this world wasn't so jarring, or if it didn't change so drastically it would have been easier to connect this story with the movie and tale it twists, but since the twist comes so late in the story, it really wouldn't have been prudent to add the same amount of set up as the first book in this series.