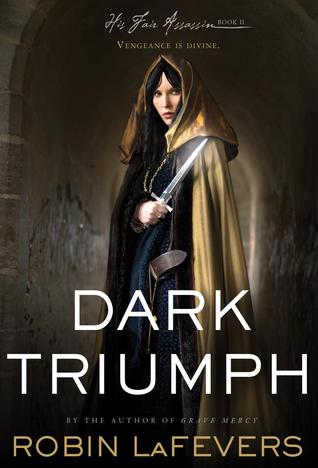 Release Date
: April 2, 2013
Author
: Robin LaFevers
Publisher
: HMH Books for Young Readers
Length
: 385 pages
Source
: eGalley via NetGalley
When Sybella arrived at the doorstep of St Mortain half mad with grief and despair the convent were only too happy to offer her refuge - but at a price. The sisters of this convent serve Death, and with Sybella naturally skilled in both the arts of death and seduction, she could become one of their most dangerous weapons.

But her assassin's skills are little comfort when the convent returns her to the life that nearly drove her mad. Her father's rage and brutality are terrifying, and her brother's love is equally monstrous. But when Sybella discovers an unexpected ally she discovers that a daughter of Death may find something other than vengeance to live for...
Review:
Protagonist
: When we first met Sybella in
Grave Mercy
she was broken and from what I remember rather cold. In this book we learn so much about her and what went into shaping who she is. At the beginning of this installment Sybella is trying to warn Ismae about the ambush on the duchess from Count D'albret that we saw near the end of the previous installment. She's still a cold and calculating character, but she has a softer side that we see in the first few chapters. As this story goes on she begins to soften up more, while still keeping her killer instinct and sharp edges. I really liked the character of Sybella, she's such a complex and intriguing character, none of which I truly realized until this book.
Romance
: Much like the romance in
Grave Mercy
, the romance in this installment is rather slow burning as well. In fact it's not until the latter half of this book that things start to happen. The romantic tension and quick witted repartee between Beast and Sybella was fantastic. Both these characters have know similar pain in their lives and as they get to know each other, it becomes obvious that they just fit together. They aren't complete opposites, nor are they exactly alike, and because of who they are I could never even conceive of a way that they would not be right for each other. They just work so well together.
World-Building
: So
Grave Mercy
, while still Ismae's story had much more of a historical context to it. This story however deals very personally with Sybella's life and her experience. It's still set against a historical backdrop, it's just that the historical points in this book are much more sub-plotted. What I found really interesting is that while there is a lot of historical basis for this book, it seems that there is also a bit of fairy-tale inspiration as well. At first I thought that there would be a great Beauty and the Beast parallel but other than the fact that the love interest for Sybella is nicknamed Beast there really wasn't any, but there were parallels to the Bluebeard fairy-tale threaded into the plot. They're very slight and at first I thought I was just imagining things, but well, read the author's note at the end for yourself. Anyway, even though we didn't get a wider scope of this world, or a greater historical context as it's background, I was never bored learning about Sybella and her life.
Predictability
: LaFevers is a master at foreshadowing. As the story progresses there are little crums of information, things that at first seem unimportant, but will eventually come into play later. There are of course the less subtle pieces of foreshadowing that will point to some of the smaller twists in this book. However, even with all the foreshadowing this book has, there are still some twists that come completely out of left field. I mean things that no matter how you analyze the foreshadowing you're never going to see coming. I loved every twist, turn, and surprise this book had even the ones I could predict because everything just fit into place so well.
Ending
: So if I have one complaint from this book it's the ending. I mean the story's chugging along and the final climax happens. The final climax by the way is pretty epic. There's a lot that goes on during it and it's super intense and drawn out well. Then, just as we get to what I like to call the cool down phase where things quiet down and loose end are tied up this book just ends. It doesn't even end in a cliffhanger, I mean most everything is tied up well, but with the ending being that close to the final climax of the story without some sort of buffer I was really feeling that something was missing.
Rating:
This book is fantastic and I wish that whole ending thing didn't bother me so much because I really wanted to give this book five stars, I mean this book is probably better than the first one and I can't wait to read the next and final installment. Gah! That end though!