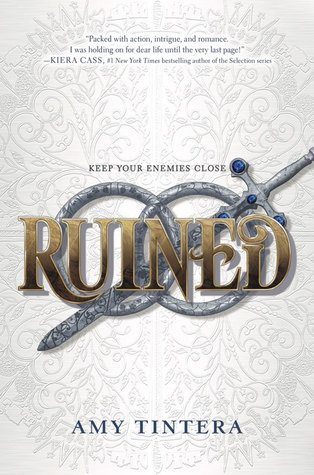 Release Date
: May 3, 2016
Author
: Amy Tintera
Publisher
: HarperTeen
Length
: 368 pages
Source
: eARC from Edelweiss
Emelina Flores has nothing. Her home in Ruina has been ravaged by war. She lacks the powers of her fellow Ruined. Worst of all, she witnessed her parents' brutal murders and watched helplessly as her sister, Olivia, was kidnapped.

But because Em has nothing, she has nothing to lose. Driven by a blind desire for revenge, Em sets off on a dangerous journey to the enemy kingdom of Lera. Somewhere within Lera's borders, Em hopes to find Olivia. But in order to find her, Em must infiltrate the royal family.

In a brilliant, elaborate plan of deception and murder, Em marries Prince Casimir, next in line to take Lera's throne. If anyone in Lera discovers Em is not Casimir's true betrothed, Em will be executed on the spot. But it's the only way to salvage Em's kingdom and what is left of her family.

Em is determined to succeed, but the closer she gets to the prince, the more she questions her mission. Em's rage-filled heart begins to soften. But with her life—and her family—on the line, love could be Em's deadliest mistake.
Review:
Protagonists
: When Em's parents are killed and her sister is taken all she wants is revenge and to get her sister back. She's puts into action a plan that involves killing and taking the identity of a princess set to marry the son of the man who orchestrated her parents' deaths, finding out where her sister is being held, and then burning everything to the ground. Cas doesn't want to marry a princess he doesn't know, but his parents arranged it and to keep the peace between the two kingdoms and to cement Lera's hold on the Vallos throne, he has to. Honestly I wasn't quite sure what to expect of these characters going in except that Em's a bit of a bad ass who kills a princess in the first five pages, but then, she does have a softer side that comes out eventually. Cas however isn't exactly like other fantasy princes. Most fantasy princes I've read about have harsh and abusive fathers, so when it comes to opposing their father's laws and policies it's not that hard, but Cas's father, while having certain prejudices against the Ruined, isn't an obviously cruel person, so Cas has a harder time thinking for himself. I really enjoyed both these characters both together and on their own as they figure out the world they live in.
Romance
: Let me ease your minds. First there is no love triangle. So far there is only a romance between Em and Cas and I hope it stays that way. Second, there is no insta-love. While the romance may or may not move faster than I had anticipated, I was actually delighted to see that it wasn't smooth sailing for very long. I really loved the romance between Cas and Em, even while Em is masquerading as Princess Mary, she doesn't pretend to know Mary's life so when she talks with Cas about her life, she doesn't lie, at least not when she doesn't have to. The romance is a bit slow burning moving from apathy, to friendship, and then finally to romance.
World-Building
: So I have to say that while the political intrigue in this series is amazing, each country having some sort of stake in the power struggle, learning a lot about each of these countries, there isn't all that much we learn about the Ruined magic. Of course, I understand why that is, Em doesn't have any magic, and since the only other semi-important character that does have it is incognito there isn't all that much time to learn about it. However I would have liked a bit more about what the powers can do at the very least, we some a bit, but does everyone have the same powers, do some people have wildly different powers, are they all some form of telekinesis? I know we'll undoubtedly learn more about the Ruined power in upcoming books, it's just that it would have been nice to have a bit more of a grasp on it during this installment.
Predictability
: So.... This book didn't quite go the way I was expecting. While I did catch on to rather a few little twists here and there, for the most part I wasn't quite sure what was going to happen next and I believe most of that is due to the fact that this book isn't paced quite the way I had expected. Going into this book I knew that it was a planned trilogy, and while I can definitely see how there's enough for three whole books now, there were times when I thought that this story more felt like the first half of a duology rather than the first installment in a trilogy. However, as the more or less second half of this book started there were a lot of things I didn't see coming and while it did take a little while I could easily see how the author
could
stretch this story out for two more books.
Ending
: As the ending got closer and closer I was waiting for a final climax that just didn't seem to come. Sure there were quite a few intense moments as we got towards the end of the book, but things were still building. Then the final chapter came and all hell broke loose. I have to say the final chapter of this book has so much in it, so much that is revealed, so much that happens, that it's hard to put into words my feelings about it. Let's just say that after I finished the book the only words that came to mind were "Holy mother of God!"
Rating:
The ONLY thing keeping me from giving this book five stars is that I really wanted to know more about the Ruined powers and while I still totally understand why we didn't, not knowing some key facts about them just made this book the tiniest bit harder to fully comprehend.