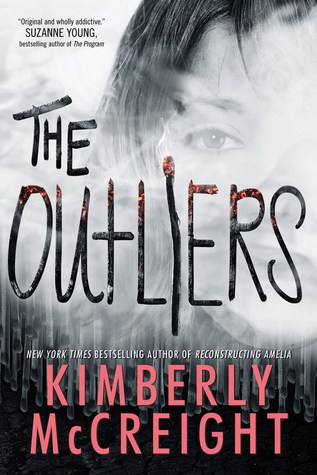 Release Date
: May 3, 2016
Author
: Kimberly McCreight
Publisher
: HarperCollins
Length
: 352 pages
Source
: Review Copy from Publisher
From the New York Times bestselling author of Reconstructing Amelia comes a fast-paced teen series where one girl learns that in a world of intrigue, betrayal, and deeply buried secrets, it is vital to trust your instincts.

It all starts with a text: Please, Wylie, I need your help. Wylie hasn't heard from Cassie in over a week, not since their last fight. But that doesn't matter. Cassie's in trouble, so Wylie decides to do what she has done so many times before: save her best friend from herself.

This time it's different, though. Instead of telling Wylie where she is, Cassie sends cryptic clues. And instead of having Wylie come by herself, Jasper shows up saying Cassie sent him to help. Trusting the guy who sent Cassie off the rails doesn't feel right, but Wylie has no choice but to ignore her gut instinct and go with him.

But figuring out where Cassie is goes from difficult to dangerous, fast. As Wylie and Jasper head farther and farther north into the dense woods of Maine, Wylie struggles to control her growing sense that something is really wrong. What isn't Cassie telling them? And could finding her be only the beginning?

In this breakneck tale, New York Times bestselling author Kimberly McCreight brilliantly chronicles a fateful journey that begins with a single decision—and ends up changing everything.
Review:
Protagonist
: Wylie has had a whirlwind few months. She's lost her mother, she isn't really talking to her best friend after their last fight, and she hasn't been able to leave the house in three weeks. However when Wylie receives a text from Cassie saying that she messed up again and Wylie needs to come rescue her, Wylie drop everything to come to her aid. Wylie isn't your typical YA heroine, she's a strong character for sure, but she doesn't really fit into the archetype of the typical heroine, she's anxious about everything, she's still grieving the loss of her mother, but still she pushes past all the negative emotions to try and rescue her estranged best friend. Wylie is a many layered character and I really liked her development over the course of this book, it's subtle but it's there.
World-Building
: So, going into this book I expected it to be sort of a YA thriller about a girl going to save her best friend, which it is, but it's more than that. Without giving too much away I'll say there's a lot going on in this book, and when we get to the meat of the world building this book explodes with wonder. I'll talk a little bit more about my experience going into the larger world building in the next section, but let's just say it was a shock. As you can no doubt see there is no romance section to this review but I do want to talk about it a little bit here. There really isn't a romance in this book, hence no section, but unless I'm mistaken there's some foreshadowing to future romance sometime in the next to books. I have to say there were times when I thought there was a spark between Wylie and Cassie's boyfriend, Jasper, but before too long there would be something to squished those thoughts.
Predictability
: The foreshadowing in this book is ON POINT! I love the way the author weaves key pieces of information into the text as if they're just trow away lines of world-building is astonishing. This book has several twists, but there's one big one that sort of starts the snowball sown the hill. This is a twist I didn't see coming at all, but after it was revealed, I knew I should have. After that I kept getting stumped by twists. There isn't an overabundance of them, but they carry a heavy impact on the story. Even the little things I saw coming had some sort of twist to them that I couldn't guess. I'd advise you to stick with the tagline of this book and "Trust Your Instincts."
Ending
: With this book being so fast paced it was hard to isolate the final climax. However it is there, it's not a scene full of action and battles, but it's there. The cooldown period of the book though is where everything comes into place. When I went into this book I didn't figure out that it wasn't a standalone until quite a few chapters into it. I wanted to check the length and chapter count and that's when my eyes, of their own accord, roamed over and saw the cliffhanger ending. Boy was it a doozy, however it wasn't until I was actually reading the end, when the full impact of the ending hit me. I'm excited for the next book, mad at the author for leaving it like that, and just overall emotionally drained.
Rating:
I was not expecting this book to be this good! I mean I expected to like it, but I freaking LOVED this book. It's super fast paced, it grabs you and won't let you go until you're on the floor sobbing over this story, and it's so worth it too!