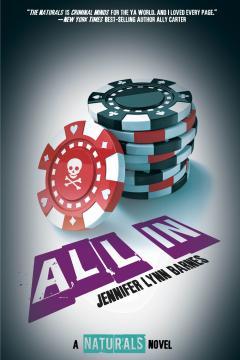 Release Date
: November 3, 2015
Author
: Jennifer Lynn Barnes
Publisher
: Disney-Hyperion
Length
: 378 pages
Source
: Library Book
Three casinos. Three bodies. Three days.

After a string of brutal murders in Las Vegas, Cassie Hobbes and the Naturals are called in to investigate. But even with the team's unique profiling talents, these murders seem baffling: unlike many serial killers, this one uses different methods every time. All of the victims were killed in public, yet the killer does not show up on any tape. And each victim has a string of numbers tattooed on their wrist. Hidden in the numbers is a code—and the closer the Naturals come to unraveling the mystery, the more perilous the case becomes.

Meanwhile, Cassie is dealing with an equally dangerous and much more painful mystery. For the first time in years, there's been a break in her mother's case. As personal issues and tensions between the team mount, Cassie and the Naturals will be faced with impossible odds—and impossible choices.
Review:
Protagonist
: Cassie, after enjoying a holiday break with her family, is excited to get back to the Naturals program, a place where she feels she belongs, where she's useful, and surrounded by people who feel like home. However before she goes back she learns there's been a break in her mother's case which throws her for a loop. On top of that, she and the other Naturals are recruited to check out a string of murders that seem to have no real connection other than a seemingly random string of numbers on their bodies. In this book Cassie begins to accept her role withing the Naturals group more. She's the heart of the group, the one with the capability and allowance to feel things whenever she wants. She keeps the group together, helps them through their personal tragedies and feels for them when needs be. She's a great character who doesn't really need to get better or really develop more in terms of becoming more the perfect self aware character. She grows more complex, but it's she owns her strengths and flaws and does her best to keep her flaws in check.
Romance
: There is actually surprisingly little romance in this book. I almost feel like this section is unnecessary, but I do ahve a few things I want to address. First off I love that the author wasn't compelled to make a lot of drama for Cassie and Dean's romance, at least not yet. The love triangle's over and Cassie's made her choice, or well, Cassie knows where her heart belongs. Cassie and Dean are there for each other, supporting each other through tough times and not really racing for new milestones or shaking up their romance at all, and I have to say while some may think a nice calm romance is boring, it really works here. We do see a little bit of fall out over Cassie's choice, that type of thing doesn't go away, but even that's a rather small plot point. Overall, the romance is just done very well, and very tastefully.
World Building
: Ha! I was right! During the previous installment in this series I theorized that each book will have a focus on a different Natural member, looking into their background and some of what makes them tick. What I didn't correctly theorize though, is which Natural this would focus on. I won't say which even though it's fairly easy to pick up on early in the story. I will say though that I really liked this story line, even if it had its frustrating moments. It really bring about this character's background, who they are, why they sometimes do the things they do, and while this isn't exactly the main plot or storyline, more just twisted up into it, it's one of the best parts about this book. Then there's Cassie's mom's case. I don't want to say too much and spoil it, but there are some interesting developments, some that feel a bit like a roller coaster. There are a lot of threads connected to this story and I was just shocked at the tapestry they wove.
Predictability
: Barnes, judging by this series at least, is one of the best authors when it comes to surprising the reader. Besides fantastic foreshadowing, the author also employs misdirection, and vague moments to leave even the most perceptive reader unsure of what's going to happen. I had so many conspiracy theories for this book, about the murderer, about certain peoples' motives, even about Cassie's mom's case, and even the ones that were proven true were twisted in a way I couldn't have guessed. As for the other ones, I was either way off the mark, or pretty close to nothing significant.
Ending
: *Speechless Gaping* If you thought that the twist at the end of the previous book was a game changer, you ain't seen nothing yet! In an effort to avoid spoilers, even though I just want to rant and theorize about this ending all day, I'm going to give you as vague a rundown as I can. I'm going to first say that how this killer is apprehended, if they even are apprehended, was done in a very different way than the other books. However that's not quite the end. There are a lot of loose ends to tie up, and that's just for this installment, not the series over all. Things get more complex, a little crazy, and there's a definite shift. I won't say what kind, but what I will say is that I seriously can't wait what the next book has to bring.
Rating:
Gah! This series is fantastic and hasn't let me down yet. Each book is gripping and I can hardly put it down for any significant period of time. There's still so much left to tell, and if my theory is correct, and I hope it is, we have two books left, and two more characters' backstories that I'm chomping at the bit to understand deeper.