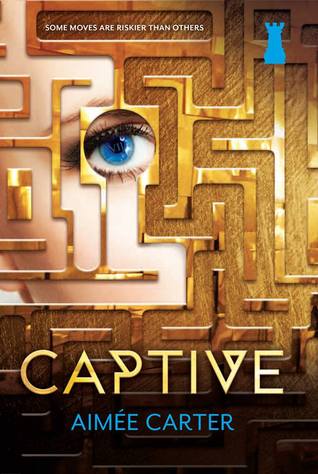 Release Date
: November 25, 2014
Author
: Aimee Carter
Publisher
: Harlequin Teen
Length
: 299 pages
Source
: eGalley from NetGalley
For the past two months, Kitty Doe's life has been a lie. Forced to impersonate the Prime Minister's niece, her frustration grows as her trust in her fake fiancé cracks, her real boyfriend is forbidden and the Blackcoats keep her in the dark more than ever.

But in the midst of discovering that her role in the Hart family may not be as coincidental as she thought, she's accused of treason and is forced to face her greatest fear: Elsewhere. A prison where no one can escape.

As one shocking revelation leads to the next, Kitty learns the hard way that she can trust no one, not even the people she thought were on her side. With her back against the wall, Kitty wants to believe she'll do whatever it takes to support the rebellion she believes in—but is she prepared to pay the ultimate price?
Review:
Protagonist
: Kitty Doe has taken it upon herself to keep posing as Lila Hart and to support the Blackcoat Rebellion against a tyrannical meritocracy and it's corrupt leader. Things are beginning to change though, Knox won't let her in on his plans and she discovers that there's more to who she is than she thinks. However it's not long before she's accused of treason and shipped off to Elsewhere, where there is no escape. Kitty's characterization in this book and her development come from a place of pain and depression, for a variety of reasons, she's lost all hope and it takes a while and a few new faces to get her back on her feet and give her a reason to survive and thrive again. I really loved Kitty in this book again, she's such a strong character, she has a vulnerable side which she's not afraid to show, and at the end of the day she'll do whatever she feels is right, for better or worse.
Romance
: Before I delved into this new adventure I read my review of the first installment to get a good idea at where my head was at after reading the first book. Now, in my review it said that I liked the romance between Kitty and Benjey, I'm sure I wasn't lying, but after waiting so long, when I came back I just didn't care. I couldn't root for them and I never felt any real chemistry between them. Luckily the romance is only a small part of the story and while it is in some ways a driving force, especially in this installment, it's dwarfed in comparison to the political intrigue and the world building. I wanted to like these two together, partly because I know I had at one point and also because it would make the reading experience easier, I really tried, but in the end I just couldn't care less.
World-Building
: The big hook of this book is discovering what Elsewhere truly is, and even in the part we saw of it in the first book was just a small part of the whole. Elsewhere is just this whole other place and added cancerous tumor of corruption to this world. It functions in a lot of ways like a jail mixed with a summer camp, except the inmates... I mean citizens of Elsewhere are treated even less like human beings than those in prison. I'm not going to say too much more since I don't want to spoil it, but Elsewhere wasn't quite what I expected. Then there's all the interpersonal and just plain personal stuff. We learn so much more about this world, about these characters in this book that I just couldn't believe it half the time. There are deeper mysteries to be discovered on Kitty's journey as a Captive.
Predictability
:Let's talk secrets and twists and the like. There actually aren't all that many in this book. Well, not that many huge and impactful ones. There were a few twists that I easily saw coming, some of the larger ones, and there were twists that I should have seen coming, there was plenty of foreshadowing for it, but didn't. I never really felt like I was being hit over the head with anything though, I never had that feeling of, "Yes, I get it *insert spoiler here* get on with the story already"
Ending
: Dear God there's a lot that goes down in this ending. There aren't too many huge twists in this book, there are things that I didn't expect to happen and things that had me jumping for joy, but pretty much all the huge twists are out of the way before the final climax. As the story winds down there's one other trump card up the author's sleeve, something there's no foreshadowing for, and something that confused me to all hell ending in a pretty large cliffhanger.
Rating:
I want to give this book 5 stars, I really do, me not caring about the Kitty/Benjey romance isn't really even a huge problem, but I don't feel like it's fair to give this book 5 stars when there was a plot element that pretty much bores me to death.