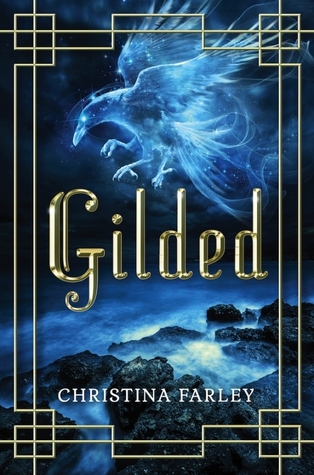 Release Date
: March 1, 2014
Author
: Christina Farley
Publisher
: Skyscape
Length
: 352 pages
Source
: eGalley via NetGalley
Sixteen-year-old Jae Hwa Lee is a Korean-American girl with a black belt, a deadly proclivity with steel-tipped arrows, and a chip on her shoulder the size of Korea itself. When her widowed dad uproots her to Seoul from her home in L.A., Jae thinks her biggest challenges will be fitting in to a new school and dealing with her dismissive Korean grandfather. Then she discovers that a Korean demi-god, Haemosu, has been stealing the soul of the oldest daughter of each generation in her family for centuries. And she's next.

But that's not Jae's only problem.

There's also Marc. Irresistible and charming, Marc threatens to break the barriers around Jae's heart. As the two grow closer, Jae must decide if she can trust him. But Marc has a secret of his own—one that could help Jae overturn the curse on her family for good. It turns out that Jae's been wrong about a lot of things: her grandfather is her greatest ally, even the tough girl can fall in love, and Korea might just be the home she's always been looking for.
Review:
Protagonist
: Jae is a fierce, spirited, girl who wants nothing more than to move back to the US. She doesn't feel as though she fits in in Korea, even though it's where her family is from and her heritage is. Soon though, just as she is maybe starting to like some of the things Korea has to offer, she get entangled in an ancient curse, and now she needs to find a way to break it, or she will be captured by the terrifying demigod Haemosu. Overall, I really liked Jae, she didn't put up with people's crap and she could probably drop kick out if you got in her face. She has a fiery temper that she probably needs to get a better handle on, but as the story continues she begins to find balance within herself.
Romance
: I really wanted to care about this romance. I mean, Marc's a good guy, he's a perfectly fine love interest, I just couldn't find myself caring. First off, the romance is a fairly small sub-plot of the books, and more often than not it just felt like it was getting in the way of the larger plot. And, granted while it took some time for things to start with Jae and Marc, once their feelings were revealed, it doesn't take long for things to move really fast. I just don't understand certain authors and their need to rush romances. It feels like as soon as you get them to kiss and acknowledge their feelings for each other, as long as they're not secondary love interests, they can't wait until the next book to have them declaring their love for each other, just please draw it out some.
World-Building
: So, I'm not well versed on Korean Mythology and Folk Lore, but after a cursory search of the internet, other than tweaking a few things here and there to serve her story, Farley did a very faithful job in introducing these myths to a new reader. There's a really strong tie in with the spirit world and various mythological creatures that roam around and make Jae's life even more complicated. I really enjoyed the fantasy aspect of this book and how it's weaved into modern day Seoul. The author really does a fantastic job at describing the world and it's inhabitants in rich detail making this story a real immersive experience. With this first story down, I'm interested to see what other myths and legends this author will tackle next.
Predictability
: In all honesty, I'm not quite sure how predictable this was. I mean, there were the bigger grand story telling elements that I could see how they would turn out, and here and there I'd call something before it happened, but I don't know. Maybe I just wasn't invested enough to really get into what's coming next and how the story would twist here and there. Also, if I'm being honest there wasn't a lot in this story that I would consider a twist. I mean, nothing really surprised me or even really felt like something that was supposed to.
Ending
: Since I knew going into this book that it was the first in a series I was expecting a much more open ended finale. I mean, there's still plenty of story left to tell, but there was far more closure than what I was expecting. That being said though, given how this book was going, the fact that there were many elements that were tied up wasn't too surprising, I just wasn't expecting it going in. Anyway, I really enjoyed the final climax of the book, there was a lot of tension and there were some amazing scenes. The cooldown was rather extended, again I'm assuming adding in everything could to tease the fact that this is indeed the first book of a series. We get a vague idea of where the book is heading before ending on a rather plateaued ending that doesn't really have me chomping at the bit for the next book.
Rating:
Wow, I really thought I was going to give this book 4+ stars, but in all honesty, while there were many elements of this book I found enjoyable, the world building, the mythology, the protagonist, between the half-assed romance, my lack of desire in picking up the next book ASAP, and the fact that I couldn't get super into this book, dragged the rating down.