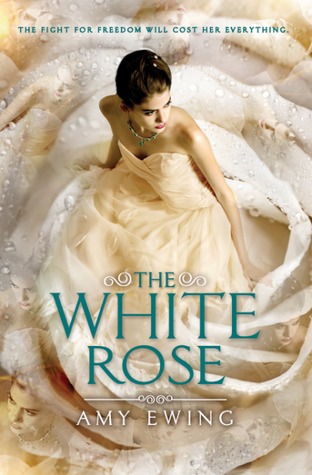 Release Date
: October 6, 2015
Author
: Amy Ewing
Publisher
: HarperTeen
Length
: 308 pages
Source
: ARC from BEA 2015
Violet is on the run. After the Duchess of the Lake catches Violet with Ash, the hired companion at the Palace of the Lake, Violet has no choice but to escape the Jewel or face certain death. So along with Ash and her best friend, Raven, Violet runs away from her unbearable life of servitude.

But no one said leaving the Jewel would be easy. As they make their way through the circles of the Lone City, Regimentals track their every move, and the trio barely manages to make it out unscathed and into the safe haven they were promised—a mysterious house in the Farm.

But there's a rebellion brewing, and Violet has found herself in the middle of it. Alongside a new ally, Violet discovers her Auguries are much more powerful than she ever imagined. But is she strong enough to rise up against the Jewel and everything she has ever known?

The White Rose is a raw, captivating sequel to The Jewel that fans won't be able to put down until the final shocking moments.
Review:
Protagonist
: Picking up right where the last book left off, Violet has just been told by Garnet, her mistress's son, that he will help her escape the Jewel and find somewhere safe. Now she, her romantic interest Ash, and her broken best friend Raven, must escape to the Farm, but Regimentals are on high alert for one member of their party and getting out won't be as easy as Garnet and Lucien had planned. There is so much that Violet learns in this book, about herself and those around her and that only helps to shape and sturdy her resolve against the royals and their barbaric ways. I loved Violet so much, she has a sharp tongue when need be, and a calm and clear head when things get tough. She still has her flaws however, though those keep her grounded and whole, and keep her a realistic character at heart.
Romance
: If I had to point out one element of this series that I didn't care for it'd be the romance. Since the romance was so rushed in the first book, by the time I got to the second I didn't really care about Ash. In fact, while I don't think I ever disliked Ash in the first book, in this book he got on my nerves a lot. There are many characters in this world that blame themselves for the actions of others, but no more so than Ash, who has a chip on his shoulder the size of the Lone City itself, however if we actually spent time in the first book getting to know his character more and learning more about him as his relationship with Violet grew over time instead of a whirlwind, I think I would have been able to accept his angst annoying rants about how things are all his fault or how if he didn't do that, than this wouldn't have happened. In fact, the most compelling romance in this book was the one given very little time to shine and was only really hinted at.
World Building
: One of the things that drew me into this world so much was it's interesting blend of dystopian and fantasy, with these surrogates holding dominion over some rather magical powers. However, the first book in this series focused much more on the dystopian aspect and really paid little mid the the magical and fantasy part, making the latter seem all the more mysterious. In this novel though, we finally get to see the magic shine. We learn about the Auguries, their origins, and their true purpose. This deep dive into the Auguries gives this book much more of a fantasy flair than a dystopian at times. However, the dystopian crisis is still at a large and plans are being made to put an end to it, plans that include Violet somehow, but she doesn't want to be just another tool anymore, this time she wants to fight on her own terms.
Predictability
: While I did have some problems with the first book, in many areas, one of those areas was most definitely not predictability. I would expect a love triangle, only to be left with a straightforward romance, I'd expect a daring escape at the end fraught with dramatic tension, only to have it end with Violet imprisoned fearing for her and Ash's lives only to get a glimmer of new hope. Things never turned out the way I expected, and this book is no different. One of the things that struck me the most was how I thought the name of this book was going to relate to the story. I had one idea so firmly implanted in my mind only for it to be something completely different. There are many twists and turns this book takes and I was only able to guess a handful of them, and that was mostly sheer dumb luck.
Ending
: Another thing this author knows how to do well, is end a book on a devastating, and unpredictable, cliffhanger. I'm trying to find the final climax and while there isn't one in any typical way, there is a lot of tension going into the finale of this book. There are things revealed that shake our group to it's core and set them back quite a bit. Then there are things that are only hinted at that I'm expecting to see in the final installment of this trilogy. It's easy to see where things are going and I'm kind of incredibly excited to know what'll happen next. Oh yeah, that cliffhanger was evil in more than one way!
Rating:
I really enjoyed this book, other than not really caring about the romance, there wasn't really anything that bothered me about it. It's an addictive and quick read, that just keeps building until the explosive finale. I can't wait to see how this story will come to a close!