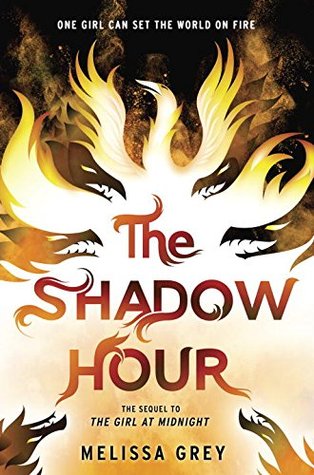 Release Date
: July 12, 2016
Author
: Melissa Grey
Publisher
: Delacorte Press
Length
: 432 pages
Source
: ARC Received for Blog Tour
A battle has been won. But the war has only just begun.

Everything in Echo's life changed in a blinding flash when she learned the startling truth: she is the firebird, the creature of light that is said to bring peace.

The firebird has come into the world, but it has not come alone. Every action has an equal and opposite reaction, and Echo can feel a great and terrible darkness rising in the distance. Cosmic forces threaten to tear the world apart.

Echo has already lost her home, her family, and her boyfriend. Now, as the firebird, her path is filled with even greater dangers than the ones she's already overcome.

She knows the Dragon Prince will not fall without a fight.

Echo must decide: can she wield the power of her true nature—or will it prove too strong for her, and burn what's left of her world to the ground?

Welcome to the shadow hour.
Review:
Characters
: Much like the first installment in this series, this book is told in the third person point-of-view of a variety of characters. We have Echo, our main character, who despite all her misgivings and doubts manages to keep her sarcastic humor in high supply, even rubbing off on other characters along the way. Caius, the former Dragon Prince, will do whatever it takes to see the war between the Drakharin and Avicen races come to a peaceful conclusion, but there are others out there who wish to see the destruction of one or both races. After our two main characters, there are our more secondary characters who still provide the voices for various chapters. Dorian, Caius's best friend, and loyal confidant, who while trying to help out on this mission of peace finds himself involved in a love triangle he'd never expected. Ivy, Echo's best friend, finds herself willing to put her life on the line to save not only her best friend but her entire race. Finally, we have Jasper, the ever so charismatic thief who joins this ragtag group of friends on their quest, in it for the glory he soon found another reason to stay, however, someone from his past might just jeopardize his slowly blossoming romance with the one-eyed Drakharin guard. I love all of these characters, in addition to being incredibly smart and capable characters who can get the job done despite their own misgivings, they all seem to add a sense of humor to the story as well. Instead of being a constantly serious urban fantasy these characters make it come alive with their individual personalities and senses of humor.
Romance
: Remember when all we had to deal with in the romance department was Echo's easily predictable love triangle and a small one on one romance blossoming between Jasper and Dorian. Yeah, remember it while you can because this book just makes things a lot more complicated. On the Echo front, she doesn't know how she feels about Caius, or well, she knows how she's feeling she just isn't quite sure if what she's feeling for him are feelings of her own or those prompted by Rose's ever lingering conscious in her body. If that's not enough her romance with Rowan, which I still can't take seriously, might not be as over as she thought. On the Echo romance front, I think I can see where the author's going and while it's a tad on the predictable side, I'm actually interested to see how it will all eventually pan out. Then we have love triangle #2. I don't want to give too much away, but I will say that this second love triangle is, again, nothing I took seriously, maybe I should have, but I didn't. This author is pretty transparent when it comes to where these characters' hearts lie, but I do really enjoy reading these awesome romances.
World Building
: Ah, it feels so good to be back in this world. After the events of the previous book, our characters are in hiding but are soon coaxed from their hiding space when it's revealed that after unleashing the firebird, there was another, far darker force, unleashed as well. As it's said, every action has an equal and opposite reaction and the opposite reaction to the firebird is terrifying. I have to say I loved this world building, as our characters grow, so does this world and at first I thought that introducing a different and more malevolent power in the second installment, after finding the firebird, would feel gimmicky or like the author was grasping for some new entity to fight, but it feels pretty seamless. With new introductions and new characters come background on old and familiar characters. We learn more about Echo's life before she met the Ala, we learn more about Caius's quest to find the firebird and the information he has that can help fight this new evil, and we get a greater understanding of Jasper's past and what or who made him what he is. As this story grows I can see an end in sight and cannot wait to see how everything builds towards the crescendo of the series.
Predictability
: I have to say, for the most part, this book wasn't all that predictable. Don't get me wrong, there were definitely moments where I nearly screamed that I called something, but they weren't all that common. In fact, most of my theories, while true in a very vague sense, turned out to be a lot more wrong than right. The foreshadowing in this book is pretty incredible, with a mix of what's to come and misdirection this book does it's darndest to make sure that certain twists aren't revealed until the author wants them to be.
Ending
: You guys, this ending, this ending is both a relief and a torture. At first, I thought we had seen the final climax, the big action packed moment right before the cooldown period, but in a sense, it felt too far away from the end, then it came, the real final climax, and it was epic. Not only that but then I'm expecting this big cliffhanger and trust me, while there are things that are going to leave me in torturous agony until next year when the final book comes out, the actual ending of this book isn't really a cliffhanger. There's no final twist or secret reveal, no, while the end doesn't exactly plateau, it doesn't plummet either.
Rating:
I've been trying to figure out if this rating is a surprise or not. While I did feel that the first book had one too many similarities with some other YA series, it was a solid and fantastic first installment, however, I felt like this installment hit it out of the park. I was captivated by every chapter and when it finally did end I was already craving the next installment.
The Savage Dawn
cannot come soon enough!
About the Author:
Melissa Grey was born and raised in New York City. She wrote her first short story at the age of twelve and hasn't stopped writing since. After earning a degree in fine arts at Yale University, she traveled the world, then returned to New York City where she currently works as a freelance journalist. To learn more about Melissa, visit melissa-grey.com and follow @meligrey on Twitter.

Website | Blog | Twitter | Instagram | Pinterest | Goodreads
Giveaway:
1 winner will receive a paperback of THE GIRL AT MIDNIGHT, US Only.
a Rafflecopter giveaway