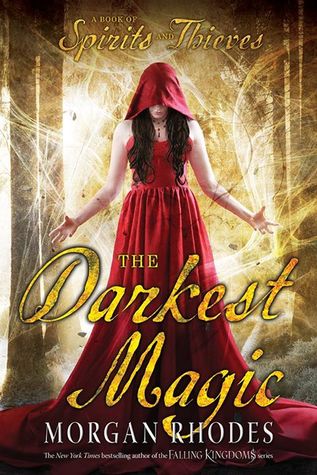 Release Date
: June 28, 2016
Author
: Morgan Rhodes
Publisher
: Razorbill
Length
: 448 pages
Source
: Library e-Book
In the second installment of New York Times bestselling author Morgan Rhodes's highly acclaimed Falling Kingdoms spin-off series, danger looms and the mystery deepens as two warring evils vie for possession of one elusive, powerful book.

Modern-day Toronto:

Sisters Crystal and Becca Hatcher are reunited after reclaiming the Bronze Codex and narrowly escaping death. They have no one to trust but each other, and the only thing keeping them safe is the book that sent Becca's spirit to Ancient Mytica--the same book that their enemies would kill them for.



Ancient Mytica:

Maddox grapples to keep his newly discovered powers under control, while the ruthless goddess Valoria hunts him down.



Modern-day Toronto:

Farrell embraces his dark side as he unwittingly falls further under the spell of Markus, the mastermind leader of the nefarious Hawkspear Society, who will stop at nothing to find Crys and Becca--and the remarkable book in their possession.



New York Times bestselling author Morgan Rhodes takes readers into exhilarating new high-fantasy territory with volume two of the Book of Spirits and Thieves series, an epic contemporary saga perfect for fans of Sarah J. Maas and Diana Gabaldon's Outlander.
Review:
Characters
: After the terrifying showdown with Markus Crystal and her sister (cousin?) Becca have escaped with their lives and a chance to regroup before trying to take him down. However there are still secrets to be uncovered and new enemies to face along with the old. Maddox does his best to try and forget Becca as he formulates with his newly discovered father Barnabas how to take down, and take revenge on, Valoria the dark and sinister goddess of Northern Mytica. Along the way they meet new friends and even cross paths with some particularly interesting characters. Farrell Grayson has pretty much gone crazy after falling under the three marks of Markus. He feels superhuman, yet emotionless. However it's not long before he crosses paths with Crystal Hatcher again, the girl who seems to be the only one that can stir up and real emotion within him. I have to say, all of these characters are really interesting. Their
journeys
in this story allow them to grow more and develop into stronger and more well defined characters. What's even better though is their interactions with each other. Granted Maddox on his far away and trans-dimensional continent of Mytica doesn't really do a lot of interacting, the others are very well done. From Becca and Crys's bond as sisters, their making up for lost time while they discover more secrets of the Hawkspear society and it's dark ruler Markus King. Becca's contept for Farrell and his stalking of Crystal to provide intel to Markus. Finally Crys and Farrell dance of death with their strange mixture of hatred and attraction. All of these characters are well written and strong, even if sometimes I have the urge to throttle them sometimes.
Romance
: Much like the previous book in this series there wasn't too much romance. Maddox and Becca are
separated
at the beginning of this book so it's not like they got in a lot of one on one romantic times, and as far as I could tell there wasn't anything going on with characters from their own world either. So luckily no love triangle. Then there's Crys and Farrell. This couple is just weird in this book. A good weird, but given Farrell's almost undying devotion and compulsion to Markus, plus the fact that, you know, Farrell killed Crys's father, and the whole stalkery dishonesty thing on the part of Farrell, well they don't get along too well. Still an attraction remains, and honestly I don't know if I want these two together. Farrell is really messed up in this book, in that I've suddenly gotten very evil kind of way, and while part of me wants to say it's all Markus's compulsion, and I believe a lot of it is, it's still kind of creepy at times.
World Building
: By far the best part of this series is taking a look at Ancient Mytica. I mean seriously, not only getting to see this country during the times of the mythos of this series, the time where the legends, goddesses, and religion of these various areas came from but also to see key moments in the forming of the three
separate
countries, having characters so closely tied to the mythology of this series and the powerful players of this world is just completely awesome. There's so much more of Mytica that we see in this book and it's still not enough. I mean, I actually do enjoy the whole modern day secret society aspect of the story, but it hardly can hold a candle next to all the amazing things we learn about Mytica. Still there's a lot from Mytica that influences the Modern Day story line. It's not just Markus anymore, there's more to this story and more that ties these two plot lines together. As this series heads towards it's swan song it looks as though Mytica will finally get the representation that it deserves.
Predictability: I'm a bit split here. There were definitely times where I could easily call things, not necessarily in the way they were revealed, but the point was there. These things weren't even easily foreshadowed, for the most part I had to go by my gut instincts to be able to interpret the foreshadowing. Then there are times I was completely lost, at least in terms of where the foreshadowing was going to go. Once a twist was revealed it would make sense, and sometimes leave me in a near catatonic state of shock. This author isn't afraid to go to new and exciting places at the sacrifice of things we as readers love and while some might thrive on similar tropes and formulas tying a story together (myself included) sometimes it's better to through caution to the wind and do something crazy.
Ending: With two distinct story lines, no matter how much they begin to tie together, there are two distinct endings. First let's talk about the Modern day one, since that came first. There are quite a few shocks going into the finale of this particular story line, lots of drama and tension and then a shocking revelation. It's actually really well done, mixing things I predicted with things that seem to come out of nowhere to deliver a gut punch of an end to that story line. Then there's Ancient Mytica, something that takes up much of the end of this book. This is where the final climax comes into play and it's a doozy. I have to say there were some extremely shocking moments, but nothing, nothing, compares to the cliffhanger for this book. It's something that literally made me utter the words "What the fuck did I just read?" I'm not kidding and I'm extremely interested to not only see how it'll play into the final book of this prequel trilogy, but also how and if it'll feature into the main Falling Kingdom series.
Rating:
Dear Lord this series is good. Part of me feels it'd be better if the sole focus was on Ancient Mytica, but regardless it's an addicting companion series the the Falling Kingdom series and I'm both anxious and excited to see if and how the new revelations made in this installment will play a role in either
Crystal Storm
or the final novel in the FK series.