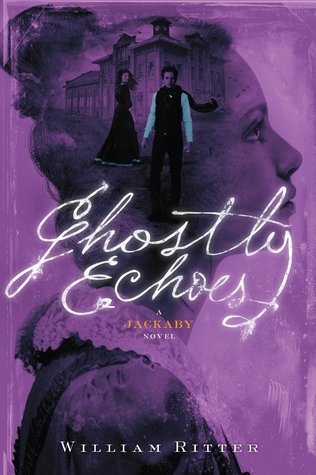 Release Date
: August 23, 2016
Author
: William Ritter
Publisher
: Algonquin Young Readers
Length
: 352 pages
Source
: Review Copy from the Publisher
Jenny Cavanaugh, the ghostly lady of 926 Augur Lane, has enlisted the investigative services of her fellow residents to solve a decade-old murder—her own. Abigail Rook and her eccentric employer, Detective R. F. Jackaby, dive into the cold case, starting with a search for Jenny's fiancé, who went missing the night she died. But when a new, gruesome murder closely mirrors the events of ten years prior, Abigail and Jackaby realize that Jenny's case isn't so cold after all, and her killer may be far more dangerous than they suspected.

Fantasy and folklore mix with mad science as Abigail's race to unravel the mystery leads her across the cold cobblestones of nineteenth-century New England, down to the mythical underworld, and deep into her colleagues' grim histories to battle the most deadly foe she has ever faced.
Review:
Protagonist
: Abigail Rook has assisted her employer, R. F. Jackaby, on two cases now and when they returned home from their most recent escapade involving a dragon, they find their friend and the ghostly resident of their home, Jenny Cavanaugh, has a new case for them, to solve her murder. Now, as new evidence appears that connects to Jenny's murder, Jackaby and Abigail must uncover new clues and discover not only who killed their friend, but what compelled this person to commit such a violent and gruesome act. Can I just say that I love all of these characters? I mean seriously, I know that Abigail is our narrator and primary character, but even so, it's just as easy to see who all of the major players are underneath and to see their development as this story goes on. None of these characters are perfect, but it's their flaws, no matter how big or small, that make them such realistic and three-dimensional characters
World-Building
: Before I get too far into the world building I wanted to address the lack of a romance section. There is romance in this book, Charlie once again makes an appearance and there's a bit of romance between him and Abigail, and since a lot of this book delves into Jenny's past there's a bit of romance that involves her to, but there's not enough of it for me to feel as though it merits its own section. The main hook of this story is the fact that we finally learn more about Jenny and how she ended up dying. This mystery has been teased in previous installments, but I was overjoyed when in the previous book we see it ending with Jenny finally wanting to know what happened to her. as I said before we learn a lot more about Jenny and her life leading up to her death, but interestingly enough we also learn a lot about Jackaby's past and what led up to him becoming the Seer that he is. this book expands this world in immeasurable ways, there's something sinister going on in New Fiddleham and Jenny's murder and the other cases are just pieces of a much larger plot.
Predictability
: With this being a mystery novel the predictability or lack thereof is very important. Luckily, this author knows what he's doing. I cannot begin to articulate how amazing this book is. There are so many wonderful twists and even when you think you know everything, even if you think you've uncovered what's going on before it's been uncovered in the story, there's always something else that puts a wrinkle in your perfectly logical prediction. Not that there aren't moments in this book that are extremely predictable, but it always feels like it's meant to be that way, it seems like the author purposely foreshadowed something a bit too easily just so that there could be a twist inside his twist.
Ending
: If I didn't know going into this book that this was the penultimate installment in this series, by the time this book ends I would have figured it out. There are actually quite a few climactic moments towards the end of this book and they are unbelievably epic. These moments are when a lot of these characters shine their brightest. After all the dust settles, like with previous installments in this series, we get a taste of what's to come next. I don't want to give anything away, but the taste of what's coming up does feel very final, and like I said this is the second to last installment in this series. This book ends with on of these worst cliffhangers I've ever read (in a good way.) At this point, I want the next installment in this series probably more that I want to breathe.
Rating:
This is by far my favorite installment in this series yet. I've been trying to articulate just how and why this is my favorite and I can't, it's so complex and how everything ties together in this book leading to a very explosive cliffhanger just made this book my current favorite of the year so far!