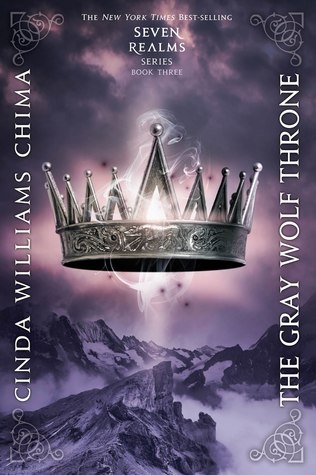 Release Date
: August 30, 2011
Author
: Cinda Williams Chima
Publisher
: Disney-Hyperion
Length
: 517 pages
Source
: Library Book
Han Alister thought he had already lost everyone he loved. But when he finds his friend Rebecca Morley near death in the Spirit Mountains, Han knows that nothing matters more than saving her. The costs of his efforts are steep, but nothing can prepare him for what he soon discovers: the beautiful, mysterious girl he knew as Rebecca is none other than Raisa ana'Marianna, heir to the Queendom of the Fells. Han is hurt and betrayed. He knows he has no future with a blueblood. And, as far as he's concerned, the princess's family as good as killed his own mother and sister. But if Han is to fulfill his end of an old bargain, he must do everything in his power to see Raisa crowned queen.

Meanwhile, some people will stop at nothing to prevent Raisa from ascending. With each attempt on her life, she wonders how long it will be before her enemies succeed. Her heart tells her that the thief-turned-wizard Han Alister can be trusted. She wants to believe it—he's saved her life more than once. But with danger coming at her from every direction, Raisa can only rely on her wits and her iron-hard will to survive—and even that might not be enough.

The Gray Wolf Throne is an epic tale of fierce loyalty, unbearable sacrifice, and the heartless hand of fate.
Review:
Protagonists
: After being kidnapped by Micah Bayar and then nearly taken by Gerard Montaigne, Raisa is on the run for her life, hiding away from the High Wizard and his dastardly schemes. However it isn't long before she's pursued again and this time she may not get away so cleanly. Han Alister just wants to find the girl he knows as Rebecca Morley and make sure she's safe and sound, blaming himself for her disappearance. When he finds her near death in the mountains, he doesn't expect to soon find out that she's none other than Raisa
ana
'Marianna Princess Heir to the Fells, and the girl he begrudgingly agreed to protect. I honestly don't know how much more I can gush about how amazing these characters are. In other novels when a protagonist does something I've deemed stupid, even if I logically know they've done it because of a certain reason, I never quite believe it. In this book I believe it, and it's not just with stupid things. Everything these characters do, each hard choice and sudden outburst not only seem very realistic but very in line with the character this author has created. Each and every one of the characters in this book are so three-dimensional, no one is all black or white, just different shades of gray.
Romance
: Man, does the romance in this book get super complicated and sometimes very aggravating, though since it's obvious the author intended to write it that way it's much easier to digest. First we have Amon and Raisa, a romance that just wasn't meant to be unfortunately. We don't get any progression in this book, only some much needed closure and a bit of pain. Then we have Han and Raisa, the romance that not only makes the most sense, but seems the most impossible. If Han and Raisa were to marry the whole country would be up in arms, possibly the whole continent. Raisa marry a street urchin wizard fostered by the Clans? That's just unspeakable. Not to mention the huge rift that grew between Raisa and Han after Han learns her true identity. There's a feeling of betrayal there and Han doesn't know how to sort out his feelings, so he lashes out. Honestly, while I'm very positive these characters will end up together, the "how" to that dilemma currently escapes me, unless Raisa can find a way to use Amon's ability to do nothing to hurt the line to somehow convince everyone that she and Han belong together. Then there are the romantic complications I kind of hope are eventually killed off. Ried Nightwalker and Micah Bayar attempt to reenter their hats in the ring for Raisa's hand. It's nothing to take seriously, just a constant, although semi-necessary, annoyance.
World Building
: Even though I thought I knew what to expect going into this installment, I was not prepared for what went on in this book. There's a lot of preamble in this book. Things are steadily building up and what it's building up to is pretty fantastic. There's a turning point in this book, where the storytelling changes in a way, or the story itself changes, and the path I had expected it to go on, isn't the path anymore. As you can no doubt tell, I'm try to be vague and avoid spoilers. That being said, this book has the most political intrigue out of all of the books. Playing politics is a dangerous game, but these characters are smart, let's just hope they are smart enough to not only stay alive, but build a better Queendom. There's quite a bit of world building in this book. We see more of the clans, more of the Fellsian court, and learn some vital secrets that just may prove too dangerous to know. Honestly, there's so much I want to say, but I don't want to reveal more than I already have. Let me just say before I go, that when this book took a turn I wasn't expecting, it wasn't for the worse, but to catapult this story forward in an unexpectedly expected way.
Predictability
: I'm pretty sure I've said it before, but I'll say it again, Chima has a fantastic way with foreshadowing. However, sometimes I just want the answer to my questions during the book in which they come up and that never seems to be the case. Take this book for example: In
The Exiled Queen
there was one mystery introduced, one I had felt I had pinpointed the answer to fairly early on, only to never get the satisfaction of saying that I called that twist during that second installment, however not fully two chapters in and it's revealed, I was right, but it was near torture to get there. That being said I'm not mad. There are plenty more twists and mysteries foreshadowed in this book that I am looking forward to finding out in the next installment, but that may just be because I'm reading the next and final installment after I finish this review.
Ending
: This ending was weird, good weird, but still. There wasn't anything I could necessarily pinpoint as a final climax, save for some small climaxes in the final few chapters. The ending is very solid, full of hope as well as tension, and then there's the epilogue. I'm not sure why, probably because this is the book right before the end of the series, but I expected a gigantic twist at the end of this book. So going into the epilogue I had high expectations, but all I was left with was a puzzled look on my face and an intense desire to read the final installment of this series, yet not gigantic twist in sight.
Rating:
I mean, is this even a surprise at this point? It wasn't to me. I absolutely love this series and while didn't go into it planning on giving it five stars, it blew me away in it's slow paced and game changing story line. I have so many questions by the end of this book and I am about ready for some answers.