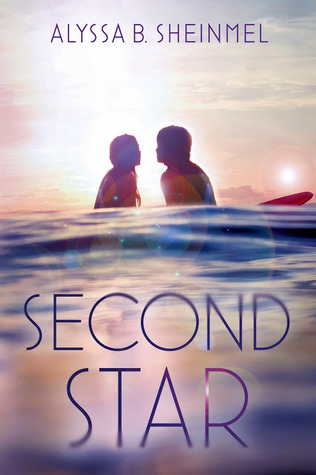 Release Date
: May 13, 2014
Author
: Alyssa B. Sheinmel
Publisher
: Farrar, Straus and Giroux (BYR)
Length
: 248 pages
Source
: eGalley from NetGalley
A twisty story about love, loss, and lies, this contemporary oceanside adventure is tinged with a touch of dark magic as it follows seventeen-year-old Wendy Darling on a search for her missing surfer brothers. Wendy's journey leads her to a mysterious hidden cove inhabited by a tribe of young renegade surfers, most of them runaways like her brothers.

Wendy is instantly drawn to the cove's charismatic leader, Pete, but her search also points her toward Pete's nemesis, the drug-dealing Jas. Enigmatic, dangerous, and handsome, Jas pulls Wendy in even as she's falling hard for Pete.

A radical reinvention of a classic, Second Star is an irresistible summer romance about two young men who have yet to grow up--and the troubled beauty trapped between them.
Review:
Protagonist
: Wendy Darling's brothers have disappeared. Being surfers who constantly chased the next big wave she and her parents believed that's what they had done, until they never came home. Even though the case is closed and her parents believe her brothers are dead she hasn't given up hope. After graduating high school she finds herself looking for them and stumbles upon a group of squatters led by the charismatic Pete. Soon she finds herself even closer to figuring out what happened to her brothers, but soon enough her search leads her to Jas a local drug dealer and Pete's nemesis. I really like Wendy. Ever the optimist she never gives up hope of finding her brothers, even when almost everyone else says that she should. She's a strong and stubborn character who even when she finds herself caught between two guys never loses sight of her goal. I really enjoyed her journey and her development as this story unfolds.
Romance
: Here's the thing, there's a love triangle in this book. Now normally I'm not a fan of love triangles since it's usually very easy to tell where the main character's heart lies. As they are sorting out their feelings for two people the reader usually already knows which makes it very aggravating to constantly read their indecision. However, even as the second love interest, Jas, becomes a contender for Wendy's heart, I was never quite sure where the story was going to go. I could see pros and cons with both guys and I love how the author did a fantastic job of making sure that the reader couldn't quite see who she'd choose. Since this is a standalone there is a choice made in this book, it's done in a nice and realistic way, neither of the romances was really rushed and since this is such a short book there wasn't really any agonizing over Wendy's choice. I'm very happy that there was not only a love triangle done right, but one done right in a standalone nonetheless.
World-Building
: Going into this book all I knew about it was that it was a contemporary
Peter Pan
retelling, and I thought that it sounded like a nice summery book. However, I wouldn't call this a retelling. Much like some other "retellings" I've read, such as Gena Showalter's
Alice in Zombieland
, this is more inspired by the book rather than a straight up retelling. Characters share the same names, some even share similar motivations, but the story is almost completely different. That's not a quality I disliked, as the story was very compelling, but I kind of felt that if the author gave the characters different names I wouldn't have been able to really pick up on a
Peter Pan
vibe. That being said the author did create a fantastic story filled with surfing, romance, and mystery. The writing is so incredible is nearly made me want to drive out to the nearest beach and go surfing.
Predictability
: This book did a pretty bang-up job in terms of predictability. At first I thought I had all the answers about where this story was going to go, but before I knew it I began doubting nearly everything. There was a fair bit of foreshadowing, but not really all that much which gave a sense of unknowing to the story. There are quite a few twists and turns to this story, some that aren't that hard to see coming, and a more that feel more like a wave crashing into you. Overall, it was a very twisted story and I was delighted to see how unpredictable it could be.
Ending
: *sighs* This ending wasn't quite what I expected or hoped for. In the final climax of the book, there are quite a few twists, but it's almost over before it really begins. Then we have a fairly long cooldown period where things don't quite get wrapped up. If this wasn't a standalone novel I wouldn't have cared as much, there would still be time to fully wrap things up, and while there was enough wrapped up so that I wouldn't go crazy, it still wasn't enough. This really disappointed me because since this is such a short novel it felt like there was still space to finish the book in a much more complete way, and while I respect the author's right to end it where she did and almost understand why she did, I just can't help this sense that this story isn't quite finished.
Rating:
I feel bad for knocking a star off the rating, but how the story ended really bothers me. If the story up until that point hadn't been so phenomenal I wouldn't have cared so much, but because I loved it so much the disappointment at not getting a completely wrapped up ending was that large. All in all though if you're looking for a great summer read with some classic influence I'd highly recommend adding this one to your list!