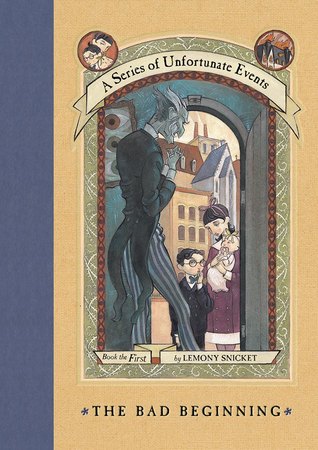 Release Date
: September 30, 1999
Author
: Lemony Snicket
Publisher
: HarperCollinsPublishers
Length
: 162 pages
Source
: Purchased Book
Dear Reader,

I'm sorry to say that the book you are holding in your hands is extremely unpleasant. It tells an unhappy tale about three very unlucky children. Even though they are charming and clever, the Baudelaire siblings lead lives filled with misery and woe. From the very first page of this book when the children are at the beach and receive terrible news, continuing on through the entire story, disaster lurks at their heels. One might say they are magnets for misfortune.

In this short book alone, the three youngsters encounter a greedy and repulsive villain, itchy clothing, a disastrous fire, a plot to steal their fortune, and cold porridge for breakfast.

It is my sad duty to write down these unpleasant tales, but there is nothing stopping you from putting this book down at once and reading something happy, if you prefer that sort of thing.

With all due respect,
Lemony Snicket
Reviewer's Note: So, I really wanted to get my review of Heartless by Marissa Meyer out today, but I'm enjoying it so much that, and since it's a standalone novel, I feel the need to savor it just a bit longer. That being said, though, to honor the fact that Netflix has just released the first full trailer for the new A Series of Unfortunate Events series, I thought it would be fun to revisit this fantastic series and write up a review for the first book. Since the book is so short I don't know how long my review will be, and since it's a childhood favorite of mine I can't promise to be unbiased and not be swayed by nostalgia, but I'll try to do my best to give you a concise yet comprehensive review of this book. I hope you enjoy!
Review:
Protagonists
: Violet, Klaus, and Sunny Baudelaire are incredibly intelligent and well-behaved children. One day while playing at the beach they find out that a fire has consumed their house and their parents with it. With Violet only fourteen and too young to inherit their fortune the children are sent off to live with a distant relative, Count Olaf. Count Olaf is a menacing guardian, making the children to a laundry list of incredibly difficult chores and constantly bringing up their fortune as if it could be his own one day. Still, the children try to make the best out of a bad situation. Soon enough, though, it becomes increasingly obvious that Count Olaf will do whatever it takes to get his dirty, evil hands on their fortune. Violet, Klaus, and Sunny each have a special set of skills that their life of privilege prior to their parent's deaths has helped to foster and grow at an alarming rate. Violet is an engineering prodigy and can use her wit to MacGyver up tools and inventions to help her and her siblings survive the wrath of Olaf, Klaus is extremely intelligent having read so many books in his life and uses his vast researching skills to help them find a way out of Olaf's clutches. Sunny, still being a small baby/toddler is fascinated with biting things with her sharp teeth, so for this book at least she's not that helpful, though pretty adorable. You sort of have to suspend your disbelief when it comes to these characters, but if you do, or you've read the books when you were younger like I was, I'm sure you'll find them charming and bright kids.
World Building
: Snicket's writing and world building are incredible. Right away you feel as if you've been transported to some other world. There's a very prominent and powerful old-time, 1950s, feel to the world of this story. As with the three protagonists you sort of have to look at this world through the eyes of a child, as things are exaggerated or twisted to fit with the story's narrative. One of my favorite things about Snicket's writing it that he never talks down to the reader, not really, but he completely understands that not everybody will know some of the large or complicated words he uses in his prose so he'll stop telling the story and sometimes explain what a word means, and then there are times when he'll add in anecdotes about his life to set up a situation. All of this makes for a magical story to tell and can easily keep the reader glued to their book.
Foreshadowing
: Since this isn't the first time I've read this book, it's not even the second time, to be honest, I figured instead of going for the normal predictability section I would more deeply focus on the foreshadowing of this book instead of whether or not I was able to predict the twists and turns this book took. I have to say revisiting this story after so many years though still knowing a large portion of how the story would go, it wasn't too hard to see the foreshadowing, in fact, it down right slapped me in the face at times, but I have to say trying to look at it from the uninformed observer that it still wouldn't give the larger twists of this story away. I have to commend Snicket for his fascinating work at weaving foreshadowing into this story so expertly.
Ending
: In the beginning of this book you are warned that this story will not have a happy end to it. As the final climax of this story approaches and then commences there are very sad and dark things that happen to the Baudelaire youngsters. The final climax of the story isn't an action scene filled with fighting but a battle of wills and cunning that is rather spectacular to read. However, while the ending isn't completely rife with misfortune the story does end on a somber note leaving the reader to hope that maybe next time things will go better.
Rating:
So, I warned you, I'm not unbiased here, that being said though for the age group this story is intended for this is a spectacular read. It's full of knowledge, intrigue, and a rather menacing villain. If you haven't read this series yet I hope that you will and be sure to read at least the first four books before January 13th when the first season of Netflix series will go live.
P.S. I am aware that Lemony Snicket is a pen name for Daniel Handler and that the Snicket character and his anecdotes are all fiction, but I thought it would be fun to write as if Snicket were real.