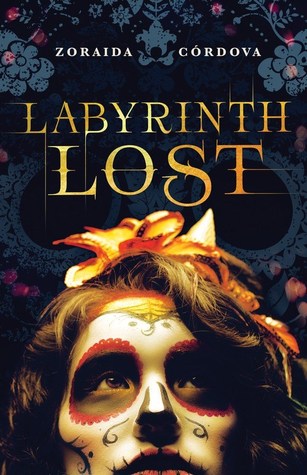 Release Date
: September 6, 2016
Author
: Zoraida C
órdova
Publisher
: Sourcebooks Fire
Length
: 336 pages
Source
: eGalley from NetGalley
Nothing says Happy Birthday like summoning the spirits of your dead relatives.

I fall to my knees. Shattered glass, melted candles and the outline of scorched feathers are all that surround me. Every single person who was in my house – my entire family — is gone.

Alex is a bruja, the most powerful witch in a generation…and she hates magic. At her Deathday celebration, Alex performs a spell to rid herself of her power. But it backfires. Her whole family vanishes into thin air, leaving her alone with Nova, a brujo boy she can't trust. A boy whose intentions are as dark as the strange markings on his skin.

The only way to get her family back is to travel with Nova to Los Lagos, a land in-between, as dark as Limbo and as strange as Wonderland…

Beautiful Creatures meets Daughter of Smoke and Bone with an infusion of Latin American tradition in this highly original fantasy adventure.
Review:
Protagonist
: Alex fears her magic. She fears what her magic might mold her into becoming. When her Deathday party arrives, the day she receives a special blessing from her ancestors, she decides to eliminate her magic instead, but instead of losing her magic, her entire family is pulled into Los Lagos, a mysterious land in between, and it's up to Alex and a dark and possibly dangerous brujo named Nova to rescue them. Alex is a very strong character, but she's ruled by her fear. She fears her magic and what it might lead to, but as she journey's through Los Lagos and it's many terrifying and wondrous attractions she needs to learn to accept herself and flip her perspective on her powers and start looking at them as a gift instead of a curse. I felt that Alex's character development and progression was executed very realistically, and combining that with such a dynamic and passionate character it makes for one heck of a journey.
Romance
: This is probably going to be the hardest portion of this review to write. I honestly wasn't a huge fan of the romance in this book. The good news is that romance doesn't play a particularly large role in the story, the bad news is that even though it doesn't represent a large portion of the story, I just wish it was developed better. There is a love triangle in this book, now I'm not opposed to love triangles in general, it's all about how they play out, but this one just felt all over the place. At first, it's made pretty clear who one of the love interests is, that would be Nova, but the second love interest isn't even hinted at being a romantic candidate, let alone confirmed as one until nearly three-quarters of the way through the book and without any prior romantic tension or chemistry I just couldn't really care, and then the love triangle just sort of sorts itself out without any real deliberation which just doesn't really work for me. I wish I could have cared more for this romance but for something that's not even a large part of the story it really started to bug me.
World Building
: My absolute favorite part about this story is the world building. After the story is done there's an Author's Notes section that goes into detail about some of the things that are actually part of latinx culture and folklore and what is of the author's own creation, and I have to say I'm in awe of just how much of the lore in this tale was created by the author because it just seems to fit in so well with everything else. One of the things I enjoyed the most were the parallels to other famous mythologies such as Greek, Egyptian, and Norse. There were many parts that seemed nearly plucked out of, specifically Greek, mythology and adapted to fit in with the story and this culture. The adventure that Alex and Nova embark on in this story is so richly described, it has all the classic hallmarks of an otherworldly adventure without coming off cliche. The world of Los Lagos comes alive and it's not hard at all to nearly see what's around these characters at any given point. I'd best equate it to wonderland or the Grecian underworld, there are many sections to it that form a whole and rarely any section is safe for outsiders.
Predictability
: Another small problem with this story is how things are foreshadowed. Sometimes the author does a slam dunk job foreshadowing a big event or twist in this story, it either shocks me like it should or I called it yet was still extremely pumped about it. Then there were times that things were so constantly brought up and foreshadowed that it lost all enjoyment when the time finally came for things to happen. Worst of all though there were times when there was very little or no foreshadowing for events and twists that desperately need the reader to feel a build up for or be clued into before they're blindsided and can't recover to truly enjoy what happened. Now I'm happy to say that most of the time the story went off without a hitch and the author definitely caught me off guard in a good way a few times in this story, but some of the subpar foreshadowed moments really took me out of the story, sometimes literally, after one twist I stopped reading for a while until I could get my head on straight.
Ending
: I'm trying to articulate my pure wonder and awe at how this story ended, specifically the final climax of the story and the epilogue but I can't quite figure out how to explain how epic everything was. The final climax was not only action packed but really brought the themes of this story and Alex's journey both internally and externally to the forefront as she faced down the thing that stole her family. Then there was the epilogue. Now going into this I had assumed that this series would be more a series of standalone companion novels and while I may be partially right that didn't stop the author from writing in one hell of a cliffhanger. I honestly wasn't expecting what happens to happen and if I wasn't already excited about the next book in this series I would be now!
Rating:
There is so much I love about this story, from the main character to the wondrously strange world she traverses to the mythos and tales told in this novel, there's so much to enjoy. I can't wait for the next book in this series and I'm excited to see where these characters go next.