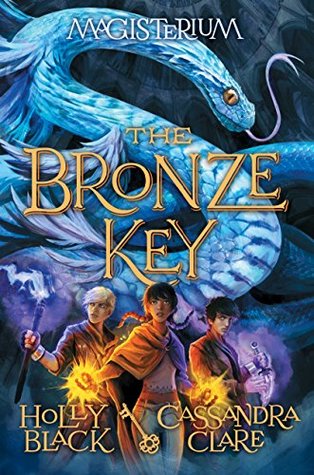 Release Date
: August 30, 2016
Authors
: Holly Black & Cassandra Clare
Publisher
: Scholastic
Length
: 256 pages
Source
: Purchased Book
Magic can save you.
Magic can kill you.

Students at the Magisterium are supposed to be safe. Under the watchful eyes of the mages, they are taught to use magic to bring order to a chaotic world.

But now the chaos is fighting back. Call, Tamara, and Aaron should be worrying about things like pop quizzes and magic contests. Instead, after the shocking death of one of their classmates, they must track down a sinister killer… and risk their own lives in the process.

As Call, Tamara, and Aaron discover, magic can only be as good as the person who wields it. In evil hands, it has the capacity to do immeasurable harm, unless it is stopped in time.

In this striking third book of Magisterium, bestselling authors Holly Black and Cassandra Clare present us with a school where anything, good or evil, can happen, and the only way to unlock the truth is to risk everything to find it.
Review:
Protagonist
: After spending the entire summer with his best friend, Aaron, and getting an award for the destruction of The Enemy of Death, Callum Hunt is really happy with his life. He's even hoping to have a normal year at the Magisterium, that is until an attempt is made on his life and a fellow student winds up dead. Now, Call, Aaron, and Tamara want nothing more than to discover the spy hidden in the Magisterium, and if all goes to plan, do so without breaking too many rules. Call's character development in this story, at least in regards to the main plot, is done very well. There's a huge theme of personal responsibility, and knowing that your actions have consequences, some good and some that could cause irreparable harm. Over the story, Call sort of lets this lesson sink in and there are some parallels with Constantine and Call and their own personal journeys, and the responsibility they each had in their lives.
Romance
: Ugh. Seriously I kind of just want to leave it at that comment and move on, but I also feel the need to elaborate more. So, if this series never had romance in it I would have been fine. If the authors had taken the time to really grow and develop a romance between two characters, even if one of them wasn't Call, that would have been fine as well. However, the romance, if you even want to call it that, in this series is a mess. It's like there's this weird love triangle with Celia, Call, and Jasper, and then there may or may not be romantic things going on between Call's apprentice group, but it's all done in a very vague way which leaves me just wanting Call and Aaron together because they make more sense than any other romance in this series, and they honestly don't even make
that
much sense.
World-Building
: There's something dark brewing within the Magisterium and it's after Callum. As our characters go through their Bronze Year at the Magisterium, Master Rufus informs them that they are not to put a toe out of line and they are to devote themselves to their studies. Over the course of the book, we learn more about magic, specifically chaos magic, as Call and Aaron are both Makaris. We see more Elementals and meet up with characters we haven't seen since the first book and catching up with characters we saw in the previous installment. Honestly, though, I'm not quite sure what to put here. I mean, there is a great deal of world building, specifically, characterwise, we learn about so many characters, their backstories and their motivations. However, there isn't all that much more to the world that we get to see, we find out where all the big Elementals are being held, and that scene specifically was very fun, and we finally see the Collegium, but overall, we more get a greater sense of the world as a whole and specifically certain characters' roles within it.
Predictability
: I'm going to be honest with you, I read the last line of the book before I got there. This happens sometimes when I try to see how many pages a book has (I really should have just looked it up on GR) and my eyes curiously wander. That being said, while I had a vague idea of what was coming, I was in no way prepared for what happens in this book. I'm still trying to get over the events of this book. Granted, I did
just
finish it, but there's a lot that happens. Now, going into this book, and even up until nearly the final climax I wasn't quite sure what was going to happen. There were a few twists that this story had already that caught me off guard, but that was nothing compared to the twisted ending this book has.
Ending
: Like I said above, this ending is seriously twisty. As we get to the final climax of the story, things start to come together and make sense, however, then the final climax hits and I wasn't quite sure where things were going to go. Things happened in that climax that I don't want to talk about, mainly because of spoilers, and this all leads to the most confusing, yet interesting, cliffhanger of all time. Honestly, I don't know where this story is going to go next, and I don't care, all I care about is getting that next book in my hands and finding out.
Rating:
Literally, the only reason this book is getting four stars and not five is because of the romance. I'm sure by the end of the series it will all come together, but until then it's currently a mess and it detracts from the amazingness that is this story.