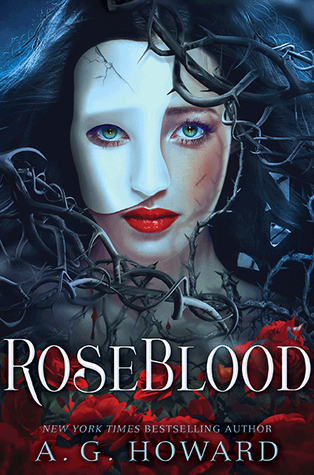 Release Date
: January 10, 2017
Author
: A.G. Howard
Publisher
: Amulet Books
Length
: 432 pages
Source
: Gifted ARC
In this modern day spin on Leroux's gothic tale of unrequited love turned to madness, seventeen-year-old Rune Germain has a mysterious affliction linked to her operatic talent, and a horrifying mistake she's trying to hide. Hoping creative direction will help her, Rune's mother sends her to a French arts conservatory for her senior year, located in an opera house rumored to have ties to The Phantom of the Opera.

At RoseBlood, Rune secretly befriends the masked Thorn—an elusive violinist who not only guides her musical transformation through dreams that seem more real than reality itself, but somehow knows who she is behind her own masks. As the two discover an otherworldly connection and a soul-deep romance blossoms, Thorn's dark agenda comes to light and he's forced to make a deadly choice: lead Rune to her destruction, or face the wrath of the phantom who has haunted the opera house for a century, and is the only father he's ever known.
Review:
Protagonist
: Rune Germain is possessed by music. As a child, she loved to sing with her father as he played the violin, but since his death, the music has drained her after every performance. Her mother wants her to cultivate her talent, but Rune just wants to be free of the compulsion to sing nearly every female sung aria she hears. When her mother sends her to RoseBlood, a French arts conservatory, Rune is afraid to get close to the people, but there's someone watching Rune, someone who can help her overcome her possession and master the music, but this person has a dark past and a connection to the infamous Phantom, who has his own plans for Rune. On the whole, I really liked Rune. She's a mostly flawed and broken character who has the best of intentions. Over the course of the story we see her come out of her shell and grow both in her talent, and also in her self-confidence and social skills. One of the things I really enjoyed about Rune's character development was how she discovers parts of herself alongside the reader helping to really bond her and the reader together.
Romance
: This, the romance, is the only real downside of this story for me. The things that truly sucks, though, is that I really like both Rune and her love interest, Thorn, and in fact, even though it took me a while, I really like them together. The part of this romance that I absolutely despise, is the circumstances that lead to their romances, particularly the tropes associated with it that I either hate, have become bored with, or I felt weren't utilized correctly. There's a lot of telling when it comes to the romance and while there is some showing it's few and far between. I felt like the author was hinging everything on a soul mate storyline for the two, and so there was a lot of reiteration that they are soulmates and they have this incredible unbreakable bond without every really backing that up with seen evidence. Like I said, I did get around to rooting for this couple and whenever the narration would go on and on about how destined the two lovers are I'd start to skim, but still the romance could have been handled a lot better.
World Building
: I've never read or seen
The Phantom of the Opera
. I know it's iconic and, going into this retelling/spin-off/continuation, I had a basic idea of the premise, but because of how much this story is steeped in the lore and real-world inspirations for the tale, I decided to look up the plots for both the book and the Andrew Lloyd Weber musical online, and I'm so happy I did that. While I could see myself enjoying the story regardless of if I'd looked up the plot of the source material or not, I feel I have a deeper understanding than I would have if I hadn't. This story incorporated so many fantastic elements from the original story while weaving a new paralleled tale. I greatly enjoyed the author's spin and expansion of the story and how she incorporated outside elements (I feel I have to be vague to avoid spoilers) to deepen the world building and story even more.
Predictability
: I have a love/hate relationship with the amount of foreshadowing in this book. On the one hand, I love it because it shrouds many elements of the story and the characters in a layer of mystery and never really supplies substantial clues as to what's going on so when those reveals come they hit you with a full force. On the other hand, I hate it because I felt like I wasn't teased enough and with me already not enjoying the romance as much as I wanted to there were a couple of times when I contemplated taking a long break from the book, possibly never coming back to it. (Not because I'd DNF it, but more because I'd get caught up in another story and eventually forget about it.)
Ending
: I always hate saying that the ending is my favorite part because I feel as though I'm saying I'm happy the book's over, however, that's most definitely not the case here. Most of the really juicy mysteries of this story aren't revealed until the ending, before the final climax, and this ending really delivered a lot of shocking moments. As we got closer and closer to the final climax things just kept getting more intense. The final climax itself wasn't exactly what I expected, but it was still enthralling all the same. As for how the story ended, without giving away spoilers, I'm happy with how it ended. There is a trope in the final chapter I'm not a huge fan of, but I'm willing to overlook it since I did enjoy the rest of the epilogue-esque ending that ties up pretty much every loose end.
Rating:
Even with how much I DESPISED the romance for a good long portion of this story, by the end, I was debating whether or not to give this book either four or four and a half stars. I decided to go with four since my lack of interest and loathing of the romance did significantly affect my enjoyment of this story, however as for the plot itself, leaving out my feelings on the romance, I'd give this book five stars all the way!